News & Gossip
Radhe Maa Was Asked About Her Views On #MeToo, Her Answer Left Twitter In Splits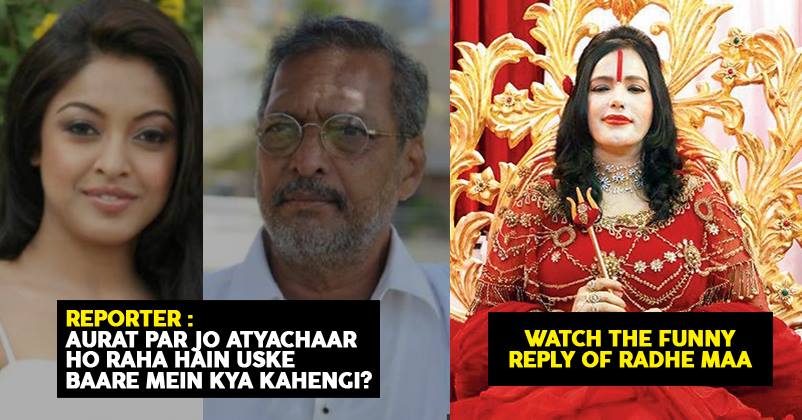 #MeToo movement in India has gained the moment. With each passing day, we are hearing stories of sexual assault and harassments by the male in positions of power. These stories have left entire nation shocked. From politics to comedies to Bollywood, women are harassed at their workplace, which is pretty traumatizing for the victim.
Now, many celebrities are sharing their views on the #MeToo movement that is revealing the dark side of all the industries. All the top celebrities are extending their support to the women, who have finally spoken up about their horror stories.
Just recently, self-proclaimed God Woman Radhe Maa was asked about her opinion on this movement. However, her reply to the same is rather confusing, to say the least.
Here is the loose translation of what Journo asked Radhe Maa:
"Women are facing atrocities in India and MeToo movement is trending. Many women are opening up about the harassment and brutalities that they encountered and many big names from Bollywood like Nana Patekar and Alok Nath have come to light. What will you say in this regard?"
This is what Radhe Maa told:
"Yeh galat ho raha hai par main chahti hun ki jab atyaachaat ho, aurat usi time apna uthaaye." (It's wrong but I want that when a woman faces atrocities, she should raise or lift up her…. at that time only."
Watch The Video:
https://twitter.com/bhaiyyajispeaks/status/1050446616379813890
If we don't focus too much on the words, it seems that Radhe Maa wanted to say that women should speak up when any atrocities are happening to them. However, the way she conveyed the message, it came out all wrong. This is why Twitter trolled her life never before.
This Is How Twitter Reacted:
https://twitter.com/MontuG_/status/1050452972767866885
क्या उठाए ? 🤣😂🤣

— Yo Yo Funny Singh 🇮🇳 (@moronhumor) October 11, 2018
https://twitter.com/1997Indian/status/1050448044120887296
Ye kya hai BC 😭😂😂😂

— Shaanatunga (@MadMaxxCurry) October 11, 2018
Her audio n video both are wierd .
Imagine IQ of ppl who support her.

— #IndiaFirst 🇮🇳 (@savitha_rao) October 11, 2018
Kya uthaye? Protest na!

— Mayank Sehgal (@mayank_sehgal) October 11, 2018
https://twitter.com/singh_harmeet84/status/1050528817217818624
यह मोहतरमा अभी भी चलन में है
मुझे तो लगा था इनकी अर्धनग्न फोटो देखने के बाद इनकी पूजा बंद हो गई होगी

— Madhur (@PUNjipati) October 11, 2018
— keepCalm (@Abhi005) October 11, 2018
https://twitter.com/anandicted/status/1050452279814426634
What do you think? Tell us your thoughts in the comment section down below.