Once again, the self-proclaimed Godman strikes back with yet another controversy involving a TV Channel. Om Swami had an argument during an interview with a female audience and it got increased to such an extent that the lady had to make a gesture of hitting Om Swami. Swami and his team didn't take it lightly. One guest of the live show ran towards the woman with all his bodily strength but the anchor of the show interfered and tried to distance out things.
Om Swami has threatened Salman Khan to set the Bigg Boss house on fire! Read more details here!
The anchor of the show was constantly telling Om Swami to behave and not act in an inappropriate manner, especially with a female audience that too on a live show. Upon this, the guests started a fight! Well ofcourse, what else can we expect from Team Om Swami right? Wasting no time, Swami got up from his seat and joined the fight to contribute his bit and be remembered forever!! But things backfired as the angry audience pounced upon Om Swami and brutally thrashed and kicked him!! (hurrayy!!)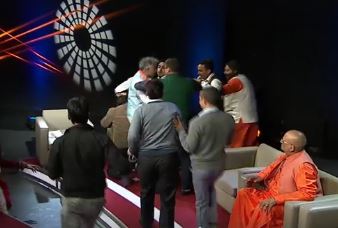 Watch the complete (entertaining) video on the NEXT page!