News & Gossip
'No, I'm not single', reveals Arjun Kapoor leaving Janhvi Kapoor stunned on Koffee With Karan season 6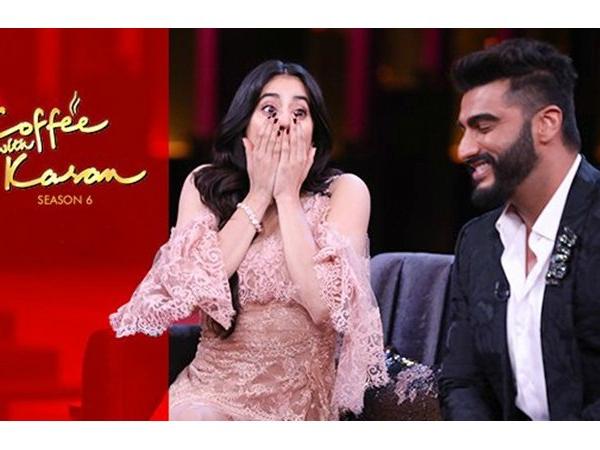 Koffee With Karan has been the popular most chat show in the nation and we absolutely how fabulous a host Karan Johar is to entertain and question the guests who arrive on his couch! With 5 seasons of the show being absolutely a big hit and beyond successful, here's the buzz reported that this season too was expected to be a hit and as expected, the season is going absolutely well with simply amazing combinations of Bollywood Stars coming together on the couch! One such combination was that of Arjun Kapoor and Janhvi Kapoor and to Janhvi Kapoor's shock, Arjun Kapoor revealed that he isn't single!
https://www.instagram.com/p/Boj2-xLlIKk/
There have been strong rumours about Arjun dating Malaika Arora for a long time. But, recently those dating rumours started taking the shape of a marriage. The reports started coming out that the two are gonna get married in 2019. However, none of them has confirmed to their alleged relationship. But, on Koffee With Karan, Arjun  has admitted that he isn't single! Yes! You read it right!
https://www.instagram.com/p/BooG1QvAGJx/
Arjun Kapoor and Janhvi Kapoor sipping a cup of coffee with the host Karan Johar on Koffee With Karan. According to a report, Arjun Kapoor was asked by host Karan Johar about his relationship status, much to Karan and Janhvi's surprise, Arjun Kapoor candidly admitted that he is not single. He said, "No, I'm not single." His confession left sister Janhvi Kapoor surprised. Karan then asked him when will he be telling his family about it, Arjun, pointing towards Janvhi, replied, "Clearly, it has just happened." Still stunned by Arjun's revelation, Janhvi added, "Yeah, it has been introduced on this show."
https://www.instagram.com/p/BooHT3KgEKQ/
In the show, Arjun was also asked if he is open to marriage, to which Arjun replied, "Yes, now I am. Earlier, I wasn't." Well, looks like there might be some truth to those wedding rumours of Malaika and Arjun that keep coming out every now and then. Stay tuned for more updates!