Finally Shahid Kapoor's better half Mira Rajput makes entry into acting. A few days back, Mira shot for an anti-aging cream. She is excited about her debut and took to her Instagram handle to post the ad video. She captioned the video as: "Being a mother doesn't mean you stop being yourself right? I took the #Olay #SkinTransformation #28Daychallenge Here's my #Reborn story.. what's yours?"
Here's the video.
In the ad, Mira talks about how a woman loses herself after becoming a mother along with the post-pregnancy glow. She later introduces the product and explains her transformation after Misha's birth.
Shahid Kapoor was the first one to comment on his wife's video. He commented, "Who's this stunner".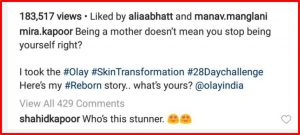 Netizens started commenting on the video. If some said that she is too young to use an anti-aging cream, few others said she should not have copied Kareena Kapoor.


One user said, "being a mother doesn't mean you stop being yourself… true…. even if it's being a hypocrite… judging others and then ending up doing the same…!!!!" Another said, "I really didn't know she can cross the limit to go so low hahahaha LOL she just wants to be in lime light. Yes, be yourself like you just said don't copy others."
One user even said, "Did you leave your puppy, I mean your daughter back home to do this? Nice to know you are progressing as a mother and don't feel need to spend 'ALL' your time with your daughter."
Here are the trolls below.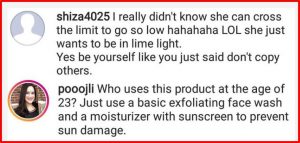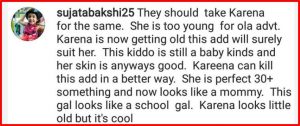 What do you have to say about the trolls? Do let us know in the section below.