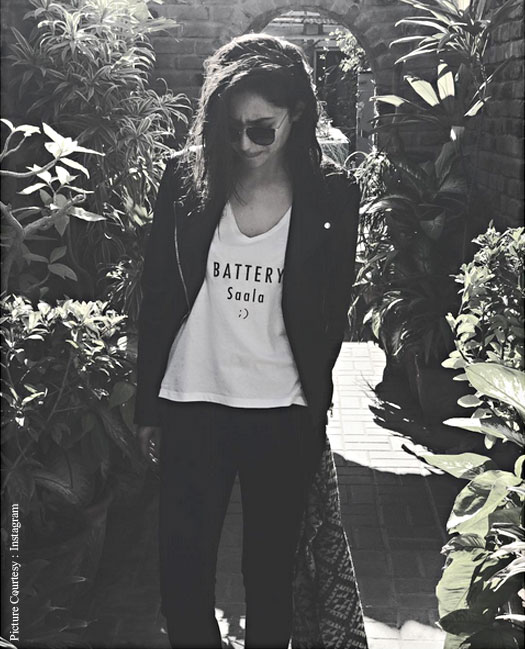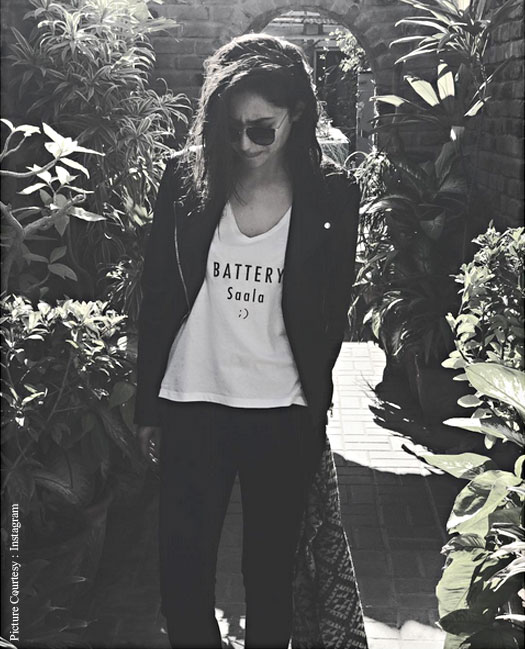 The controversy that was created in connection with Fawad Khan's presence in the movie Ae Dil Hain Mushkil is still so fresh in our minds. There are chances we might see another one of such kind with Shahrukh Khan's Raees up for release. The film stars Mahira Khan who is a Pakistani actress. All that could be done to avoid the controversy in the theatres is being done by the makers. But meanwhile, the actress showed up on social media platform after a hiatus.
Mahira Khan posted a picture of hers wearing a white T-shirt that read "Battery Saala" which is a dialogue of hers in the movie. The actress is wearing black glasses, black jacket and black trousers. And yes, the expression is something that is going to make all the news. She seems to be sobbing!!
Mahira is being kept away from all the promotional acts related to the film. She is continuing in Pakistan after leaving India post the spoiled relations of the two countries. Mahira has surfaced on the media and this is how. She visibly looks very upset with the developments.
Mahira Khan is playing the leading lady of the film opposite Shahrukh Khan. Raees was supposed to be released in November but it was postponed thanks to the heated up row against Pakistani artists which caused eviction of the artists- actors and musicians from India.
Mahira is a popular actress on Pakistani TV Channel just like Fawad Khan. As there was always the bond between Bollywood songs and Pakistani musicians, recently filmmakers like Shahrukh and Karan Johar experimented with Pakistani artists and the outcome was defiantly alarming for Karan whose film Ae Dil Hain Mushkil released amidst lot of pressure and security. Now it is turn of Karan's good friend SRK to face the heat.