News & Gossip
A-List Stars at Mijwan Fashion Show: Bachchans, Sinhas, Sonam, Anil Kapoor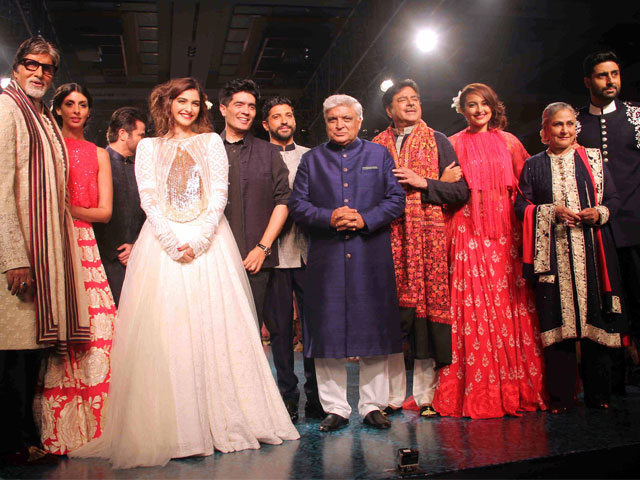 A-List Stars at Mijwan Fashion Show: Bachchans, Sinhas, Sonam, Anil Kapoor
THE OCCASION, WHICH MARKED THE COMPLETION OF 4 YEARS IN THE JOURNEY OF SHABANA AZMI'S NGO MIJWAN WELFARE SOCIETY (MWS), SHOWCASED CREATIONS BY ACE INDIAN DESIGNER MANISH MALHOTRA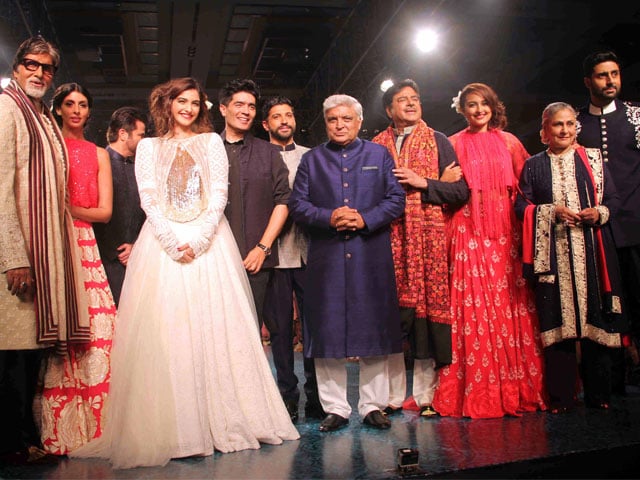 It was a picture perfect moment when members from Bollywood's A-list families including the Bachchans, Shatrughan Sinha and daughter Sonakshi, Anil Kapoor and daughter Sonam, Javed Akhtar and son Farhan walked the ramp for veteran actress Shabana Azmi's annual Mijwan fashion extravaganza. The occasion, which marked the completion of 4 years in the journey of Shabana Azmi's NGO Mijwan Welfare Society (MWS), showcased creations by ace Indian designer Manish Malhotra.
Amitabh Bachchan, his wife Jaya, their daughter Shweta and son Abhishek walked the ramp, colour co-ordinated in black, white and red.
Other celebrities who marked their presence at the event included Aditi Rao Hydari, Sophie Choudry, Tanvi Azmi, Sahukat Azmi, Adhuna Akhtar and Richa Chadda.
Shabana Azmi, who looked bright and beautiful in a yellow sari, said the annual initiative had empowered women in Uttar Pradesh and has made them "unfettered and unafraid."
"One cannot even begin to imagine how empowering it is for the women of Mijwan to be pulled out of oblivion by Manish Malhotra and be brought to the steps of the film world. They now dare to dream and live their dreams, unfettered and unafraid," Ms Azmi, who is president of the NGO started by her late father Kaifi Azmi, said in a statement.
Manish Malhotra adopted the Kaifi Azmi Sewing and Embroidery Centre in Mijwan to help generate employment opportunities for women there. Chikankari by MWS is a dream project that Malhotra has nurtured under his guidance, giving a platform to the Mijwan women to showcase their work.
Focusing on both tradition and change, Manish Malhotra interpreted Chikankari with a modern twist by incorporating floral patterns and applique on modern silhouettes including crop tops, skirts, jackets and saris for women and structured sherwanis, bandikurtas, bandhgalas for men.
He played with a fresh and vibrant colour palette in shades of powder blues, pinks, yellows and fiery reds for this collection.
"Through this initiative, the Mijwan women got an opportunity to become independent, and I got to showcase to the world the best that our country has to offer. After four years of working together these talented women are to me now like family, even as our association has further deepened by weaving threads of change for future generations," the designer said.