News & Gossip
Kolkata Metro Hugging Saga Takes An Ugly Turn After Metro's This Comment
In a shocking incident, two young people were thrashed for standing too close to each other at Kolkata Metro. The incident has created a huge discussion in the country.
According to the report of ABP news, some elderly people dragged a couple from the metro at the Dum Dum station and brutally thrashed them. These middle-aged men even asked them to find a pub or room.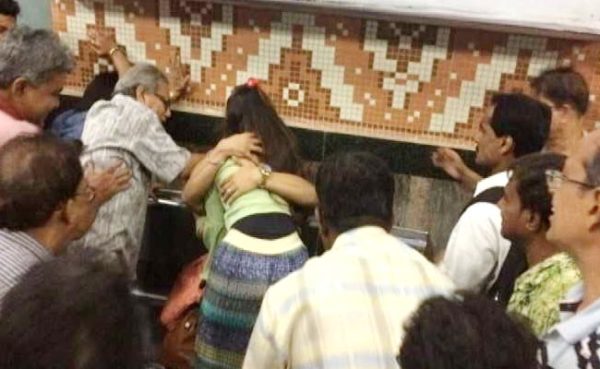 The report further adds that the boy was beaten, pushed and punched pretty badly and when the girl tried to save him, she was also beaten up.
The incident has started a protest outside the station later on. A police complaint has been filed, but nothing much has been done. The protestor demanded that the people who have beaten the couple should be arrested.
After the incident, Kolkata Metro shared a message on Facebook saying that they are currently investigating the matter. They also added that no complaint has been filed by anyone, however, they did say that they are against Moral Policing.
However, Kolkata Metro has found itself in trouble for the comment they posted on the same thread. Their comment supports the crowd who have beaten the couple.
The comment reads, "What wrong has been done by the passengers. Nothing. It is the inevitable fallout of year-long vulgarity shown by a section of young generation. In Metro train, most of the young generation people do not know decency and good manner. To speak in English does not mean civilisation. Good qualities are totally lacking in young generation people and morality a distant dream. In their attitude, arrogance and 'don't' care gesture are very evident. Not only in the Metro, but also in other places similar incident will happen if the young generation does not get themselves rectified."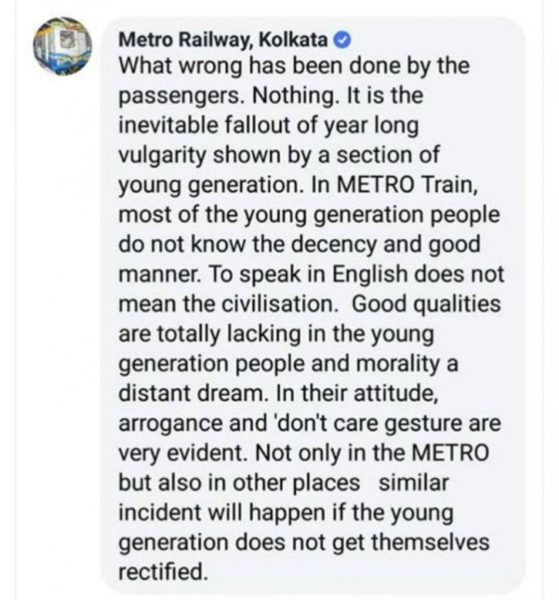 After getting into trouble, the comment has been deleted now. However, people have taken the screenshot of the comment. The comment has angered lots of people.
This is how they reacted:
1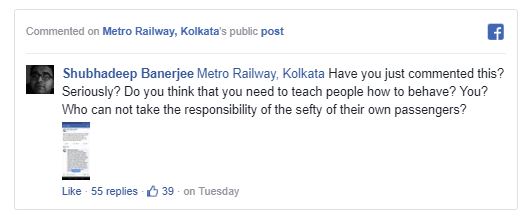 2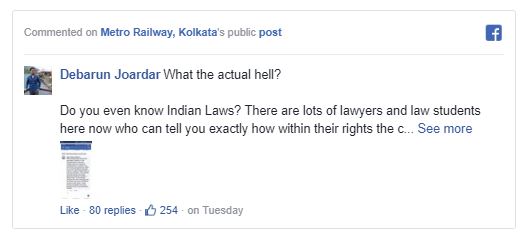 Various reports suggest that the comment has been posted mistakenly when one of the team tried to post it individually. The member of the social media team of Kolkata Railway Metro might have posted the comment individually, but forgot the change the account.
The matter didn't end there. The situation went from bad to worse, when Kolkata Metro tried to issue a clarification on Facebook. They said that the alleged snapshot of the comment is fake.
They said,
"Dear commuters, there is a fake post circulating in the social media claiming that Metro Railway supports the passengers who allegedly thrashed the couple. The fact is that Metro Railway, Kolkata, strongly condemns the unfortunate incident and is against moral policing."

What do you think what happened here? Who should be blamed? Tell us your views.