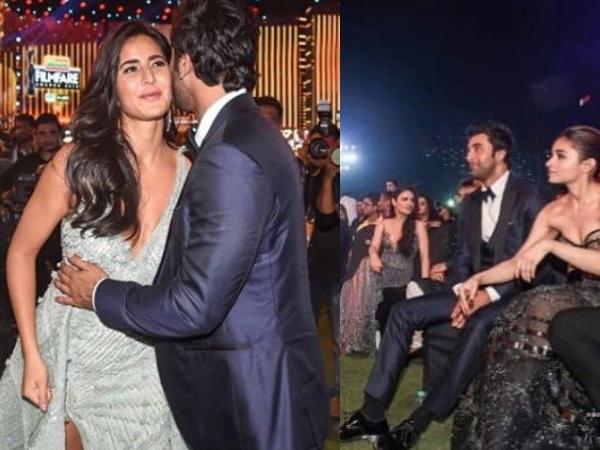 Alia Bhatt and Ranbir Kapoor, who have just finished shooting  together for their movie Brahmastra have openly admitted their relationship and are truly painting the town red with their lovey dovey social media PDA, family outings, dinner and lunch dates and what not! With the latest buzz suggesting that the two might get engaged soon, as per Neetu Kapoor's wish, in April 2019, the two truly have now come out in open and expressed love for each other! While their dance at Aakash Ambani's wedding made quite a noise, what is making more noise is how Alia Bhatt publicly on stage said 'I love you' to Ranbir Kapoor, at the Filmfare Awards 2019! Amidst all the happy moments for the duo, what made an awkward moment was when Katrina Kaif bumped into Ranbir Kapoor and Alia Bhatt and here's what happened next!
Although the buzz so far reported that Ranbir Kapoor and Katrina Kaif have not even been in talking terms with each other and that the duo share grudges for each other post break up and that Katrina Kaif is nor happy with Ranbir Kapoor and Alia Bhatt relationship, the latest pictures from the Filmfare Awards 2019 have a completely different story to tell!
Katrina Kaif and Ranbir Kapoor have left the past behind as we see them hugging it out at the Filmfare Awards 2019! Not to mention, Alia went on stage to propose to Ranbir at the Filmfare Awards last night. She thanked everyone who means the most to her on winning the Best Actress and further looked at Ranbir and said,.."I love you" Say for that matter, she even kissed him with a warm hug before he went on stage to collect his Best Actor trophy.
Stay tuned for more updates!