News & Gossip
Here's Why Kareena Kapoor And Shahid Kapoor DID NOT Meet At 'Rangoon' Screening!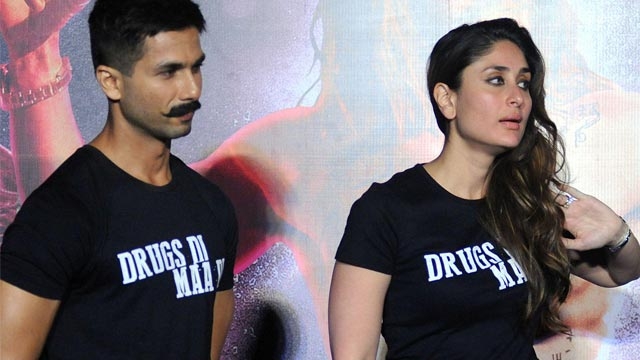 Kareena Kapoor Khan was spotted at the special screening of Saif Ali Khan's upcoming film Rangoon, which also stars Kangana Ranaut and Shahid Kapoor. The screening was held at the Lightbox preview theatre, which is jointly owned by Farhan Akhtar and Ritesh Sidhwani. While many were speculating as to why Shahid was not present at the screening, Kareena, who normally doesn't go to trials, turned up for this one which even left hubby Saif in surprise!
Now, those of you who're still wondering why Shahid was not present at the trial of his own film, let us remind you that Shahid's beautiful wife Mira Rajput had organised an early birthday bash for him last evening, which was attended by the B-Town!
Almost the entire tinsel town was spotted at the do, including Ranveer Singh, Deepika Padukone, Katrina Kaif, Varun Dhawan with girlfriend Natasha Dalal, Alia Bhatt, Sidharth Malhotra, Sonakshi Sinha and others. So it wouldn't make sense for the host to leave his own pre-birthday bash and go for the screening instead.
On the other hand, while both Kareena and Saif's absence from Shahid's party is self-explanatory, Saif's daughter Sara Ali Khan marked her attendance at the bash. And she attended the party as Karan Johar's date! Sara Khan will be launched in Karan's Hindi remake of the Marathi hit 'Sairat'. The two colour-coordinated for the birthday bash.
Ironically, Sara's father, Saif Ali Khan recently made headlines for having been quoted (through sources) that he didn't want his daughter Sara to follow in Alia Bhatt's footsteps and "owe her career to Karan Johar". The source also added that the industry thinks that Alia Bhatt's career owes its success to Karan Johar. The portal quoted a source as saying,
"Kareena and Saif have been having some disagreements about Sara's career. But Saif really does not want Sara to follow Alia's footsteps."
The source had further stated,
"Kareena and her girl gang always talk about how Alia's career wouldn't be the way it is if Karan hadn't launched her. The industry apparently thinks that KJO is too involved in Alia's career as he still keeps recommending her to biggie directors and mega projects. Saif does not wish for someone to have that kind of effect on Sara's career. He thinks she should be more independent. While Kareena understands Saif's line of thought, she feels one movie with Karan would not harm to Sara. She also promised Saif that she will make sure KJO does not get too involved in Sara's career."