Bollywood
Karan Johar: Have Told YOUR Girlfriend That Ranbir Will Be The Best Husband In The World!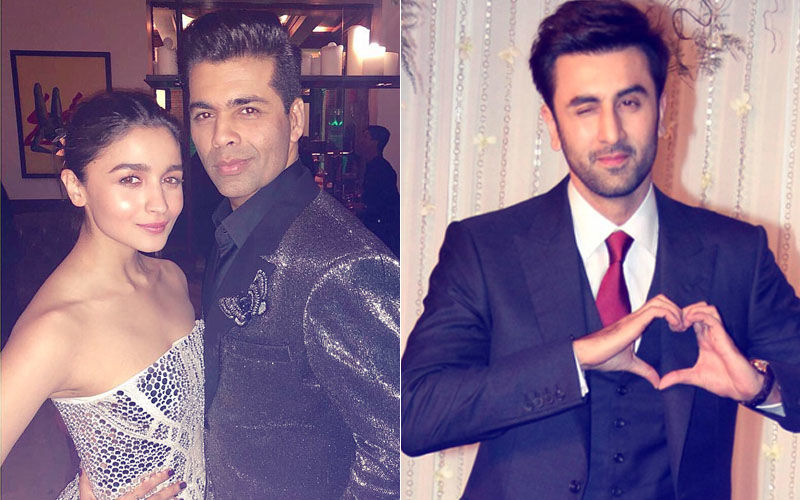 After Ayushmann Khurrana, now Karan Johar is giving relationship advise to Ranbir Kapoor who has fallen head over heels for his Brahmastra co-star, Alia Bhatt. In a special segment- Celeb Surprise, Karan Johar asked him about his new love affair over the call.
Ranbir Kapoor started with conversation talking about the mistakes he makes in relationships. Actor then went up on asking, "Agar ek relationship me aap ek galti karte ho, aur fir dubara woh galti karte ho. So, what is the right way to sort out that mistake?" 
Replying to Ranbir's query, Karan said, "Then you should exit that relationship. Because there's no way, you can make two mistakes, one after the other, without realising that something is actually wrong, Ranbir. So, I am sure, you know what I am talking about?"
https://www.instagram.com/p/Bkrg9QqHHI6/?utm_source=ig_embed&utm_campaign=embed_loading_state_control
Further, Ranbir asked Karan 'If he had an advice for his partner/girlfriend, then what it will be'. Replying to this KJo said "That you are the best husband in the world aur mene woh advice de diya hai, Ranbir!" 
Few days back, the another 'Kapoor'- Sonam Kapoor came to Karan for some marital advice on doing adjustment in the first year of the marriage. Answering to her question, Karan had said, "Not that I am a marital expert, Sonam! Adjustments are critical, because practically being husband and wife, living together, you are privy to all the habits that your partner has that sometime may not be in conjunction with yours. So the first thing, I really wanna tell you is patience. You've got to patiently understand what your partner's habits are. For example, which side of the bed he normally likes to sleep on, or his bathroom timings, which may not coincide with yours, or his watching television or Netflix habits? It could be anything that may not be in conjunction. First, understand the schedule, routine, habits, and then if something really khatkos, then try and talk about it. But not definitely in the first year, you don't want to come out so strong and cause road blocks, initially."
Stay tuned with us for more Bollywood news and gossips.