Hindi
करण जौहर ने स्टूडेंट ऑफ द ईयर 2 को बताया ह‍िट, यूजर्स बोले- सिर्फ स्टारकिड्स को लॉन्च करने के लिए बना रहे हो फिल्म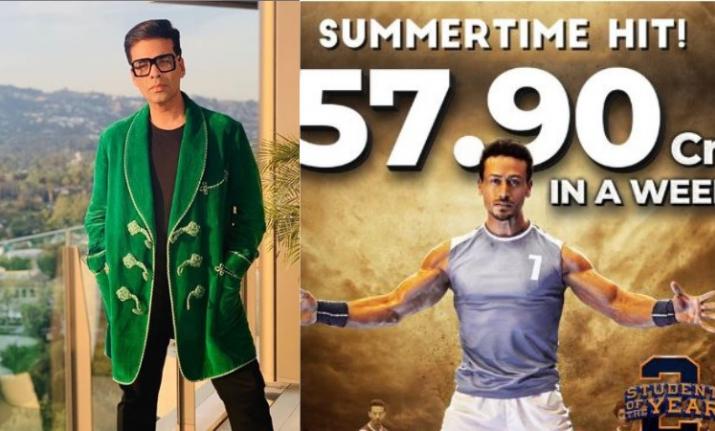 करण जौहर के प्रोडक्शन तले बनी फिल्म 'स्टूडेंट्स ऑफ द ईयर 2' पिछले हफ्ते 10 मई को र‍िलीज हुई थी. हालांकि बॉक्स ऑफ‍िस पर फिल्म का कलेक्शन अपेक्षा के मुताबिक़ नहीं रहा. कई ट्रेड एक्सपर्ट इस फिल्म को फ्लॉप बता रहे हैं. लेकिन करण जौहर ने फिल्म के बिजनेस को ह‍िट करार दिया है. करण ने इसे लेकर एक ट्वीट भी किया. हालांकि करण जौहर को इस ट्वीट की वजह से ट्रोल किया गया.
Going strong, thank you for the love! #SOTY2
Book your tickets now – https://t.co/CP6npheBDZhttps://t.co/Xsk1m9o6rh@iTIGERSHROFF #Tara @ananyapandayy @punitdmalhotra @apoorvamehta18 @DharmaMovies @foxstarhindi @ZeeMusicCompany @SOTYOfficial pic.twitter.com/EcY0rN0yBz

— Karan Johar (@karanjohar) May 17, 2019
दरअसल, करण ने ट्वीट में बताया कि स्टूडेंट ऑफ द ईयर 2 ने 57.90 करोड़ रुपये की कमाई की है और ये समर टाइम ह‍िट है. इसी ट्वीट के बाद करण जौहर को सोशल मीड‍िया पर ट्रोलिंग का श‍िकार होना पड़ा. फिल्म का बजट 80 करोड़ रुपये के आस-पास है. फिल्म की कमाई अब तक 60 करोड़ भी नहीं हुई है. ऐसे में करण जौहर का फिल्म को ह‍िट बताना लोगों को पसंद नहीं आया.
https://twitter.com/Bollywoodfan234/status/1129317983120003072
दूसरी बात ये भी है कि फिल्म को क्र‍िट‍िक ने भी फ्लॉप करार दिया है. दर्शकों ने भी इस फिल्म की कहानी को बोर‍िंग करार दिया है.
Few songs, dance,stunts nd scantily clad heroines is not called movie

— SK (@Trustyourself15) May 17, 2019
एक यूजर ने लिखा है, 'सर स्टोरी भी तो होती है. ये फिल्म अच्छी बनती. लेकिन प्लीज सिर्फ स्टारकिड्स को लॉन्च करने के लिए फिल्में मत बनाइए. हम जो टिकट खरीदते हैं वो हमारी गाढ़ी कमाई से आता है. प्लीज हमारा पैसा लॉन्चिंग के लिए और बीच कॉस्ट्यूम दिखाने के लिए मत बर्बाद करिए.
Sir story bhi hoti toh it could have been going solid, please just for the sake of launching star kids don't make movie, the ticket we buy is from our hard earned money plz dont ruin it for launches & beach wear or mere Bra-Panty ads on big screen @iTIGERSHROFF

— Rajpal Singh (@raazpal23) May 17, 2019
https://twitter.com/JaySatoskar/status/1129940488885157888
https://twitter.com/varakalaanurag/status/1129305907886665728
एक यूजर ने ल‍िखा, द‍िखावा करना बंद करो, फिल्म बुरी तर‍ह फ्लॉप है. ये सुपर फ्लॉप और बकवास मूवी ऑफ द ईयर है.
It's a summertime superflop of the year
😂😂😂😂lol

— It's Secret (@Aman413512) May 19, 2019
Flop of the year

— Vikram bishnoi (@Vikramb05779102) May 17, 2019
https://twitter.com/NNagshakti/status/1130189410153115648
@karanjohar good sense of humour. pathetic movie, without storyline, poor acting.

— MockingBird (@shnakeygarg) May 19, 2019
बता दें 'स्टूडेंट्स ऑफ द ईयर 2' में टाइगर श्रॉफ, तारा सुतारिया और अनन्या पांडे ने काम किया था. इस फिल्म को पुनीत मल्होत्रा ने डायरेक्ट किया था.