News & Gossip
Pilot Fights And SLAPS Co-Pilot Mid-Air Putting Lives In Danger, License Of Pilot CANCELLED!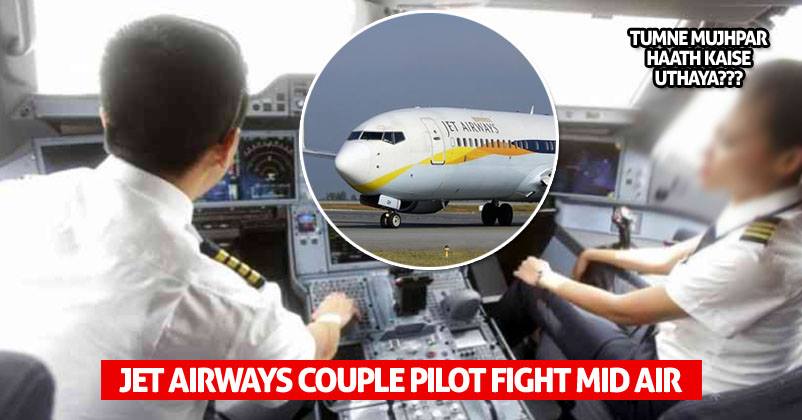 Flights are supposed to be the safest and easiest way to travel. But nowadays some bizarre and odd events are happening on the flight. We have already reported about some of those bizarre incidents, but what we are going to tell you, is going to shock you to the core. The incident happened on Jet Airways.
Now, 324 passengers were saved from disaster on a London to Mumbai Jet Airways flight, no thanks to the huge fight between the captain and his co-pilot. You would never expect what happened. They had heated arguments, which led to him hitting her.
The captain and co-pilot got into heated arguments, which took an ugly turn in no time. The fight got so ugly that she broke into tears and left the cockpit crying. Passengers witnessing this fight were shell-shocked.
According to the sources, the license of the pilot has been canceled. Both of them have been grounded. It was expected though, as they had put the lives of so many passengers at risks. The source further added that the pilot slapped her literally, which left her in tears. Later she returned to the cockpit after realizing the embarrassment caused due to this.
The sources further said that the passengers are willing to support her if she wants some legal action against the pilot. However, the spokesperson of Jet Airways said that it was a misunderstanding and was resolved soon after.
A Twitter user has shared this on the micro-blogging site:
If you have never heard of 2 pilots fighting it out inside cockpit and midair, you will. Pax onboard London-Mumbai Jet Airways flight this new year experienced this. @IndiaToday

— Anindya (@AninBanerjee) January 3, 2018
Pilot slaps copilot. Copilot comes out of cockpit crying. Sr Cabin Crew pleads her to return. All these as 324 pax onboard had no clue what's happening. @IndiaToday @rahulkanwal

— Anindya (@AninBanerjee) January 3, 2018
This is how Twitterati reacted. Check out some selected Tweets:
Huhh, pretty scary, not a good place to have such emotional outbreaks..I think Airlines should avoid putting husband wife to same flight as is practiced in many other organizations

— Aashish Narkar (@AashishNarkar) January 3, 2018
Not worried about the safety of the passengers, married couple fighting in the cockpit, shame on you. You both don't deserve to be pilots. Jet airways is also to be blamed.

— Jk Shekar (@shekar_jk) January 3, 2018
https://twitter.com/lsingh1089/status/948588034768777221
We wonder what they were thinking. This kind of incident should never have happened in first place.