Bollywood
Jackie Chan To Grace Bigg Boss 10 Grand Finale !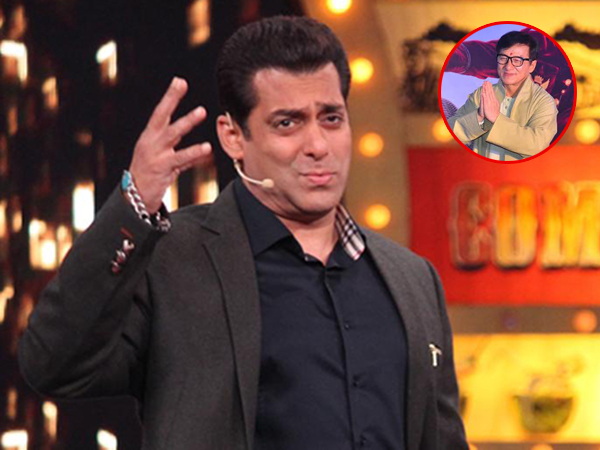 Chinese veteran actor Jackie Chan is one of the most popular star in the world. He is known to the world as the best action hero, who always lures audience with his martial art techniques and witty smile. The star is currently in India now for the promotion of his upcoming film Kung Fu Yoga. At latest, we heard a biggie news that Jackie Chan will also grace the Bigg Boss season 10!
Recently, Jackie Chan has shot for the popular comedy show The Kapil Sharma Show. After promoting his multi-lingual film in TKSS, we now got a hold of news that he will also going to star in Bigg Boss Grand Finale. Salman Khan, who is a big fan of Jackie Chan, met him lately and now he may be a part of Bigg Boss show. As the Bigg Boss show set is in Lonavala so it is difficult for him to be there in such a short span of time. It is also heard that, Jackie Chan has shot for the final episode of Bigg Boss in Mumbai only, which will be aired on the final day.
Jackie Chan has a humongous fan following in India and if he actully be a part of the finale episode, it will help the movie to get the much needed buzz in a big way. We know that, Bigg Boss final is today and it will surely be an exciting one. So, no one knows whether Jackie will be a part of it or not. Even makers didn't confirmed the news yet!
Kung Fu Yoga is an Indian-Chinese production film, which is being directed by Stanley Tong. The film also stars Disha Patani, Amyra Dastur, Zhang Yixing, Sonu Sood and many more. The film which is released today in China, will be released in India on February 3, 2017. Jackie who is in India is currently busy with the promotions of the movie and the film will surely be a Box-Office hit.
This is the first time that we gonna see Indian and Chinese actors both working together in one film. The trailers are already interesting and it would be great to see the final film on February 3.
Overall, Jackie Chan is a humble human being and he loved to be in India. Let's wait and see whether Jackie will be a part of Bigg Boss finale or not!
What are your thoughts about Jackie Chan's Bigg Boss rumoured news? do let us know in the comments section below.