News & Gossip
Itna Karo Na Mujhe Pyaar 2nd November 2015 Written Episode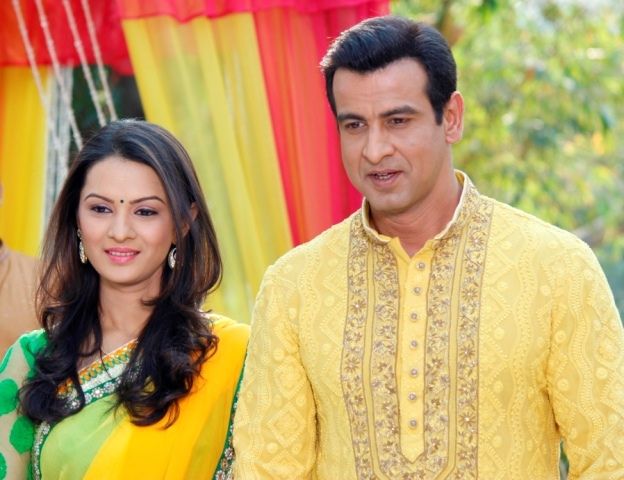 Itna Karo Na Mujhe Pyaar 2nd November 2015 Written Episode
Suhani worries thinking Neil and Ragini will fight during the interview. Karthik tells they are matured enough. Nishi asks her not to worry and believe on Karthik's words. They goes to Pray. Ragini asks Neil to hurry up and says you are not going to see alliance for your kids. Neil compliments her beauty and says she is looking beautiful. Ragini tries to wear mangalsutra. Neil offers to make her wear and makes her wear mangalsutra. He then fills her maang with sindoor. Ragini thanks him.
Neil says lets go. Pam comes to Nivedita. Nivedita asks her not to waste time and asks her to go. Pam tells her that she came to save her time. Nivedita asks her to fool others. Pam asks what you will do when you see yourself failing at the last min. She says that audio clip is the last option for you. Nivedita says you came here for audio clip. Pam says she will not confess that the voice are hers and Neil's in the audio clip. She says you are a big lawyer, but didn't authenticate the voice from the lap. She asks her to do that else her respect will be ruined.
Nivedita thinks she didn't think about that and thinks it will take 2-3 days and she can't afford to lose that. Nivedita leaves. Pam follows her in auto and thinks she will get time now to get the tape, and Nivedita will not show the audio infront of investigation team.
Pam calls Suhani and asks if Ragini and Neil left from home. Suhani says yes. Pam asks her to eat food. Suhani asks can she go there? Pam says no and reasons with her.
Jignesh tells Aarav that he wants to invest some money to make it double, and says he wants to repay the money which his parents had given him. Aarav tells that he has invested the money and will organize his meeting with the man. Jignesh says he wants to meet him.
Nivedita asks Neil about his flight and says you came on a short notice. Neil asks her not to have useless talk and come to the point. Nivedita asks Aman to ask question. Aman asks Ragini to say what happened when Neil raised his hand on her. Ragini says you knew as you was there. Aman says I reached there late and want to know as an investigating team. Ragini tells everything and records her statement.
Nivedita asks if anyone forced you. Ragini says no. Nivedita asks Neil, if he slapped RK. Neil says yes, as he misbehaved with my sister. Nivedita asks if you will raise hand on your wife, if she goes against your sister. Neil says I will raise hand if need be, but my wife will never do such thing. He asks her to talk about the case. Nivedita asks about the domestic violence case. Ragini says she has taken back case. Nivedita says law is not a joke. Ragini talks about husband and wife's relation which sticks against all odds, and says you will never know.
Precap:
Ragini tells Aman that you might be wanting to take revenge from us. Aman says no, and says he really want to help them. Ragini asks him to leave them and says Nivedita might have sent you to see our preparations regarding the case. Aman looks on.