News & Gossip
Here's What Aishwarya Rai Bachchan Has To Say About Her Dance Video At Isha Ambani's Wedding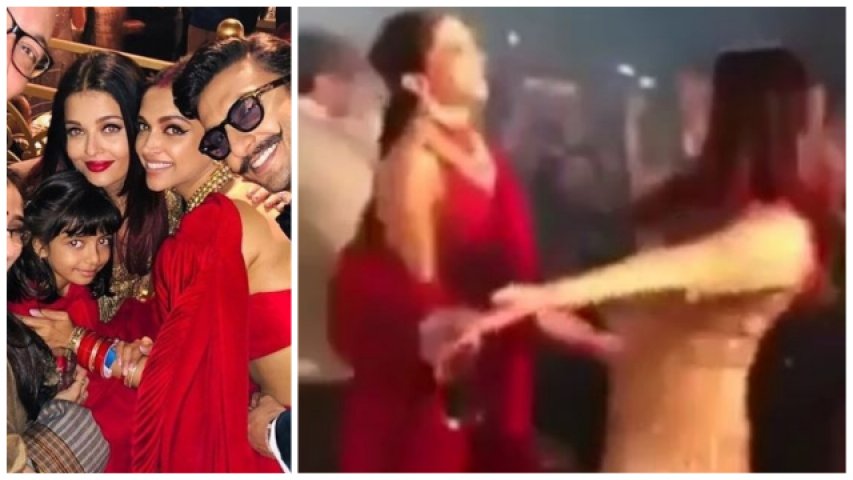 2018 has been an year of Weddings in Bollywood since we saw the biggest weddings taking place this year! Beginning with  Sonam Kapoor and Anand Ahuja and ending with Isha Ambani and Anand Piramal, the year truly was an year of celebration! Out of all of this big glam affair weddings, the wedding that caught the most light, naturally, was that of Isha Ambani and Anand Piramal! There was a galore of stars seen at Isha Ambani's Wedding! Be them dancing, singing, serving food, welcoming guests, the stars from Bollywood were all over the place and it did reflect how much of a family the Bollywood stars are with the Ambanis!
https://www.instagram.com/p/BouZ8wPFHQI/?utm_source=ig_embed
Amidst all the visuals and videos that went viral, from Isha Ambani's wedding, the popular most was the one wherein Aishwarya Rai Bachchan, Deepika Padukone, Ranveer Singh and Abhishek Bachchan are seen dancing crazily to beats of the DJ at the cocktail party! Here's what Aishwarya has to say about it!
https://www.instagram.com/p/BrNqxsyH3WX/?utm_source=ig_embed
Aishwarya Rai Bachchan and Deepika Padukone put their best foot forward as the ladies danced the night out crazily and absolutely care free, like never before at Isha Ambani's Wedding! Although the people speculated a lot many things and passed comments over these videos that went viral, Aishwarya Rai Bachchan has an absolutely different take on this and here's what she says about it, "It was all meant to be like discreet. We were like in our own world and suddenly all these videos are flying all over the internet. Well, I think all those who know me personally and many do in our fraternity, as well, I'm very easy. I might choose my days. I think the good part about having a really good time with me is actually being in the moment."
Stay tuned for more updates!