At a Volkswagen plant near Baunatal, Germany, a 21-year old technician has been killed by a robot. The incident occurred while the technician, an external contractor for the company, was installing the stationary robot. According to a VW spokesperson, Heiko Hillwig, the robot grabbed the technician and crushed him against a metal plate. Later on, the technician died at a nearby hospital owing to the injuries sustained.
Heiko said to AP that the initial conclusions indicate human error to blame, rather than a problem with the robot. According to Fortune, Volkswagen keeps such type of robots in safety cages to prevent accidents, but here the technician was inside the cage while his colleague was outside the cage who was unharmed. No further comment was given by Volkswagen on the incident and prosecutors have launched an investigation on how the accident occurred.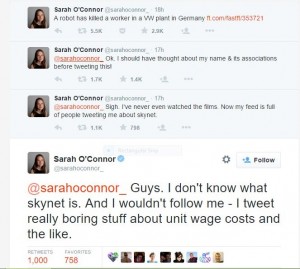 Despite the gravity of the event, the story made waves around the Inter web when a Financial Times reporter shared it on Twitter. Why? Because she happened to share the same name as Linda Hamilton's character of Terminator fame – Sarah (O')Connor. It wasn't long until Terminator fans stormed her tweet and account with jokes and messages, Sarah not realizing initially about her name and its associations with the entire Sky-net dominated world. Don't we all love inconspicuous coincidences? Or is there something more sinister afoot here?