News & Gossip
Gautam Gulati and Alia Bhatt To work With Farah Khan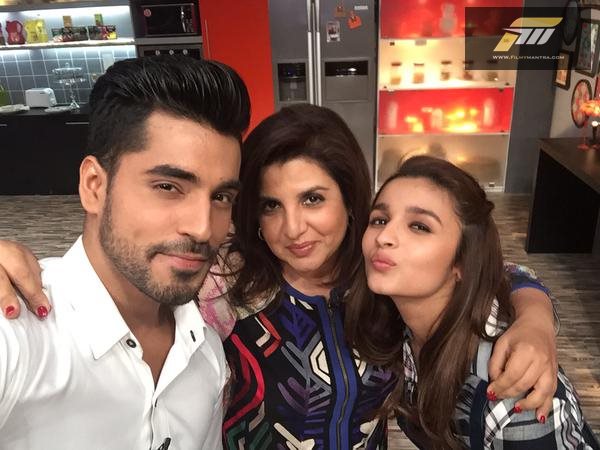 Remember how Gautam Gulati had gone on records claiming that he wants to work with Alia Bhatt? Seems all his prayers have come true as the duo shot for an episode of Farah Ki Daawat at Yash Raj studios on Friday.
Farah Khan who hosted the Bigg Boss Halla Bol series will now be seen donning the apron as she cooks up some interesting and delicious recipes for her audience. The food based chat show will have celebrities coming in and joining Farah, not to mention, also cook with her.
After Abhishek Bachchan shot with Farah Khan for an episode, it was GG and Alia who were roped in to shoot an episode with our Queen Khan. Shah Rukh Khan too is expected to shoot an episode with good friend Farah soon.
Farah, who loves cooking is extremely excited to take up the show. "I love cooking because it is quite calming and therapeutic. And by virtue of being a complete foodie, I also love feeding the people around me. My friends always tell me that I am a fabulous cook and have the ability to gain people's unwavering attention"
Farah Khan took to Twitter to share an adorable picture of Alia and Gautam shooting with her. Gautam who was excited to be on the show with his favourite Alia tweeted about the same.
@TheFarahKhan @TheGautamGulati thank youuuuu for having me !!!!! Too much fun .. I am a proud COOK 😉 haha Wohoo

— Alia Bhatt (@aliaa08) February 13, 2015
"@aliaa08: @TheFarahKhan @TheGautamGulati thank youuuuu for having me !!!!! Too much fun .. I am a proud COOK 😉 haha Wohoo"that is now TRUE

— Farah Khan (@TheFarahKhan) February 13, 2015
Super fun shoot of#Farahkidaawat.. Thank u @aliaa08 4 being such a sport n @TheGautamGulati 4 blushing so much