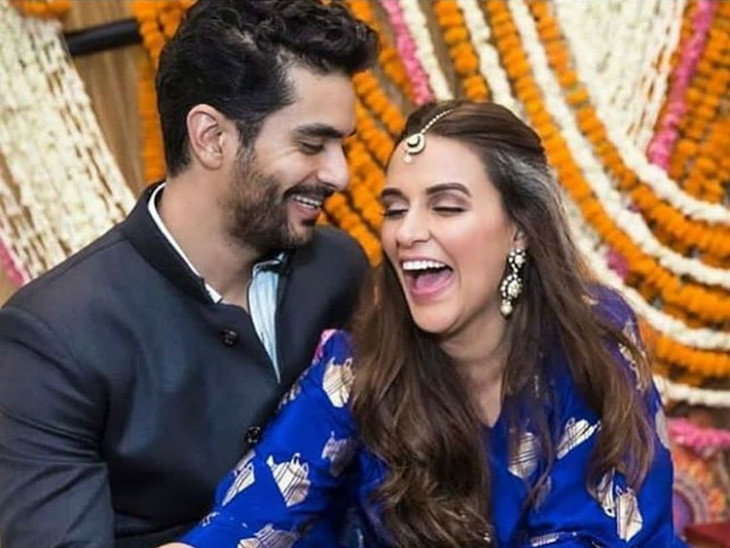 Neha Dhupia tied knot with her long time best friend Angad Bedi in a private ceremony in presence of their families and close friends! They got married in an Anand Karaj ceremony attended by close family and friends in a Gurudwara in south Delhi. There has been quite a suspense over how and when was the decision taken, when were the preparations done, who all were a part of this wedding ceremony and what was the reason behind keeping it a Hush Hush wedding! Apart from these comes another big question, How did Angad propose to Neha for the wedding???
https://www.instagram.com/p/BilwBTDFIL_/?hl=en&taken-by=nehadhupia
Well, to put an end to all these speculations of how and when, Neha Dhupia herself answers how her man got her to say yes for the wedding! Neha Dhupia revealed that Angad Bedi and her have been friends for 15 years now and that the concept of finding love i your best friend worked well for the duo! She also said that he is extremely close to her parents and had decided that he would propose to her amidst them. And thus happened the proposal!
"When Neha Dhupia was visiting her parents in Delhi, unaware of what was to come to her, he happened to be there and proposed to her in front of her entire family."
https://www.instagram.com/p/Biq5WEBFM8f/?hl=en&taken-by=nehadhupia
Neha Dhupia also said that Angad Bedi is really close to Neha's mother and that the two get along well. She said, "Angad is very close to my mom and the two get along like a house on fire. I feel really lucky to have married my best friend."
Here's wishing the couple years of togetherness!
Stay tuned for more updates and latest news!
Do write your feedback and suggestions in the comment section below!