News
Delhi Man ' s Unique Protest Forces Government To Clean 500 Metre Long Sewage Spilled Road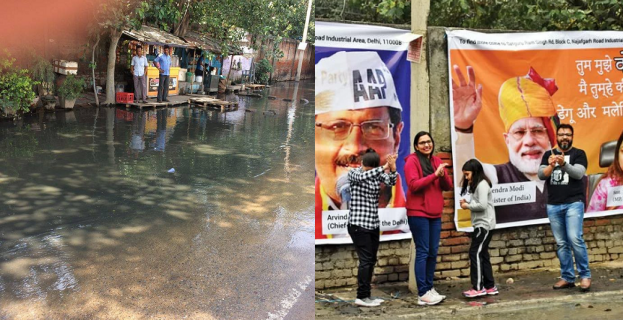 Swachh Bharatcampaign is promoting a clean India is a noble campaign, it's execution has not been as exemplary as its motive. Local entrepreneur Tarun Bhaila, who has a robotics firm Avishkaar in West Delhi.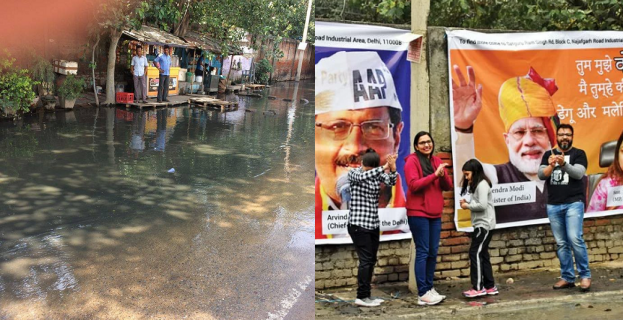 Tarun Bhalla had noticed a 'sewage lake' around his office, which was dirty, so he was forced to wear gumboots to work, as a form of visual protest. He and his employees continued to complain to the local authorities about the unhygienic of the area.
The roadside vendors and barbers were forced to set up shop in knee-deep sewage water. He initially protested via social media, by uploading images and tagging concerned authorities. When he failed, he took a drastic measures.
On 2 March, he set up three posters, one each of the three political parties AAP, Congress, and BJP with the 'election slogan', tum mujhe vote do, hum tumhe kichad, dengue aur malaria denge."
He host 'Opening Ceremony' for the 'open air sewer lake', sent out invitation for the inauguration, had his daughter cut the ribbon.
"My 11-year old daughter cut the ribbon and inaugurated it, as I wanted someone of her age to be involved too, so that she can realize the condition people live in. She was hesitant to get into the mud at first. but I said, ' keechad saaf karne ke liye toh keechad mein utarna padega na."
The authorities finally took notice. The posters were displayed, concerned authorities reached the venue and surveyed the area.
The PWD officers and sanitation worked cleaned the road of the water and mud and the 500 meter stretch of road was back to looking and working like a road. By Monday, even the posters were cleared out.
"Clearly they always had the means to fix it, but didn't bother until they were shamed," said Tarun.
Talking about his unique methods he said, "I am not interested in being violent. I don't want to grease the palms of some MCD officer to make this happen. As a common man, my strength is in numbers and having a sense of humour."
Sometimes, it takes only one common man to get rid of a 'common problem' that plagues thousands of people.