News & Gossip
Deepika Padukone and Ranveer Singh's wedding: Noticed these mistakes in the Hindi announcement note?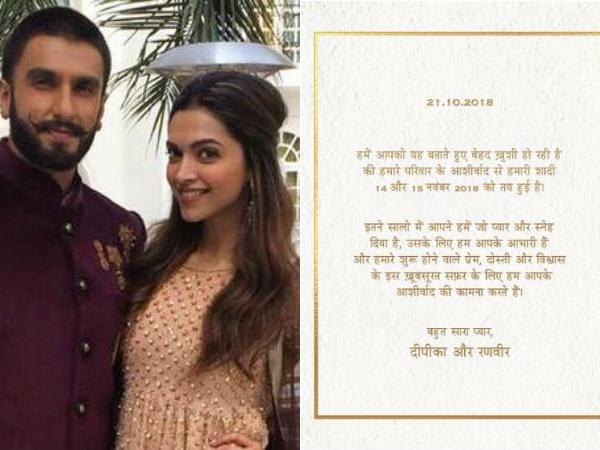 The most loved couple of Bollywood, call them Ram-Leela or call them BajiRao-Mastani, Deepika Padukone and Ranveer Singh truly have set couple goals! Both DeepVeer are at the peak of their career and Padmaavat has set their standards even higher! With their wedding announcement made by the couple themselves on Sunday, they truly have taken the social media by a storm! With all the fans and celebrities rejoicing over their wedding and congratulating the couple, there are speculations made over the guest list and the venue and the functions at the wedding! Amidst this, little have you noticed that the wedding announcement in Hindi has a few mistakes!
Deepika Padukone and Ranveer Singh are to get married on 14th-15th November, 2018 at the Lake Como in Italy! And the news was happily shared by the duo on their social media!
https://www.instagram.com/p/BpMR606Bu78/?utm_source=ig_embed
In this wedding announcement made by Deepika Padukone and Ranveer Singh, While 'कि' has been written as 'की', 'दीपिका' has been written as 'दीपीका.' On top of that, it looks as if the Hindi version is a word-to-word translation of the English note – it looks rather mechanical instead of a free-flowing piece of writing.
Given their huge statures, Deepika and Ranveer had to face a lot of wrath on the social media for this negligence. The couple, however, looks too busy to respond.
However, even then, we are absolutely extremely excited about this grand wedding! Excited much??? Stay tuned with us at Filmymantra for more updates over DeepVeer Wedding, happening shortly!