Specials
CSK tweeted "Gayle please take rest" and Kings XI Punjab strikes back intelligently !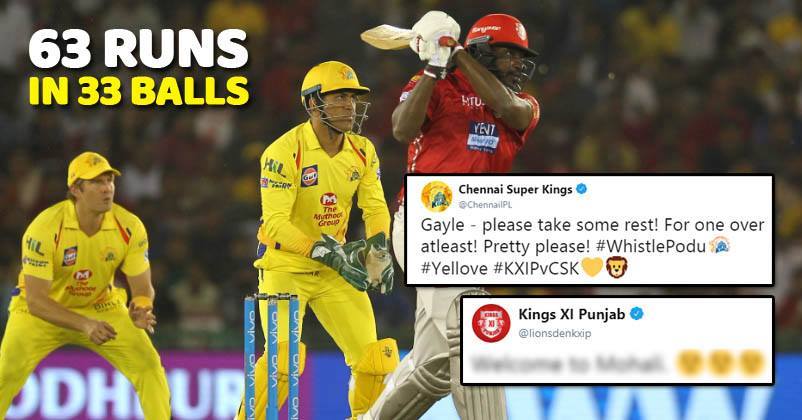 It was a very exciting, adventurous and an adrenaline rush worthy and sort of a nail biting match yesterday between CSK and Kings XI Punjab where KXIP won the toss and decided to bat first and all cricket fans and lovers just loved the way they performed. In just 20 overs, they managed to score a whopping 197 runs and they raised the bar and standards high for their opposition team that is CSK. CSK tried to match up to their score by giving a really tough fight but couldn't do so.
But truth be told, hats off to Chris Gayle who gave the best performance this time for KXIP in IPL. It was amazing as in just 33 balls, he scored 63 runs. But sadly, all good things come to an end. In this match, his wicket was taken by Shane Watson. It was a visual treat to see Chris Gayle hit 4 sixes and 7 fours for his team KXIP in IPL.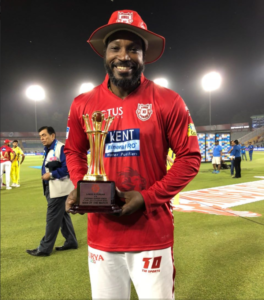 Even KL Rahul did his level and career best performance by scoring 37 runs in 22 deliveries. Whatever it is, we really just can't forget Gayle's contribution in today's game.
While Chris Gayle was batting, even CSK's official Twitter handle really couldn't hold themselves back and they tweeted about him.
This is what CSK tweeted –
https://twitter.com/ChennaiIPL/status/985534116501176320
Well this one was really a very witty tweet from CSK. However, we were really shocked and sort of surprised to see an equally brilliant reply from KXIP Twitter handle. They said –
https://twitter.com/lionsdenkxip/status/985536254031769600
The match was being played at Mohali in Punjab and so KXIP said that CSK will definitely get such treats.
We enjoyed this conversation between the two teams. But did you also enjoy it ?