News & Gossip
Chinese Social Media SLAMS Thugs Of Hindostan And Asked Bollywood To Not Release Such Bad Films In China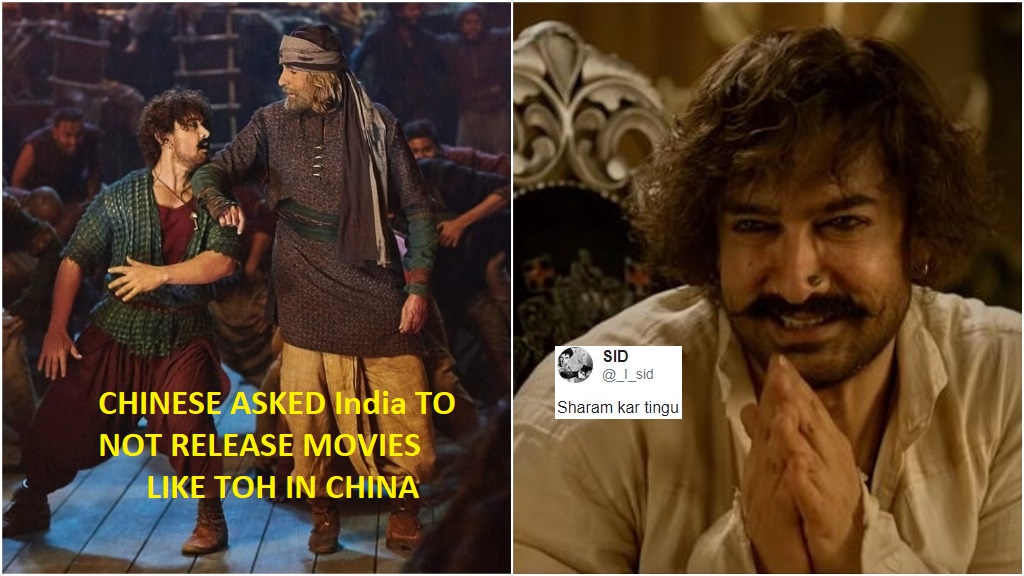 I personally don't mind saying that Aamir Khan, Amitabh Bachchan, Katrina Kaif and Fatima Sana Shaikh Starrer Thugs of Hindostan was the biggest disappointment of Bollywood this year. There was a huge expectation from the fans, but the movie failed miserably and its worldwide Box Office Collection is the proof of the same.
Fans and critics criticized the movie massively upon its release. Netizens trolled it like never before saying that it is a copy of blockbuster Hollywood film series Pirates of The Caribbean. The lack of storyline and visual effects were also the reasons behind so much bashing.
Despite such a massive star-cast, Thugs of Hindostan failed to bring audiences into the theaters. Now, it seems that Chinese audiences also disliked the movie. A comment by Douban about Aamir Khan has gone viral on social media.
Chinese daily Global Times took to Twitter to share the comment that has created a stir on social media. Look at the Tweet down below.
"Please never introduce such a bad movie to China again. Otherwise, the reputation of #Bollywood will be ruined in the Chinese market," added Douban user Sangezizunxinqiang, who gave one star out of five to #AamirKhan's new movie, #ThugsofHindostan https://t.co/V4w7mXnk2m pic.twitter.com/DoYcXU9fIi

— Global Times (@globaltimesnews) December 29, 2018
As soon as Global Times posted the Tweet, people started trolling Thugs of Hindostan left, right and center. They also trolled Aamir brutally.
This Is How Twitter Reacted:
https://twitter.com/subhamd14/status/1079017281273901056
https://twitter.com/Sajed4SRK/status/1079024632856961024
Gave a dose Chinese quality to China

— Paliwal_Warrior (@paliwal_w) December 29, 2018
Taati India Mai ho ya China Mai ho ya American Mai taati to taati hi rahegi na

— Nation first (@super_Rajputt) December 30, 2018
Yeh Bharat ko Intolerant bolne wala aamir, china walo ne isko tolerate tak nahi kiya … ha aha ha… acha huwa iski pitayi

— Vinay (@iamvinae) December 30, 2018
https://twitter.com/namo_namah23/status/1079022971740655616
https://twitter.com/shall_isaytruth/status/1079025235352010752
https://twitter.com/nilanjanbatabya/status/1079258459604889600
https://twitter.com/_I_sid/status/1079074758954606592
That's an epic burn, isn't it?
Tell us your thoughts in the comment section down below. Stay tuned to this space for more viral stories.