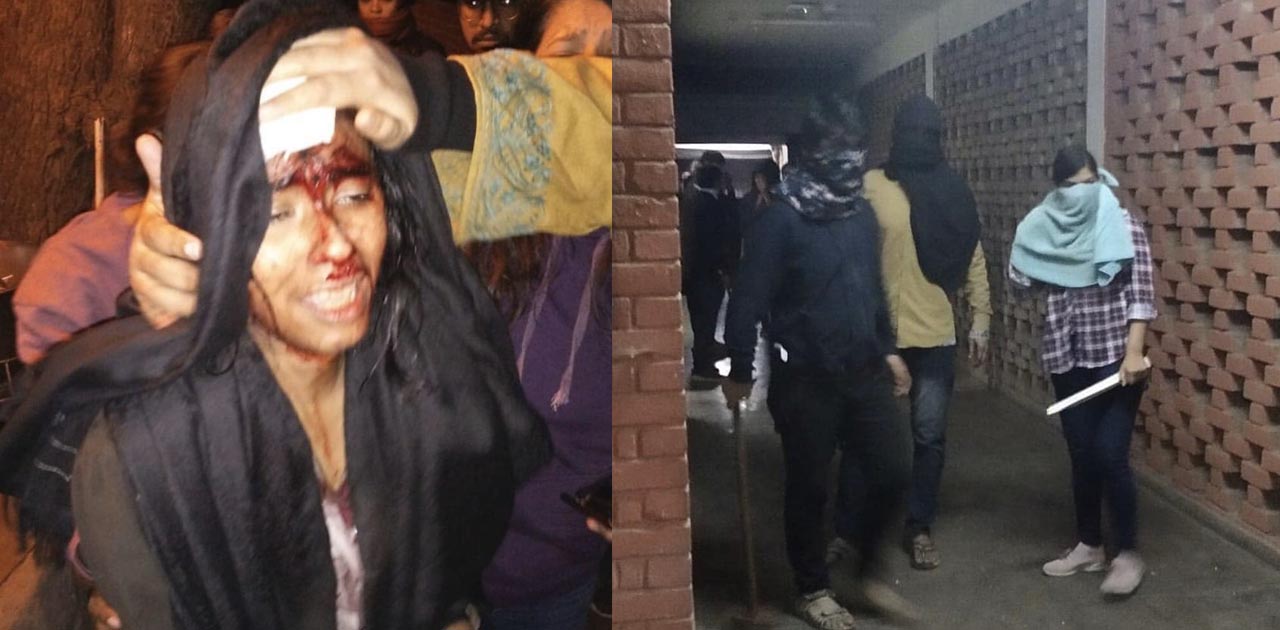 The Jawaharlal Nehru University (JNU), on late Sunday, was on the boil when a masked violent mob entered the university premises and brutally attacked teachers and students. The incident shook the entire nation and our film industry too has rained emotions.
Celebes including Taapsee Pannu, Swara Bhaskar, Dia Mirza, Shabana Azmi, Riteish Deshmukh, Zeeshan Ayyub and Shabana Azmi took to their favorite mouthpice Twitter to condemn the incident.
Swara Bhaskar, an alumnus of the university, shared an emotional video where she can be seen crying over the barbarism on students and teachers. She also urged people to reach JNU campus in large numbers to show their support.
Below are the tweets from the Bollywood celebrities:
https://twitter.com/ReallySwara/status/1213848028810858497
It breaks my heart to see what happened at JNU! What's going on in India is horrifying!! Students & teachers being beaten up & terrorized by masked cowards!! The constant blame game!Stooping so low for political agendas!Violence is NEVER a solution! How have we become so inhuman?

— Kriti MIMI Sanon (@kritisanon) January 6, 2020
What happened in #JNU is shameful, horrific and heartbreaking. Those who are responsible behind these attacks should be punished. #JNUViolence

— Rajkummar Rao (@RajkummarRao) January 5, 2020
such is the condition inside what we consider to be a place where our future is shaped. It's getting scarred for ever. Irreversible damage. What kind of shaping up is happening here, it's there for us to see…. saddening https://t.co/Qt2q7HRhLG

— taapsee pannu (@taapsee) January 5, 2020
This is a real shame. Teachers are being attacked ! Gurur Devo Bhava ? Tragic. The world is watching this descent into madness. https://t.co/JFWgsH3tE1

— TheRichaChadha (@RichaChadha) January 5, 2020
The real "tukde tukde gang" is @BJP4India and ABVP and the leader of the "Tukde tukde Gang" is @AmitShah and @narendramodi . And let's write that in stone . They are the ones breaking and dividing the country .

— Anurag Kashyap (@anuragkashyap72) January 5, 2020
This is beyond shocking ! Condemnation is not enough. Immediate action needs to be taken against the perpetrators . https://t.co/P5Arv9aNhj

— Azmi Shabana (@AzmiShabana) January 5, 2020
When is this madness going to end… what's the price one can put on an innocent life. Frightening to see images of students and faculty members being attacked and hurt. This level of violence is unacceptable… #JNU

— Neha Dhupia (@NehaDhupia) January 5, 2020
https://twitter.com/geneliad/status/1213869177867403264
India,where cows seem to receive more protection than students, is also a country that now refuses to be cowed down. You can't oppress people with violence-there will be more protests,more strikes,more people on the street. This headline says it all. pic.twitter.com/yIiTYUjxKR

— Twinkle Khanna (@mrsfunnybones) January 6, 2020
Too stunned n horrified to even write anything about this inhuman n cowardly act..Is this our India??Those behind d masks have to be found n punished for this atrocity.Cant believe this can happen in Delhi to d future of our country #JNUViolence #JNUattack #StandWithJNU pic.twitter.com/Z8hGodBcHM

— Urmila Matondkar (@UrmilaMatondkar) January 6, 2020
Shocking disgusting and cowardly. Have the balls to at least show your face when you want to attack innocents. https://t.co/laFmsF8DTK

— Sonam K Ahuja (@sonamakapoor) January 5, 2020
More than 18 students, including JNUSU President Aishe Ghosh, were critically injured and taken to the AIIMS Trauma Centre after a masked mob attacked them with sticks and iron rods. JNU teachers are fall prey to the inhumane act. The JNU administration condemned the attack and urged the police to take action against the perpetrators.
Read More: Box Office Collection: Tanhaji gets flying start; Chhapaak disappoints
Delhi police, however, launched a flag march on Monday morning and declared the situation normal.