News & Gossip
BMC demolishes Kangana's office; Actress tags Maha govt as "Babar and his army"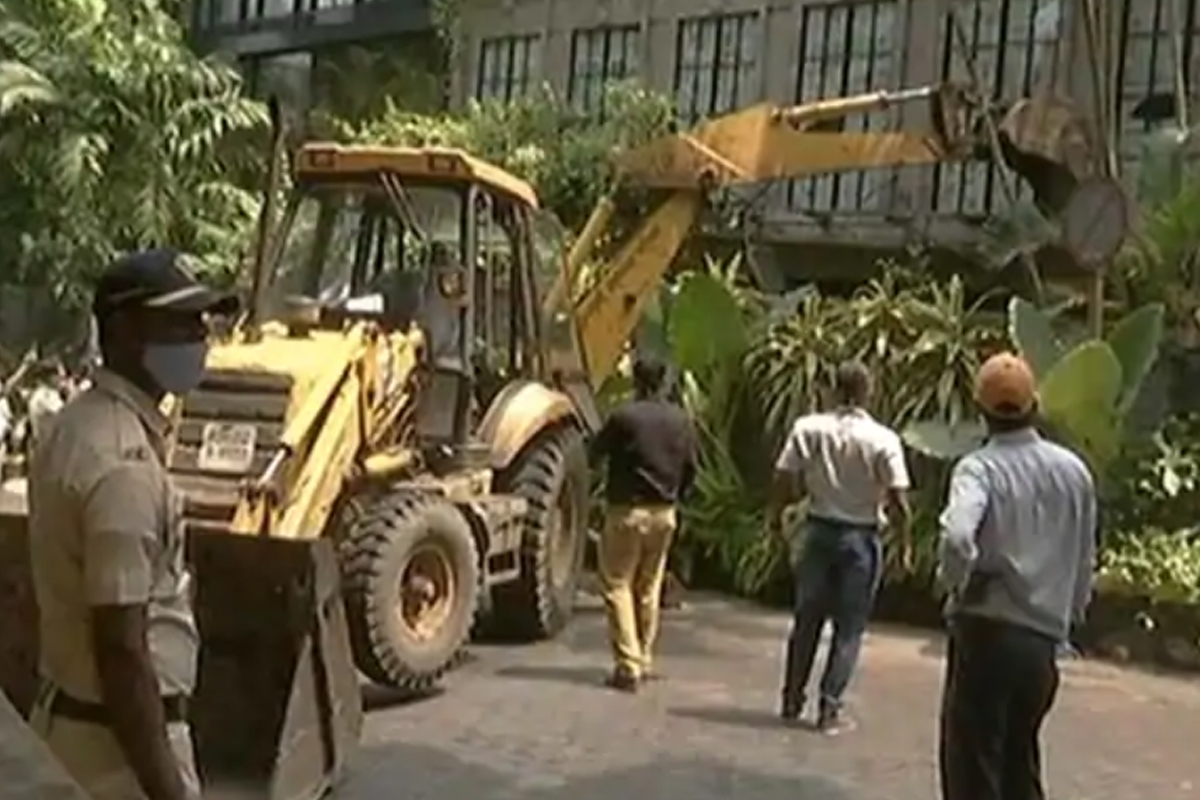 It is apparent from Kangana Ranaut's recent online brawl with Maharashtra government that nothing could break her indomitable sprite even though the BMC takes down her newly bought office in Mumbai's Pali Hills. The 'Queen' actress alleges that the Maharashtra administration is targeting her because of her recent verbal duet with the state ruling political party, Shiv Sena and using its powers through Brihanmumbai Municipal Corporation (BMC) by demolishing her office.
Reiterating her much controversial remark, the 'Once Upon a Time in Mumbaai' actress wrote "my Mumbai is PoK now" while sharing photos of civic officials taking down her office as she came back to the city today amid her ongoing conflict with Shiv Sena. A civic team had served her notice over illegal structures at her office as well as home.
The 33-year-old actor in her series of tweets, wrote, "I am never wrong and my enemies prove again and again this is why my Mumbai is POK now #deathofdemocracy." she also wrote "Pakistan…" and "Babur and his army".
https://twitter.com/KanganaTeam/status/1303586065597440000
Meanwhile, on Tuesday BMC had slammed a notice outside her office under section 354/ A of Municipal Corporation Act, listing 14 violations at her office in Mumbai's Pali Hills. BMC notice states reportedly stated that if the actress fails to produce permission, then without any further notice, the building will be removed or pulled down. The list also claims that the construction is unauthorized or 'illegal alterations'.
Criticising the Maharashtra government, the 'Manikarnika' actress tweeted, "As I am all set for Mumbai Darshan on my way to the airport, Maharashtra government and their goons are at my property all set to illegally break it down, go on! I promised to give blood for Maharashtra pride this is nothing take everything but my spirit will only rise higher and higher," she wrote this morning.
Last night, she also posted pictures of a BMC warning alleging the agency was desperate to break "her house". She wrote, "Now @mybmc has filed a caveat against me, really desperate to break my house, I deeply love what I built with so much passion over so many years but know that even if you break it my spirit will only get stronger…. GO ON."
https://twitter.com/KanganaTeam/status/1303569152917946368
The actor, given Y-Plus security by the central government, was escorted by cops as she offered prayers at a temple in Kothi, Himachal Pradesh, on her way to Chandigarh for her flight to Mumbai.
For unversed, recently the 'Queen' actress had took a dig at Shiv Sena MP Sanjay Raut who in his party's mouthpiece 'Saamna' had asked her not to return to Mumbai after she openly criticized the Mumbai Police, and state administration over alleged drug and Nepotism in the Bollywood that reportedly claimed Sushant Singh Rajput's life. Following her her reaction Maharashtra Home Minister Anil Deshmukh said,  "Aisi Mumbai police ki tulna joh ki hai, aisi haalat me unko Maharashtra mein rehna ka, Mumbai mein rehna ka koi adhikaar nahi hai." Reacting to she had alleged, "He is taking his own calls on my democratic rights, from POK to Taliban in one day."