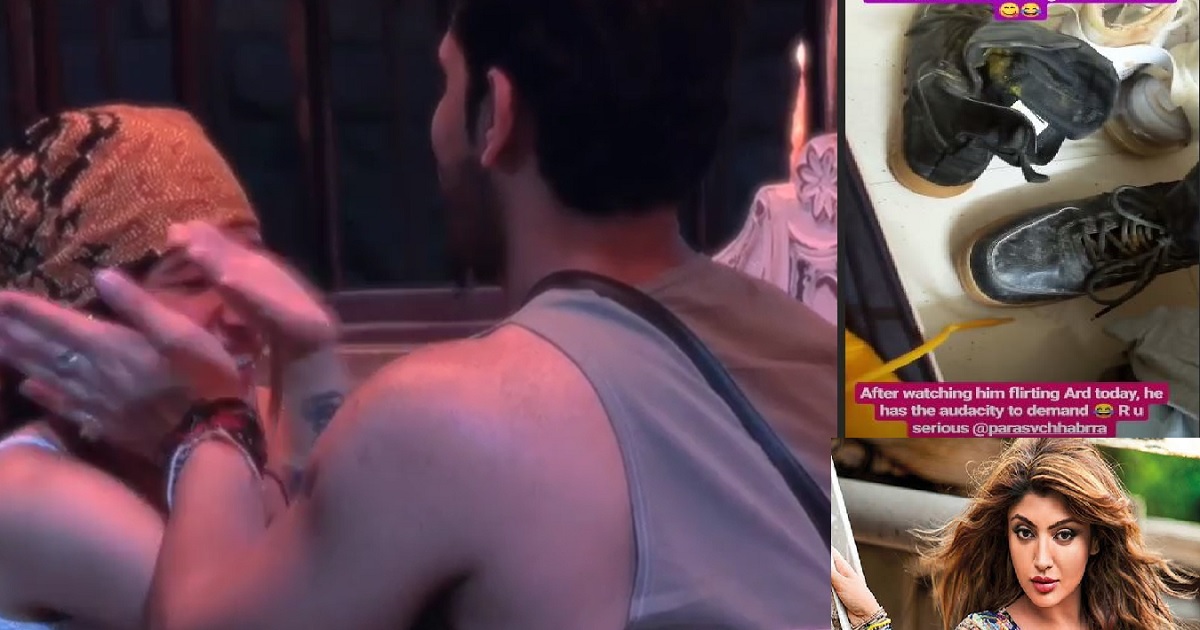 Paras Chhabra's closeness with Mahira is growing day by day,  girlfriend Akanksha Puri shared some photos on her Instagram story, that Paras has sent his stinking dirty clothes and shoes back from the house, with a message that he wants the shoes washed and sent back to him.
https://www.instagram.com/tv/B6Neq0RAAOo/?utm_source=ig_web_copy_link
The two had been great friends right from the start, and now the equations are different and they have expressed their feeling on national television. While Paras is currently dating Akanksha Puri, he was also seen flirting with Mahira on the show.  In last night's episode, they were also seen spending some quality time alone and getting cozy and kissing Mahira on her cheeks.
After seeing the closeness, Akanksha Puri shared that he has sent his stinking dirty clothes and shoes back from the house, with a message that he wants the shoes washed and sent back to him.  She took to her Instagram stories and shared a clip of a bag full of clothes and said, "Guys aaj paras ke ye stinking dirty clothes wapas aaye hai with an amazing message that please tell my baby ke mere ye favorite shoes dhulwake wapas bhijwaa de. Paras, are you serious?"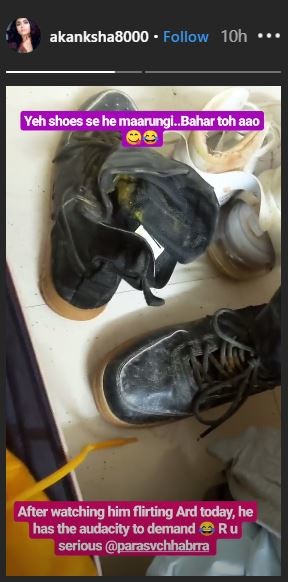 The caption on it read, "Yeh shoes se he maarungi..Bahar toh aao.(laghing emojis ) After watching him flirting Ard today, he has the audacity to demand R u serious @parasvchhabrra."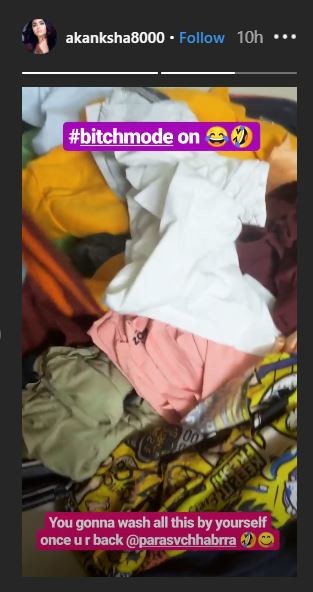 Further she said, "Yaar ye log andar task kar rahe hai ke kya kar rahe hai. My house is stinking. These clothes are in such a bad state. So paras I'm not sending you anything back, kuch wash nahi karwaungi."