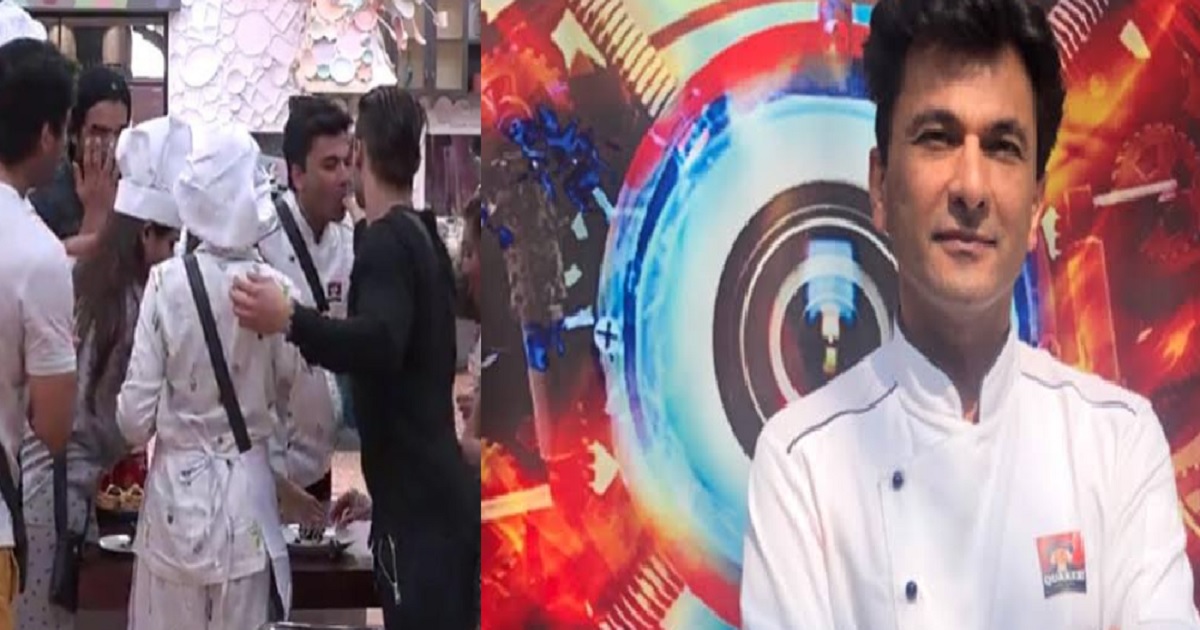 Vikas Khanna is an Indian Michelin star Chef, restaurateur, cookbook writer, filmmaker and humanitarian. Chef went inside Bigg  Boss 13 house with a Quaker Oats cooking task. He made two groups and ask to make two dishes of oats. Vikas made many special dishes for the housemates who won the task and gave a cake too.
Soon when  Vikas came out he posted a photo of Asim Riaz feeding him a cake on his Insta story and got the very rude comment on it. Chef did not ignore but chose to give back a slap to the trolls by explaining why he chose the Asim picture and why it was so precious.
Using oats in most dishes, he had prepared arancini balls, paneer roulade, baked vegetables, tarts and black forest cake made with chocolate oat sponge, fresh cream and cherries.
Yesterday I posted a pic on my Insta Story of #AsimRiaz feeding me cake that how that moment moved me. Many people left extremely rude comments and questions.
Here is why that moment was important for me to express. pic.twitter.com/DiE0HxqAXd

— Vikas Khanna (@TheVikasKhanna) January 12, 2020
Vikas Khanna took to Twitter and wrote, "Yesterday I posted a pic on my Insta Story of #AsimRiaz feeding me cake that how that moment moved me. Many people left extremely rude comments and questions. Here is why that moment was important for me to express."
Vikas shared the same picture on Instagram and explained, "Dear All. I was in BiggBoss house a few days back. We had spent hours and hours to create Michelin Style plates for the Winning team…….when everyone started eating, I was so happy to see them eat. They are living in isolation without any luxury for months, it was a satisfying moment for me to see them savor my food. Except for Asim, who served me a bite with his hands first. It was a genuine moment to thank me. When I posted this humble gesture on Insta Story, I got a lot of hate-filled rude messages and questions. Even questioning my faith. I'm an Indian and that's my faith. I have slept many days without food during my journey in America, I admire people with courage and big hearts even when they are at the receiving end. Humanity and Humility Shine even when they are silent and small."
https://www.instagram.com/p/B7NxsK-HVrQ/?utm_source=ig_web_copy_link