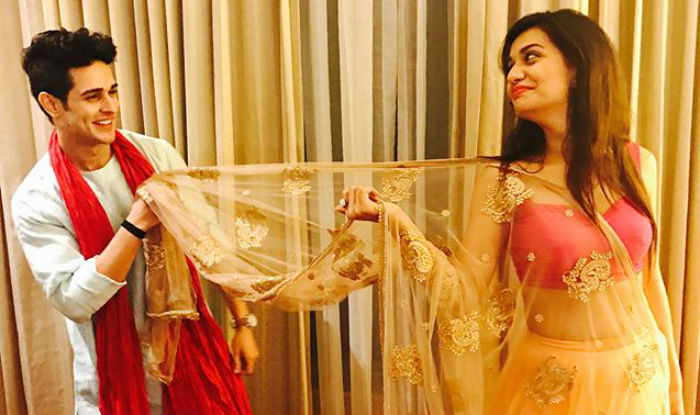 A piece of very shocking and sad news just came in stating Priyank Sharma broken up with his Splistvilla connection Divya Aggarwal. The incident took place before entering in the Bigg Boss house again as wildcard entry. Recently Priyank un-followed Divya on Instagram too. Previously Splitsvilla 10 contestant Hritu and Akash said that Divya had a genuine feelings for Priyank, but Priyank was just playing his game and that is the reason not for once he talked about Divya in Bigg Boss for once.
[Also see: Bigg Boss 11: Priyank Sharma REVEALS Shocking Details About Bandgi Kalra's Boyfriend, Dennis Nagpal And Puneesh Sharma]
In the first week of Bigg Boss, ex-Bigg Boss contestant Kamaal R Khan spread-ed rumors by tweeting on twitter which read as, "Breaking News-According to sources, Priyank Sharma is boyfriend of Guy Vikas Gupta so they both are in #BiggBoss11". Later when Priyank was evicted , he came out and cleared this rumor by saying that , "This Kamaal R Khan is one mad person. He enjoys spreading rumours. Vikas is like a friend and brother to me."
Priyank's girlfriend Divya was quoted saying, "The simple thing is 'jeeyo aur jeene do'. I don't understand why everyone is hounding on Priyank and trying to use his name to make headlines," while talking to the leading daily.
[Also see: Bigg Boss 11: South Celebs Slam Hina Khan for Her Insensitive Remarks on South Indian Actresses]
Well then this means that the news Priyank Sharma broken up with Divya was all rumors then why he un-followed her on Instagram. Divya explained the reason behind this. She said, "He recently just un-followed me by mistake thinking it to be my fan page account because the id was quite similar. In the morning he realized and we even laughed about it."
Talking about does such rumors affect her and her relationship with Priyank, Divya said:
"Honestly, you know it doesn't. June was the time when Spiltsvilla was shot, since then we have been trying to prove our relationship to everyone. However, people are still dicey about us being together and questioning our relationship. I now don't feel any need to prove because the problem with the Splitsvilla audience is that they think that the past contestants have always faked their relationship so even we must have. We are actually very tired."
She further added,
"People then kept asking that why haven't you guys met up after he came out and I was like I have been quite busy with my work and Diwali, come on, it was Diwali. Obviously, I stay with my family and they would have kicked me out if I had said that I want to celebrate Diwali with my boyfriend. We both were very happy spending our times with our family and then I went to China for my performances and when I returned he was already back in the house."
Hence the conclusion is its all rumors that Priyank Sharma broken up with Divya. They are still together. Stay tuned with us for more latest news and Bigg Boss gossips.