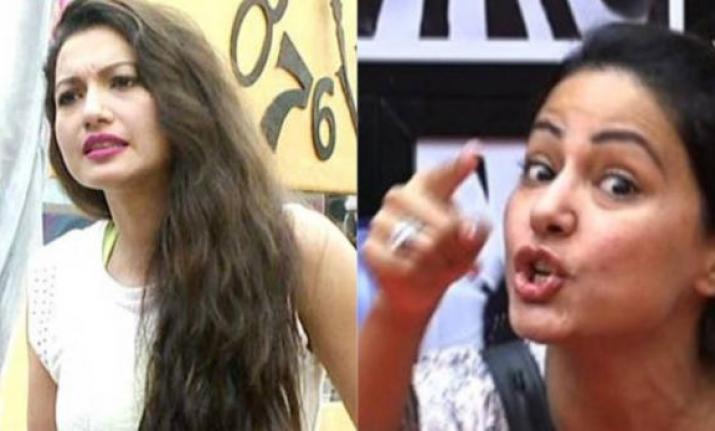 Some of the controversial statements have been coming about Hina Khan that has irked Gauhar Khan. This season's Big Boss 11 is becoming a hub of controversies even when the episodes are coming to an end. Hina Khan has managed to stay in the limelight in most of the episodes. Whether it's for her comments or behaviour with the other contestants, this time Hina has managed Bigg Boss 7 winner Gauahar Khan.
With his every episode, we have seen Hina Khan and Arshi Khan butting heads. A few days ago in an episode, a comment from Hina Khan has not only managed to hurt the feelings of Arshi Khan but has also earned the madness of Gauahar Khan.
It's said that Hina Khan has passed a judgemental comment about Arshi stating that Arshi should tear off her clothes in order to get noticed to the outside world. This is pretty surprising to hear from Hina Khan when disrespectful and vulgar comments were made about popular MTV VJ Benafsha Soonawalla. Well, Hina stood by her side defending her.
Well, this is not the first time Gauahar and Hina started yelling at each other. When Hina has made the comments about the speaking skills of Shilpa Shinde, Gauahar has taken this to the twitter how disappointed she was with Hina.
Here the controversies don't end here, Hina Khan has also passed the comments about Kishwer Merchant, ex-Bigg Boss contestant. Hina conveyed that she is never going to stoop as low as Kishwer, referring to the time when she has spit in the wild card contestant, Rishabh Sinha's water> However, Hina has further added that she is going to play the game with dignity.
Keeping the controversies alive, when Kishwer has been made aware of the backtalk she has posted a pretty long message saying that there have been times when you make mistake and say sorry and finally move on to becoming a much better person. With due respect @realhinakhan, you can speak about things but let the tasks start, we are going to watch you from outside in order to see how nice you have been and haven't heard stories about you. It has been time to let the house push a little. It has been long time that these things which happened 2 years back has once again came as it's my past. Moreover, it has been sorted out and things are working perfect between us. At the end, it came out with dignity and out of love and respect from everyone, she has been the winner that matters. The journey from being bad and to improve yourself being good is what mattered!
Kishwer has later deleted the message and also tweeted:
This is not everything – Kushboo, Hansika Motwani, and Kriti Kharbanda has slammed Hina Khan when she has commented on how South Indian actresses are 'bulging'.