News & Gossip
Bigg Boss 10 : Manveer Gurjar Received Grand Welcome In Noida!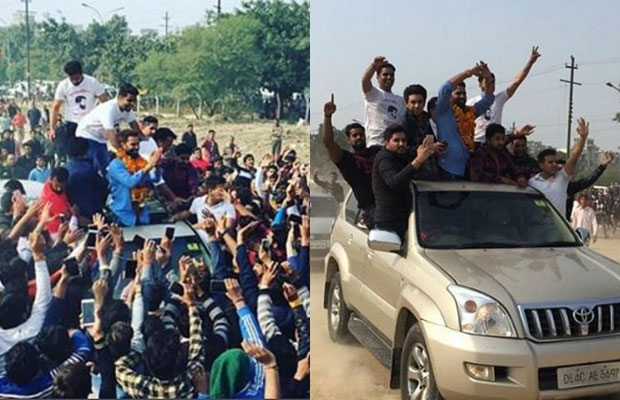 Bigg Boss 10 winner Manveer Gurjar is one the cloud 9 right now. He won the 10th season of Bigg Boss 10 and now he is back in his hometown, Noida. He won the show by defeating celebrity contestant VJ Bani, who was also a very popular figure. Manveer, who lands at his hometown, received a great welcome from all his fans.
Manveer Gurjar, who entered the show on October 16 as a commoner, has faced all the situations to win the trophy. Before entering the show, he was a desi guy with a big of arrogance but in the house, he changed in a big way. He remained in the house and did all the task in a positive way. He didn't given a point to anyone and waits till the other makes their mistakes. With his determination and focused behavior, Manveer Gurjar won the hearts of millions of his fans. Finally, he turns the winner of the Bigg Boss season 10 and won Rs. 40 lakhs as the price money.
https://www.instagram.com/p/BP7U7EtDj5P/?taken-by=bigboss.11_official
After winning the Bigg Boss show, Manveer Gurjar said, "When I went inside I changed completely. I was short tempered initially and people were really scared. Salman Khan also pointed out that thing. I thought if I am going to stay in the house with the same attitude as I was outside the house, then I won't be able to stay in the game. Then I decided to go on the backfoot and tried that the other contestants make mistakes in a task or behaviour. That is what I did. I played more with my heart than my mind."
https://www.instagram.com/p/BP7WQT-DtYG/?taken-by=bigboss.11_official
https://www.instagram.com/p/BP7TCtrDRQA/?taken-by=officialnitibha
https://www.instagram.com/p/BP7WvWrjUyU/?taken-by=bigboss.11_official
https://www.instagram.com/p/BP7Vyxgh2HP/?taken-by=gujjar_dilemmas
Manveer Gurjar when arrived at his hometown town in Nodia, he recieved a grand welcome. Manveer fans and his community members were all happy to see him after 3 long months. The way crowd has gathered to see him, it truly means that he is actually a celebrity now. This was the first time that a commoner won the show and this has made him a star.
Overall, Manveer Gurjar is finally back at the home and it is no less than a celebration at his home in Noida.
What are your thoughts about Manveer Gurjar's grand welcome in Noida? do let us know in the comments section below.