News & Gossip
Arbaaz Khan opens up on dating girlfriend Giorgia Andriani; credits her for helping him remain 'positive'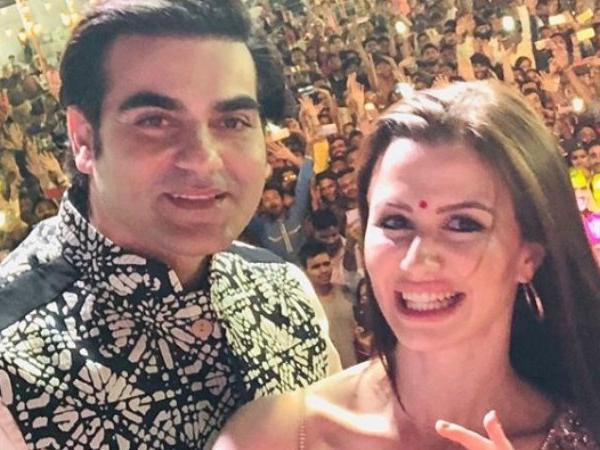 Malaika Arora is currently absolutely too much in the news for her affair with Arjun Kapoor! While people speculate the duo is to get married quite soon, the only confirmation available with people so far was Arjun Kapoor admitting him not being single on Koffee with Karan! Ofcourse the duo being spotted together at the Lakme Fashion Week, their PDA over social media, movie and dinner dates and their vacation to Milan was quite evident enough to approve of the duo being together, but what the bigger news heard is that the two are to get married in April and it will be a Christian Style Wedding! On the other hand, Arbaaz Khan, Malaika Arora's ex-husband has been dating Giorgia Andriani for quite a long time now and although there has been no official announcement, her presence with the family members at all events sorts to confirm it! Well, here is Arbaaz Khan opening up over him dating Giorgia Andriani and he credits her for all his positivity!
https://www.instagram.com/p/BpJdjbDB15N/
Arbaaz Khan admitted to a leading media house that he has dated several women since his divorce and accepted that he is currently in a relationship with Giorgia Andriani, Malaika Arora however has kept mum about her alleged relationship with Arjun Kapoor, until now. He had said, "You know it's okay, it's alright if they see somebody with someone they want to get them married, they want to…everything has its due course of time. I am obviously, post my divorce, I've had a few scenarios and equations with people, I've dated women and some look like they would go maybe a little longer than they did but they didn't happen and I don't want to rush about anything. At this point of time yes, I am dating and I don't know where it's gonna go but people think they know."
https://www.instagram.com/p/BsNNvQEh3jw/
This time too, Arbaaz Khan opens up about Giorgia Andriani and here's what he has to say, "If I had to hide my affair, I would not have brought it in open. I unhesitatingly admit that Georgia is there in my life at this point in time. Somebody who I have at his time in my life is a friend who I am also dating. Where it is going to go? Only time will tell. Yes, undoubtedly, we are together. When you are living alone then you tend to take life casually. You can either change for the better or probably for the worst. You can get addicted to a bottle or you may think that there is nothing left in your life. Fortunately, I was not in that mindset and my partner encourages me to remain positive and go ahead in life"
Stay tuned for more updates!