News & Gossip
Anushka on Kohli and his 'embarrassing' flying 'bat kisses'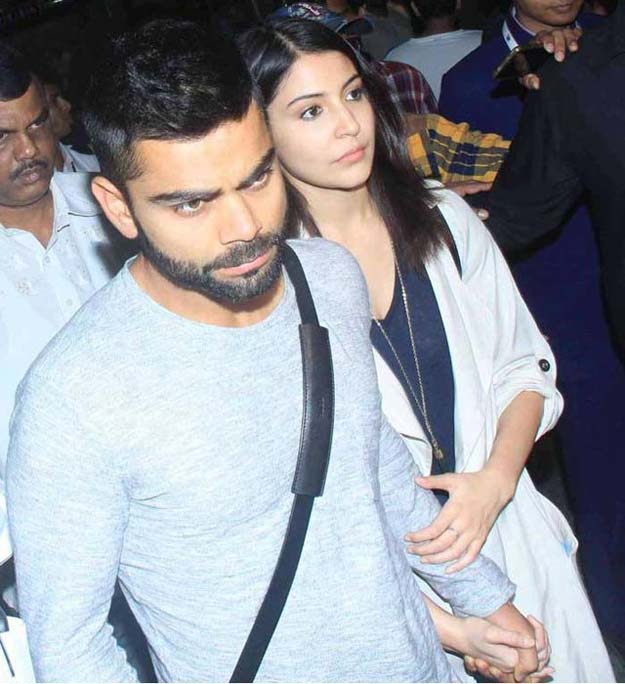 Anushka on Kohli and his 'embarrassing' flying 'bat kisses'
Bollywood actress Anushka Sharma, who says she usually doesn't talk about her private life, spoke about her boyfriend Virat Kohli and his public displays of affection on the field.
"I just felt embarrassed. My brother still makes fun of me. I was embarrassed. It's a stadium and people were turning around and looking at me. I felt shy," she says, referring to the bastmen's flying 'bat kisses' to Anushka in the stands.
Kohli looks to the crowd and gives a flying 'bat kiss' to his bae.
In an exclusive interview with The Times of India, the Bollywood starlet, who recently came under fire after India was defeated by Australia in the World Cup semi-final, and was mercilessly blamed for the Indian team's loss, said that being under the media scanner 24/7, at times does take a toll on her relationship with Kohli.
"We're both cut off from everything. When it takes away from your work, then it's a problem. It doesn't take a toll on your relationship. Virat and I are quite strong. But it definitely affects your work. He wants to focus on his work," she says.
Anushka and Kohli arrive hand-in-hand at Mumbai airport on Saturday.
"The baggage of his relationship in the media is something else. If he scores well, it's attributed to me, if he doesn't play well, it's because of me. I'm blamed for everything. I don't understand," she adds.
However, Anushka proudly says that the media's speculation about her and Kohli's relationship doesn't harm their relationship.
"All this doesn't harm our relationship. I wouldn't be with someone if we were not on the same wavelength. During the England tour, it did take a toll, not on our relationship, but on Virat. What happened was unfair. We weren't prepared for it."
Why she likes to keep quiet about her relationship
"I'll tell you why I don't talk. When you talk about your relationship in public, you start making it frivolous."
Anushka feels that if she is 'open' about her relationship with Kohli, it will lose its purity.
"If you talk about your relationship to me, it's just me you are talking to. How would you like it if I announce it on Facebook? And I'm not Anushka Sharma, I'm your friend. It will piss you off, right?" she says.
Further, Anushka vented about how the media said that she had a back injury after arriving back from Australia.
The couple during an ISL match on October 26.
"Someone took a picture when I was getting out of the hospital. Now they are making it seem like I developed the back problem after my trip to Australia. I was like WHAT?"
Anushka explained that the back problem happened on set while she was shooting for a film. She went on to say that people don't take heroines seriously.
"They assume we should be answering questions about our personal lives because that's the only exciting thing about us. It's not. That's why I don't choose to talk about it," she says.
Bollywood vs Hollywood
When being compared to how Hollywood couples are so open about their relationship, Anushka says that the media over there doesn't ask 'stupid questions' from celebrity couples.
"They don't ask such stupid questions. Also, we don't know how to handle someone's openness. Like when Deepika spoke about her depression, people wrote so many stories on it. She had the decency and the dignity to talk about it openly because she was doing it for a larger cause," she says.
Deepika Padukone and Anushka slam rumours of rivalry with this kiss.
"Then there were false reports about how Ranveer was also in depression. Catherine Zeta-Jones is dealing with a bipolar disorder, do people write such things about her? They give her respect and treat her like a human being."
"You think I have a problem about being open? Am I saying that I'm not dating Virat? I'm dating Virat," Anushka says firmly.
Correction: Earlier version of the story wrongly stated that India was defeated by New Zealand in WC 2015 Semi-Final.