News & Gossip
Another Face-Off Between Ranveer Singh, Shah Rukh Khan After Bajirao Mastani-Dilwale Clash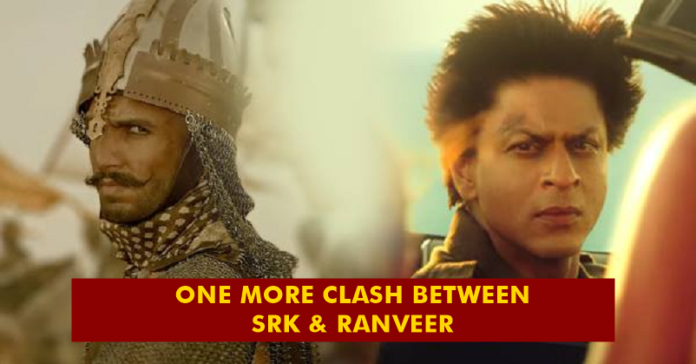 Shah Rukh Khan is one of the leading Bollywood actors of all times. His films get audiences not only because of the content, but also because of his humongous fan club. On the other hand, Ranveer Singh is now counted in one of the most promising young actors that Bollywood has. He has a good catch on every character he plays. These stars had a face off when Ranveer's Bajirao Mastani and Shah Rukh's Dilwale released on the same dates.
As per the rumour mills, these stars will have to face a box-office clash once again in 2018. As per reports, Christmas 2018 will see a clash between Ranveer Sing and Shah Rukh Khan's films. This year slot is generally dedicated to Mr. Perfectionist of B-town, Aamir Khan, but in 2018 the Christmas eve will witness two other actors locking horns.
As per reports, SRK's film with Aanand L Rai will be releasing during Christmas 2018. This film has Katrina Kaif and Anushka Sharma as the lead ladies. The makers of the flick are yet to finalise a name for the entertainer. On the other hand, Ranveer Singh will witness his first collaboration with Rohit Shetty soon. Their first creation will release on Christmas 2018. It is likely to be an action-drama film, inspired from a famous Telugu movie "Temper".
Both the projects sound interesting and if the clash happens, as stated, it is surely going to be a difficult choice to pick one film, first.