News & Gossip
Alia Bhatt And Varun Dhawan REACT To Saroj Khan's Statements!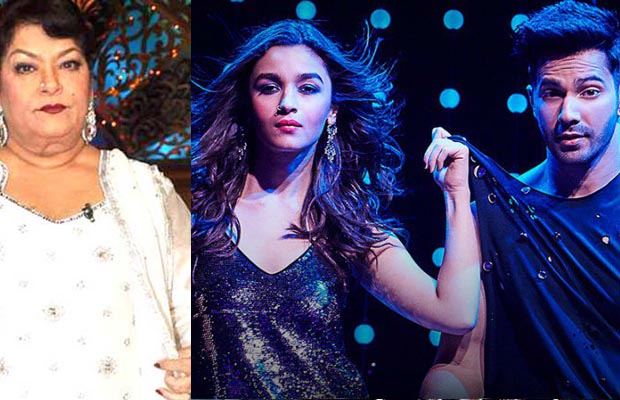 Madhuri Dixit and Sanjay Dutt's 'Tamma Tamma' made its return to Bollywood one more time when the makers of 'Badrinath Ki Dulhania' decided to use the song for their film. But before launching it, Varun Dhawan and Alia Bhatt showed it to both Madhuri and Sanjay who were part of the original.
While Anuradha Paudwal and Bappi Lahiri's voices have been retained in the reprise version too, Bappida complimented Varun and Alia's track as well. It's Saroj Khan who had a shocking statement to make when she was not invited for the launch event of the song! She told a leading daily,
"Maybe, they think that Masterji (referring to herself) has become old and Madhuri Dixit hasn't. That's why they have called her. Varun is a good dancer and I know he will be able to do it (the steps) well, but I don't know if Alia will be able to match up to Madhuri. In any case, it will be a feather in Alia's cap."
Now, Varun Dhawan has finally reacted to these comments. He told to an entertainment portal,
"I would want to apologise to Saroj Ji, but it wasn't in my hands. I didn't have her number and I don't know her personally. I had asked dad (David Dhawan) for her number, but by that time he had gone to London. I know this in not an excuse. I really take her as an inspiration and even her songs. I know Sanjay sir and Madhuri mam, so I took that lead."
Not just that, he also added,
"I told Bosco (Tamma Tamma Again choreographer) but he was a little nervous. I agree that the song is hers as much as of Sanjay sir and Madhuri mam. She is the one who's behind the original song and she deserves all the credit and she has all the rights to get upset with us."
Alia Bhatt was asked what she has to say about the same and she said,
"She is absolutely right. No-one can match the steps of Madhuri. whatever she said is right.. aise koi keh sakta hai ki main Picasso jaise paint kar sakti hun? (Can anyone paint something and then compare their work to Picasso?)"
But she still didn't talk about why did they not invite Saroj Khan for the song launch.
'Badrinath Ki Dulhania' brings together Varun and Alia for the third time after Student of The Year and Humpty sharma Ki Dulhania. The audience has always loved seeing them onscreen and if the trailer is anything to go by, in Badrinath too, they look really cute together. The songs and the movie posters have garnered Alia and Varun a positive response so far. So we are hoping that the film will open to good numbers at the box office. Talking about 'Tamma Tamma', it is a tribute sort of to Sanjay Dutt and Madhuri Dixit's original hit number. Obviously, comparisons are going to be made between the two, but nobody can match Madhuri and Sanjay's steps as long as 'Tamma Tamma' is concerned. though Varun and Alia had big shoes to fill in, they did a pretty good job. What do you think?