News & Gossip
After Azhar Ali, This New Zealander Got Run Out In The Weirdest Fashion, Twitter Can't Stop Laughing
Just recently, Pakistani Cricketer Azhar Ali was one of the hottest topics on social media, all thanks to his craziest run-out effort. It happened during the Pakistan Vs Australia test match when he stopped in the middle of the crease to have a chat with his partner thinking that he has scored a four.
However, the ball didn't cross the boundary and stopped just before the boundary rope. An Australian fielder picked up the ball and threw it to Keeper's end, who removed the ball in no time. Just like that Azhar Ali got run-out. This led to Pakistani cricketer getting massively trolled on social media for his laid-back attitude and lack of focus.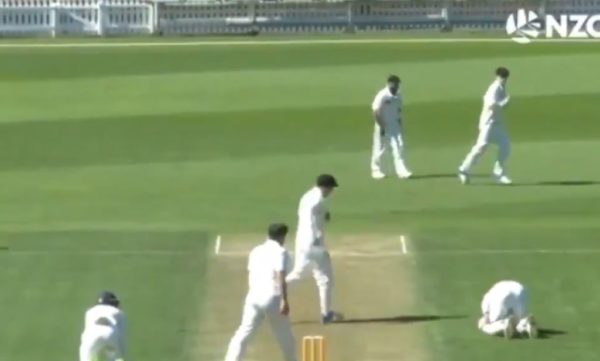 It seems like Azhar Ali is not the only cricketer who got run out in the most bizarre fashion. A similar mess-up happen with the New Zealand cricketer.
It so happened that the batsman hit the ball and started running for a run. Both of players on the crease started running. However, a weird event happened when they were running for the second run. While running for the second run, the first batsman slipped just outside the crease. To everyone's disappointment, the second batsman also slipped on the pitch while trying the reach the crease on the other side.
Watch The Video:
After Azhar Ali's run out, here it presents a dismissal from New Zealand Cricket.@TheRealPCB #PakvAus @CricketAus @AzharAli @BLACKCAPS pic.twitter.com/yfZuXRJLNq

— Ibrahim Badees (@IbrahimBadees) October 19, 2018
Twitter is having a gala time with the run out of the New Zealander. They are having a field day. Check out some of the reactions down below.
https://twitter.com/MessiDheeraj/status/1053211829336489985
Needed Benny Hill music.

— Anthony whellum (@WhellumAnthony) October 19, 2018
And another https://t.co/CBW81MjzRQ

— Andrew Collon (@andyc_128) October 19, 2018
https://twitter.com/sansub12/status/1053141848158429184
That's what would happen if we batted together

— Billy Mellor (@billymellor45) October 19, 2018
https://twitter.com/iamNaimish/status/1053296675953856513
https://twitter.com/motherrr/status/1053216653952065536
https://twitter.com/JackLangslow/status/1053192337726365696
https://twitter.com/cricstitute/status/1053189377822781440
https://twitter.com/gtripathy66/status/1053458208994422784
That's seriously funny, don't you think so?