News & Gossip
Aditya Narayan's "Song Squats Laga Ke, Hips Hila Ke" Is WORSE Than His Airport Brawl And Will Make You Cringe!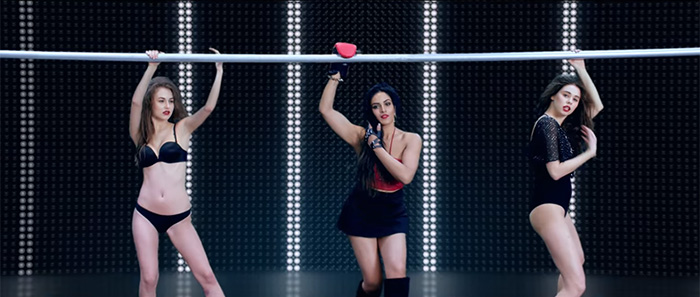 Aditya Narayan is making lots of headlines nowadays for all the wrong reasons. Once a good boy turned baddy, all thanks to his Airport brawl with the ground staff of an airline company. The actor has done multiple films as a child artist but failed to make an impact as a leading man in Bollywood industry. Recently, he threatened the ground staff of Indigo airline for extra baggage fees.
Aditya is known for hosting multiple reality shows on Indian Television. He has also done multiple soulful songs over the years. He was able to make us groove on some good music, but it seems that is also looking to change. His latest venture is making us cringe with stupid lyrics.
Get ready to shake your Bum Bum… #BodyLikeABomba out on Friday 💪 pic.twitter.com/RCU4xMFDE7

— Arian Romal (@ArianRomal) September 14, 2017
I know you don't have any idea what we are talking about? But don't worry folks. We are talking about Aditya's latest song titled "Body Like a Bomba". His latest song titled "Body Like Bomba" with Harshi Mad and Arian Romal was released on 15th September 2017. The song talks about woman's assets with some stupid description. I seriously don't know how to describe it.
Talking about the song in a recent interview with India Today, Aditya Narayan said, " It was fabulous working with Harshi and Arian. I think our energies matched and this number required lots of adrenalin. I was sold on the concept of fitness and party. Though it was initially meant to be party but we got ourselves in a bit and pumped up the party quotient higher. I'm sincerely hoping this would catch a lot of eyeballs and become a staple at clubs and gyms nationwide."
The lyrics of the song is literally one of the worst I have heard for quite sometimes. One of the line in the song says, " Squats laga ke, hips hila ke". If that was not enough, it also has lines saying " Bum hile ye tere ding dong, tere saath main karun baby ping pong… Tere bum pe bajaun baby zor zor se… Clap! Teri ass ko takia bana ke baby lu main phir nap."
Check out some of the screenshot of the music video. The girl standing extreme left is giving an expression that is currently what I think about the song!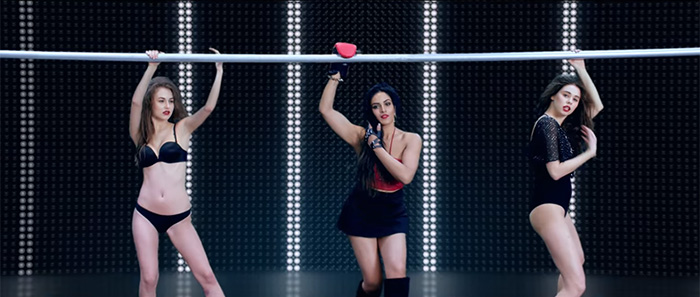 If all this was not enough, we had THIS.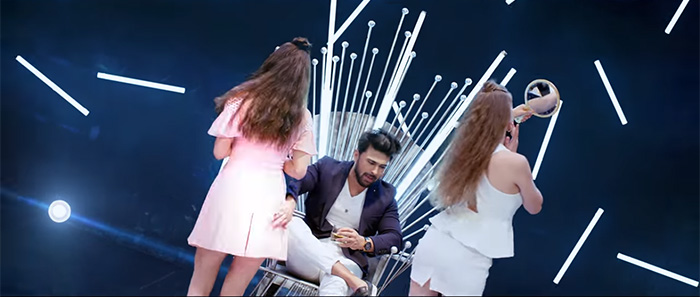 If you watch the full video, you would realize what one has to do when there are no contents. The video seemed to be inspired by 90s formula.
The music video has reportedly combined fitness and party themes. The video is also pretty Original if we look at the following images, Get IT. If you still didn't get what we are talking, check out the two images.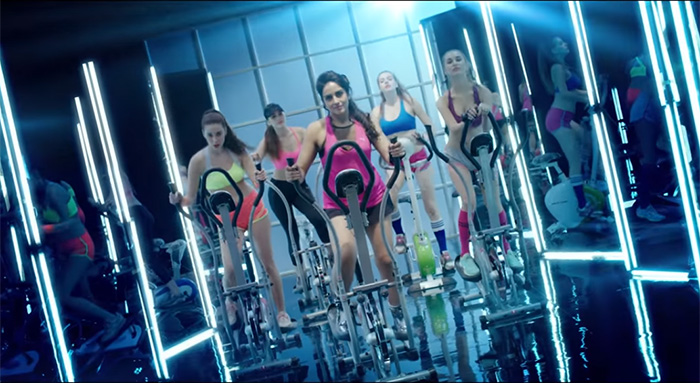 Now, The Original One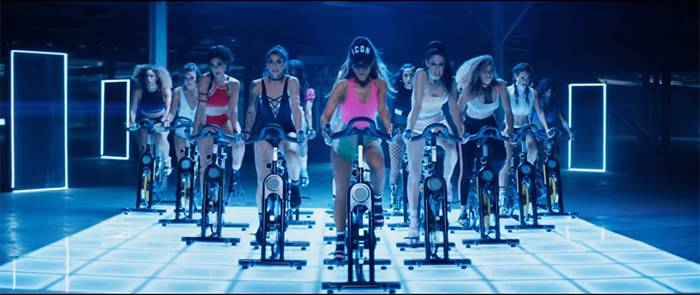 Now, have you ever seen someone lifting this weight like This? That's called a fitness freak, I guess. The video is filled with hot females and some stupid dance moves with ridiculous costume that the lady Harshi is wearing. Their dance steps will make you love KRK's dance moves, No really!
I don't know what you think, but I am definitely not going to do my workouts on this song. Sorry, Aditya from bottom of my heart.
If the above description was not enough for you, you can check out the song by yourself. Fair Warning: Watch It on your own risks. Also, we aren't responsible for any nightmares that you might have after watching this.
https://www.youtube.com/watch?v=2fEOmGn6MOk