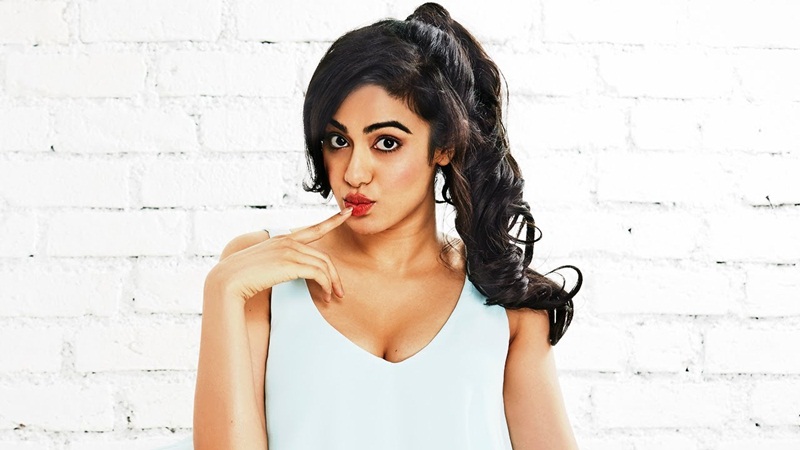 Adah Sharma who made Bollywood debut with 2008 Hindi language horror film 1920, which was a box office success, stay away from the controversial limelight. Actress is known for a calm and composed nature in person. Recently while interacting with her fans on twitter, a male fan asked Adah Sharma for a kiss. Adah refused to do so as she explained that she won't be comfortable doing so. The online fan further justified  the kiss saying as she had locked lips in her films, why not plant a peck on the cheek of her fans? But such creepy reply made Adah Sharma BASHES on her online fan. She blurted out all her anger in series of tweets.
[Also see: These Old Pictures Of Priyank Sharma Are Going VIRAL And You Won't Be Able To Recognize Him!]
Starting with Adah mentioned that in all these years she never had a outburst, but as she was been insulted for not giving a harmless kiss, she has been provoked to say it out. Se questioned her so-called creepy fan that who is to decide whom she should kiss. She went on saying that It's totally her choice whom she'll kiss and where she'll kiss, it's none of his business. In a series of tweet she also said that if any guy who meets her for the first time and ask for kiss on any part of his body, she will not spare him and he'll surely get one of her precise punch.
Her tweets read as:
I have never had a twitter outburst in the 3 yrs that I've been on twitter but accusations of "being insulted" for not being given a "HARMLESS KISS" have provoked me. I speak for a lot of girls here when I say the following …

— Adah Sharma (@adah_sharma) December 5, 2017
A kiss for me isn't harmless!You say "what's the big deal" well who are u to decide what deal is big and small for me?Deals aside,I want to choose who I exchange saliva with or whose cheeks/other parts I plant my lips on! Or who I want to make eye contact with too.(Male/female)

— Adah Sharma (@adah_sharma) December 5, 2017
If a boy meets me for the first time and asks me for a KISS on whichever part of his anatomy, REPEATEDLY he would at most times get punched,slapped or kicked in his groin. If your penis is intact consider yourself lucky because my kicks are precise and lethal.

— Adah Sharma (@adah_sharma) December 5, 2017
I might expose my knees and elbows and OMG! I showed off my spine and my shoulders too! But that doesn't mean I'm expected to have any physical contact with any human under complultion.(Physical contact could even be handshakes btw.)

— Adah Sharma (@adah_sharma) December 5, 2017
Bhavana Reddy kissed in a public place in Commando2, Hayaati had a 1 hr 45 minute kiss in Heartattack but I'm Adah Sharma am NOT THEM!!!i'm happy my performances convince you that I am these people but the real me reacts,dresses,breathes,lives differently

— Adah Sharma (@adah_sharma) December 5, 2017
P.s. I love boys, men and i have nothing against the male gender of all species.I have some wonderful men in my life my dad, grandad,friends,directors, actors I've worked with.This isn't an anti men thing 🙂

— Adah Sharma (@adah_sharma) December 5, 2017
Didn't need to.because when he asks me for a kiss in Heartattack I slap him. We kiss only when I choose to go to the venue and kiss him.but since Ur connecting movie characters to real life… I was possessed in 1920 and I killed people at night..just saying!:) https://t.co/l4510PL3tW

— Adah Sharma (@adah_sharma) December 5, 2017
Well said Adah! The one who behave like this, really need a piece of mind. What are your views about this Harmless kiss an online fan asked for from Adah Sharma? Write your views in comment section below. Stay tuned with us for all latest Bollywood news and gossips.