News & Gossip
ABD Retires: B-Town Stars Arjun Kapoor to Anushka Sharma Wish Him For His Future Endeavor!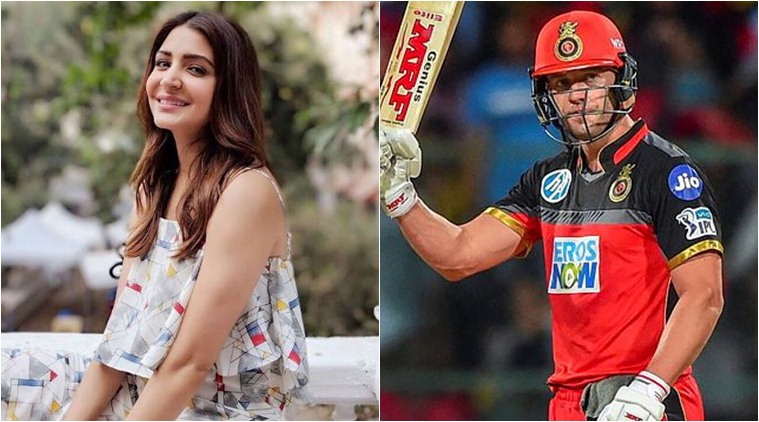 One of the greatest cricketers in the world right now, Ab De Villiers announced his retirement shocking all the cricketing fans all across the world. Fans still can't believe that they won't be able to see him in international matches. Â Yesterday, South African cricketer took to social media to announce his retirement from all form of international games after a memorable career spanning 14 years.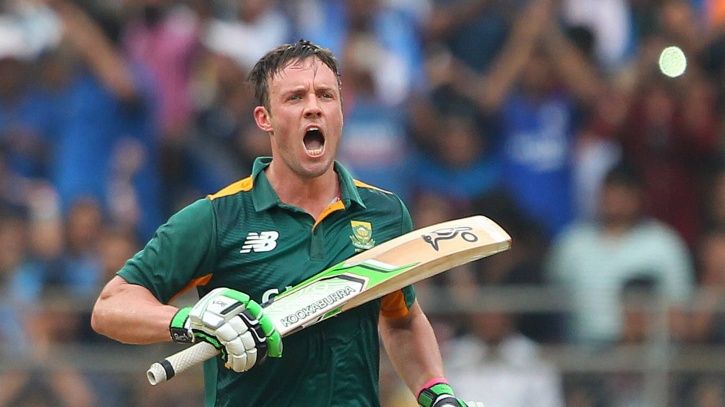 Just like his fans, even B-Town is pretty shocked by his sudden retirement announcement. They shared their views on the retirement of the ABD on their social media handles. Anushka Sharma who share a special bond with South African, all thanks to Virat Kohli, also took to Twitter to wish him and his wife a happy life ahead.
Anushka tweeted, "In life, what we do to positively impact the lives of others has greater meaning than what we accomplish for ourselves. You've managed to do both beautifully & always with such grace & integrity. Wishing you & Danielle a blessed, happy life ahead 🙏 @ABdeVilliers17 @DanielleDV27."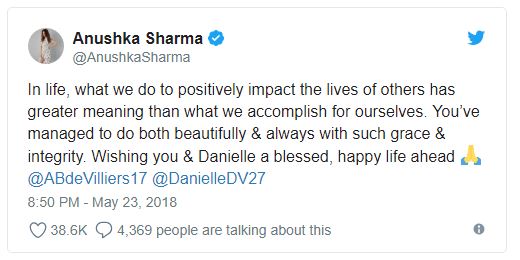 Indian skipper Virat Kohli and Ab De Villiers share a very close friendship with each other. Both the stars have mutual respect for one another. Â Fans are always thrilled to same both of them together in RCB colours. This is the reason, Anushka also shares a good rapport with South Africa legend.
Not only Anushka, many other B-Town stars like Arjun Kapoor, Saiyami Kher, Nakuul Mehta and Himansh Kohli among others applauded ABD for his contribution to Cricket.
Arjun Kapoor tweeted, "Congratulations @ABdeVilliers17, what a spectacularly proud cricketing career you've had! Your game will be talked about for years to come. Wish you all the best for your future endeavors. #ABDevilliers."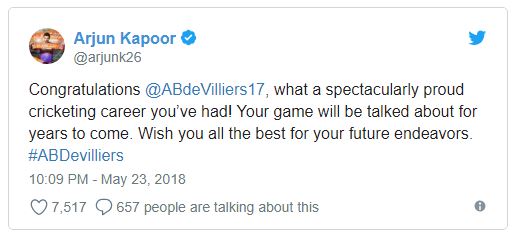 Mirzya actress Saiyami Kher tweeted, "Oh noooo @ABdeVilliers17 please play a little longer. Please 😢 #abdevilliers"

Himansh Kohli wrote, "It was a delight watching @ABdeVilliers17 play the game. He's one of the finest cricketers the world has ever seen. Will miss his presence everytime I'll watch a match of @OfficialCSA. Best wishes to him for his post-retirement life. 🤗😊 #ABDevilliers"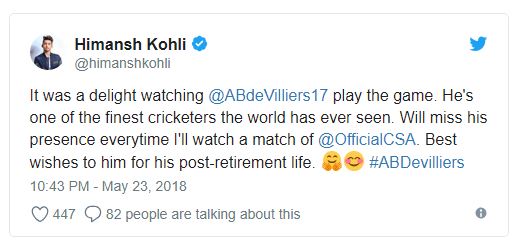 Bigg Boss winner Manveer Gurjar tweeted, "No!!! Can't imagine cricket without him! Will miss our cricket Superman #ABDevilliers @ABdeVilliers17 #retirement"

TV actor Nakuul Mehta tweeted, "Legend #ABD 👏👏 Thank you for leaving the game richer and us fans with memories which will be etched in our hearts forever. #ABretires"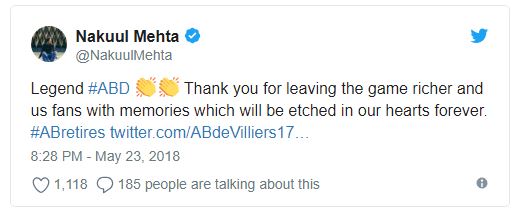 Announcing his retirement, ABD said in a statement, "After 114 test matches, 228 one day internationals and 78 T20 internationals it is time for others to take over. I've had my turn and to be honest I'm tired."