News & Gossip
Aamir Khan, Anushka Sharma in Bollywood Delegation to Discuss Censor Board Issues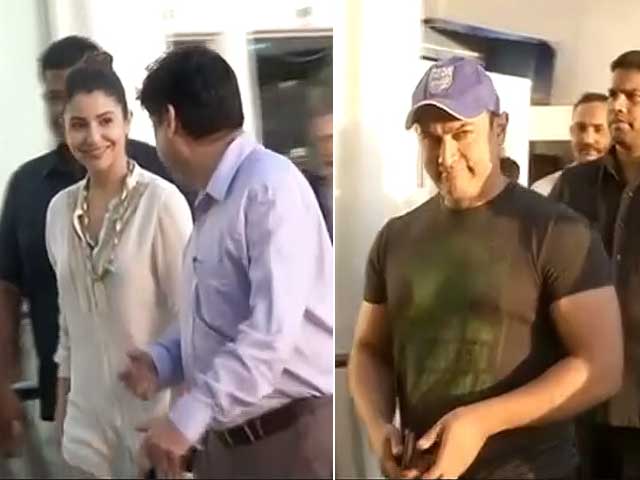 Aamir Khan, Anushka Sharma in Bollywood Delegation to Discuss Censor Board Issues
CENSOR BOARD CHIEF PAHLAJ NIHALANI IS NOT EXPECTED TO ATTEND THE MEETING, WHICH IS BEING HELD AT THE SUN-N-SAND HOTEL IN JUHU, THE LOCATION OF SEVERAL FILM SOIREES, MAHURATS AND SWIMMING POOL SCENES
A delegation from Bollywood is meeting Rajyavardhan Singh Rathore, Minister of State for Information and Broadcasting, to discuss restrictions placed recently by the Censor Board on films. The Bollywood contingent includes actors Aamir Khan, Vidya Balan, Anushka Sharma, Riteish Deshmukh and Shabana Azmi, filmmakers Anurag Kashyap, Vishal Bhardwaj, Karan Johar, Mahesh Bhatt and Ramesh Sippy, lyricist Gulzar, producer Ekta Kapoor and film critic Anupama Chopra.
Censor Board chief Pahlaj Nihalani is not expected to attend the meeting, which is being held at the Sun-n-Sand Hotel in Juhu, the location of several film soirees, mahurats and swimming pool scenes.
Some weeks ago, the Censor Board outlawed a selection of cuss words in Hindi and English. The ban was applied to films like Badlapur and Dum Laga Ke Haisha, from which even the word 'lesbian' was excised. Actress and producer Anushka Sharma's new film NH10 was first denied certification by the Board and then passed with nine cuts.
Last week, cracks appeared in the Censor Board after a strongly-worded letter to Mr Nihalani written by Board member Dr Chandraprakash Dwivedi was made public. In the letter, Dr Dwivedi objected to the edits ordered in NH10 because, as he wrote, it had been decided in a previous meeting that the list of banned words would not be implemented without discussion. Earlier, Board member Ashoke Pandit slammed the banning of the words saying he had not been consulted and that it would curb the creative freedom of filmmakers.
The letter followed in the wake of reported internal grumbling within the Censor Board about Mr Nihalani's allegedly autocratic style of functioning. Mr Nihalani took over as head of the Board in January after Leela Samson resigned amid allegations of government interference in the clearing of films.