News & Gossip
A Massive Float Of Donald Trump Inspired By A Video Game Is Scaring The Crowd, Netizens Can ' t Control Laughter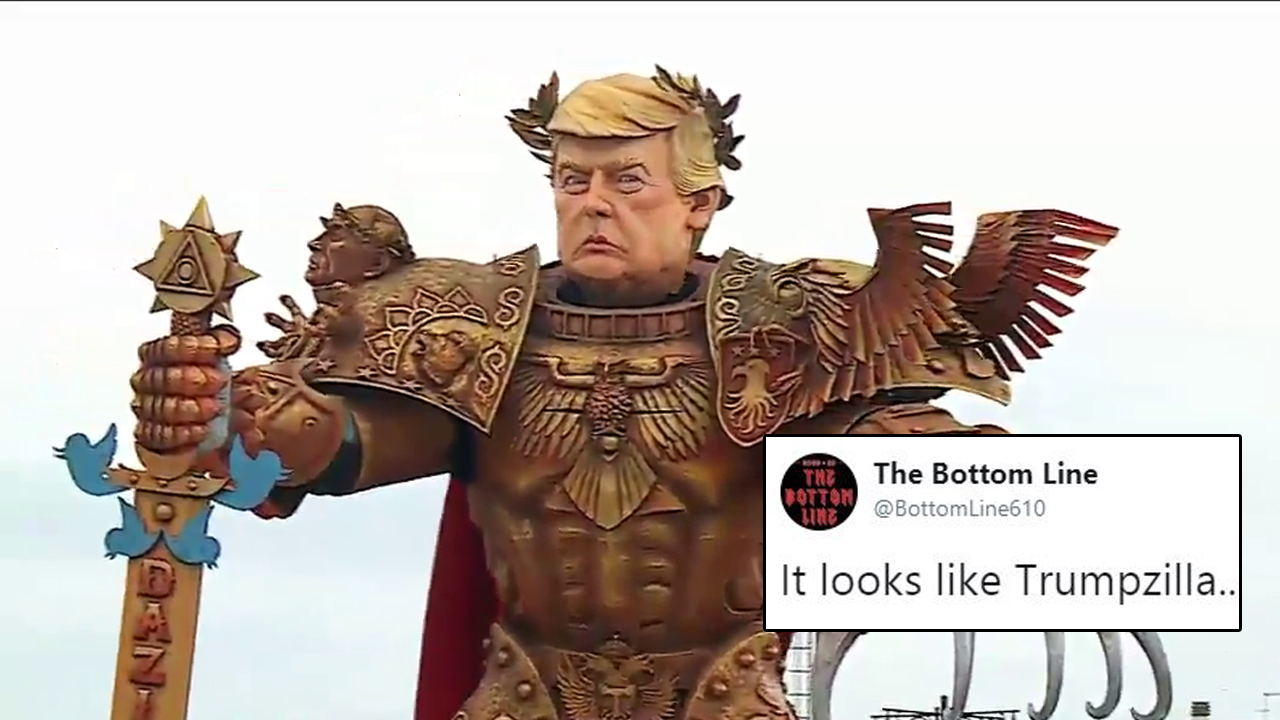 Donald Trump has been a joke ever since he entered the politics and continued being a joke ever since he became the President of the United States of America. From being reprimanded by a school teacher to inspiration for millions of memes, he has been known for his several blunders rather than any work. However, it looks like people are still not getting enough of him. After all, why would anyone make an enormous incarnation of him in Italy?
According to a report in Huffington Post, a gigantic float combined with "God Emperor" character of the popular video game Warhammer 40K and Donald Trump's face was spotted floating at a parade in Italy. Talking about the same, creator of this monstrous float, Fabrizio Galli said,
"It's a joke, but in fact, he's trying to destroy nations with the economy instead of nuclear missiles. This is one of the strongest actions, let's say, that powerful people like Trump can use."
The official website of the parade describes Donald Trump float as,
"The supreme myth of having power over the whole universe. The first. God Emperor Trump. The parallelism with the dominant character of Warhammer 40K has never been more fitting, except that this is not a futuristic three-dimensional tabletop wargame but pure reality. Donald wants to go back to the moon, travel to Mars and create the first space army. Ultras Marines? Mega Marines? The time of intellectuals, philosophers and of old and worn culture is over. We have entered the era of fantasy, video games and virtual life. The dominant male par-excellence has arrived, democratically, and is now here, among us. The Master-Drone flies over the Viareggio boardwalk as we prepare to pay the price."
In no time, more photos of God Emperor Trump surfaced online. To be honest, it is seriously epic and funny at the same time.
https://twitter.com/Sammyrose69/status/1095723577398226944
https://twitter.com/StinkoSupreme/status/1094511936060874752
https://twitter.com/stonecold2050/status/1095478805462802432
This Is How Netizens Reacted:
All hail God Emperor Trump pic.twitter.com/KlxdwYpUV2

— R McBiff (@Rpointer11) February 12, 2019
He comin forya, libbos https://t.co/BwBhOIjW4l

— AltLarrySanders (@AltLarrySanders) February 13, 2019
i don't know Warhammer lore but nice https://t.co/pu5UGfv6OY

— Zaj (@zajmuchuu) February 10, 2019
I'm sorry, the fuck? https://t.co/RnsR4kdE3y

— Alex C (@AlexIsACommie) February 13, 2019
https://twitter.com/UnTabie/status/1095090452380962816
It looks like Trumpzilla……. https://t.co/tq3VEqx9TY

— The Bottom Line (@BottomLine610) February 13, 2019
What do you think?