News & Gossip
Anand Mahindra's Epic Reply To Man Asking, "Kitna Deti Hai" About His Car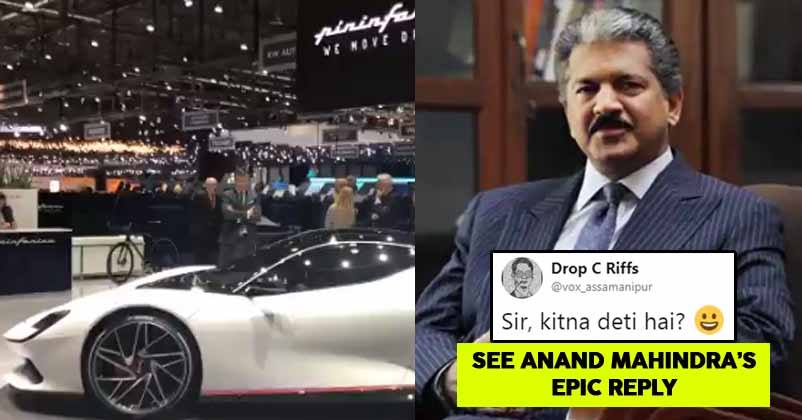 Anand Mahindra is not only one of the richest people of the country but he also sits on the resource of inspiration, funny and entertaining things. His twitter account and his 6 million followers can vouch the same.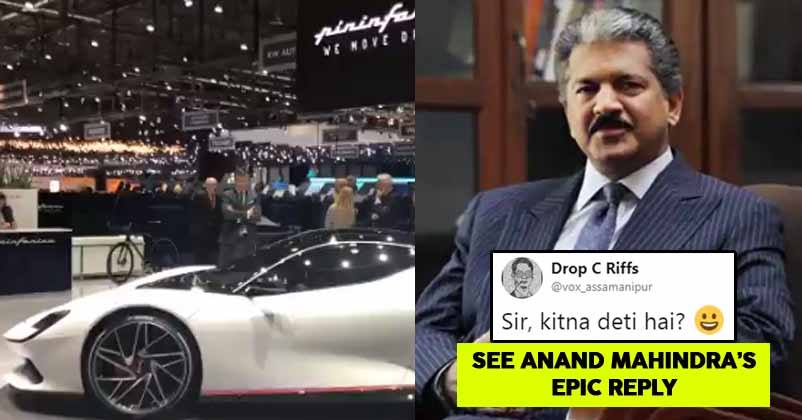 The Italian carmaker Automobili Pininfarina, a part of the Mahindra Group, unveiled its luxury electric "hypercar" battista at the Geneva Motor Show. A price tag of around $2 million, is touted to be faster than a Formula 1 car and it grabbed plenty of eyeballs at the show.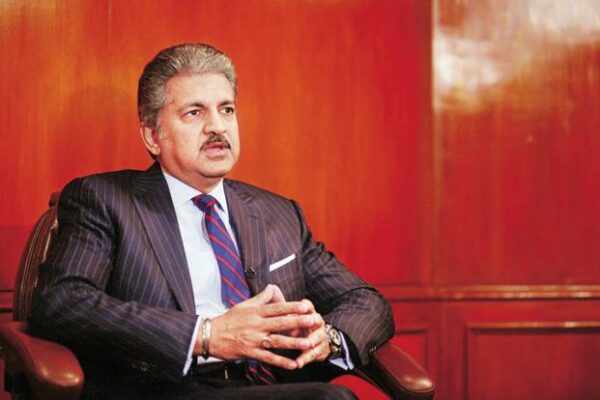 Anand Mahindra, the chairman of Mahindra Group, also took to Twitter to share glimpses from the events and talk about the car.
For those of you who asked for a better view of the car. This white #Battista is on display at the @PininfarinaSpA site. The blue was my favourite but I now think the white is even more stunning.. Watch when you have a leisurely couple of minutes… Don't fast forward. Savour it! pic.twitter.com/1iH5yt8oTk

— anand mahindra (@anandmahindra) March 6, 2019
He posted a picture of the car and also a video of it, a twitter user jokingly inquired about its mileage. The person wrote 'Sir, Kitna deti hai?'.
https://twitter.com/vox_assamanipur/status/1103207174535331842
After receiving such a desi style inquiry, Mahindra gave him an epic reply, He wrote, "Sirji, electric hai..Shock deti hai!.
Sirji, electric hai..Shock deti hai!
😁 https://t.co/nhbrwHAARQ

— anand mahindra (@anandmahindra) March 6, 2019
Anand Mahindra's hilarious response was praised by his fans and followers.
https://twitter.com/bhak_sala/status/1103208712255098882
Hahaha! Such a spectacle Sir 🤩

— Jaydev Unadkat (@JUnadkat) March 6, 2019
😂😂 Thug Life 😂😂

— Shashi Ranjan (@shashi6454) March 6, 2019
😄😄😄 coolest Industry leader in India by far

— Mukesh Tiwari🇮🇳🇮🇳🇮🇳 (@mukeshtiwarik) March 6, 2019
https://twitter.com/Rahul_R_Soni/status/1103208396772134912
Sir, aap satire bhi lagadete ho!!! Hats off to your sense of humour. Take a bow.

— Pramod Ramachar 🇮🇳 🇮🇳 (@ramacharpramod) March 6, 2019
Absolutely Bang on!! 😂😂

— RANJEET SRIKANT SINGH 🇮🇳 (@SINGHRANJEET_KR) March 6, 2019
https://twitter.com/simmpu/status/1104053220639469570
Unexpected answer Sir…..You always stand out different for situations and questions. It makes you ANAND MAHINDRA. Always proud off you for each thing you try to make indigenous….

— Amar Lokhande (@amarlokhande01) March 6, 2019
Oh my god !!! Terrible shock to user !!!! Ha ha ha ha….

— 9999 (@Moon9999A) March 6, 2019
The Battista is the first so-called hypercar which are ultra light, ultra-fast aerodynamic cars that is fully electric, according to Pininfarina.
Only 150 Battistas will be made, each with a 1,900 horsepower engine that can go from 0 to 100 kilometres per hour in less than two seconds.