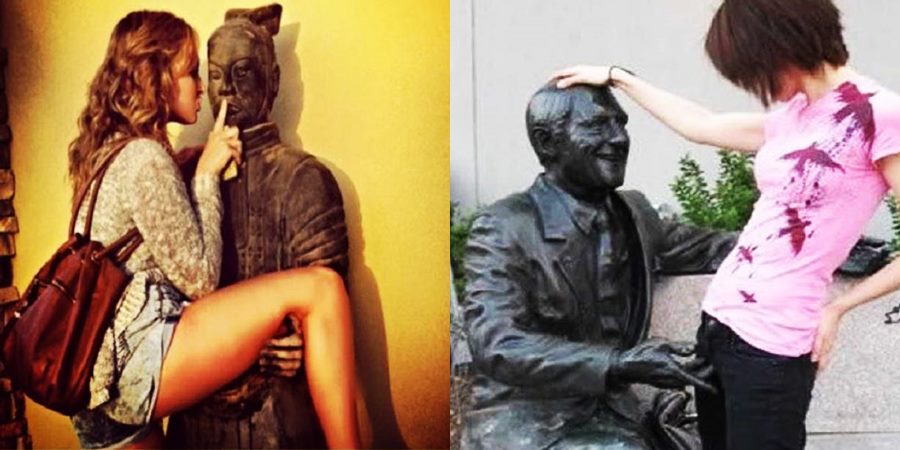 Everyone on this planet have a dream to explore every possible place of this planet. Travelling gives the biggest collection of memories and these memories turns out to be most remembered, adventurous one when some hilariously embarrassing things you do on trip. Presenting you 47 most embarrassing pictures of people being clicked with statues all around the world. Have a look:
1. Who are you my son? Please get down!
2. Can i have this dance?
3. In a deep conversation! 4. Don't spoil the moment. Just go with the flow! 5. We have to win this race! 6. Cntrl+C and Cntrl+V (Copy and paste) 7. Oocuuh! My bums.  8. Smile please! 9. Miss please handle with care! They are too delicate.  10. And Smugglers spotted in a party! Did you saw that? 11. What the hell this guy is trying to dig in there?  12. What's my mistake? Why are you hitting me?  13. Ain't you're too small to explore whats under the skirt?  14. Go straight and take left!  15. Come-on Guys, Pull Up! 16. What is this girl is upto?  17. You killed my Bella! I won't spare you.  18. Happiness of winning World war! 19. Self grooming mode turned ON! 20. Miss we are in public!  21. Oocch! That hurts.  22. The monster running wild inside me, I m faded! 23. Hey Lovebirds, I m running away with your money! 24. What the hell? How can you do such things with me? I'll complain mumma.  25. That is how dad behave when I don't return after late night parties!  26. No Officer, I didn't do it! 27. I missed you so much.  28. She is mine. NO, she is mine.  29. Show me your playlist! 30. I would like to introduce you to my friends. He is jack.  31. Haaaaaw! Bad boy.  32. You're mine! Stay away from her.  33. Interfering in others matter! 34. Give me a High-Five.  35. I wanna tell you nuclear codes. 36. Cheers Baby!  37. Intruders entry.  38. Why such less marks in Mathematics?  39. Baby I am really sorry.  40. How dare you flirt with my girlfriend.  41. Welcome to Paris.  42. You're hitting at wrong place.  43. Oppsy moment!  44. Poor you! You'll regret meeting me.  45. Make sure he is dead by tonight.  46. What's in headline? 47. Help Help! My friend is dying.