Specials
32 Pictures Of Bollywood Actors You May Have Never Seen Before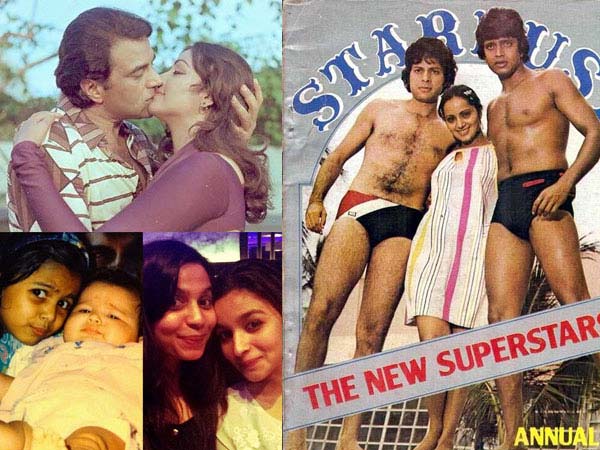 Bollywood is all about entertainment, entertainment & entertainment. No matter what, it keep surprising us every now & then. Came across this collection of Bollywood actors amazing pictures and they are definitely worth a share, have a look!
Have a look at these and I bet you will be looking at them again and again!
1. Anushka Sharma- The B'day Girl.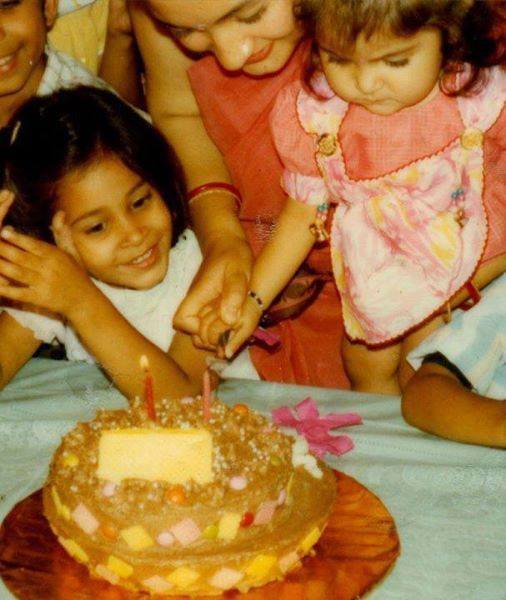 Aww… look at this cute Birthday girl, did you recognised her? No, She is none other than our sweet and bubbly Sultan actress Anushka Sharma, wow, isn't she looking cute?
2. Hema Malini- Dharmendra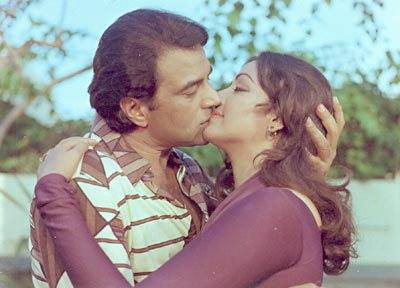 Dharam Pa-ji and Hema malini's love affair was widely known in the industry. It is even said that Dharmendra married Hema malini without giving divorce to his first wife. Well, whatever the matter may be, we as audience have always cherished the couple onscreen and off screen as well.
3. Jackie Shroff & Tiger Shroff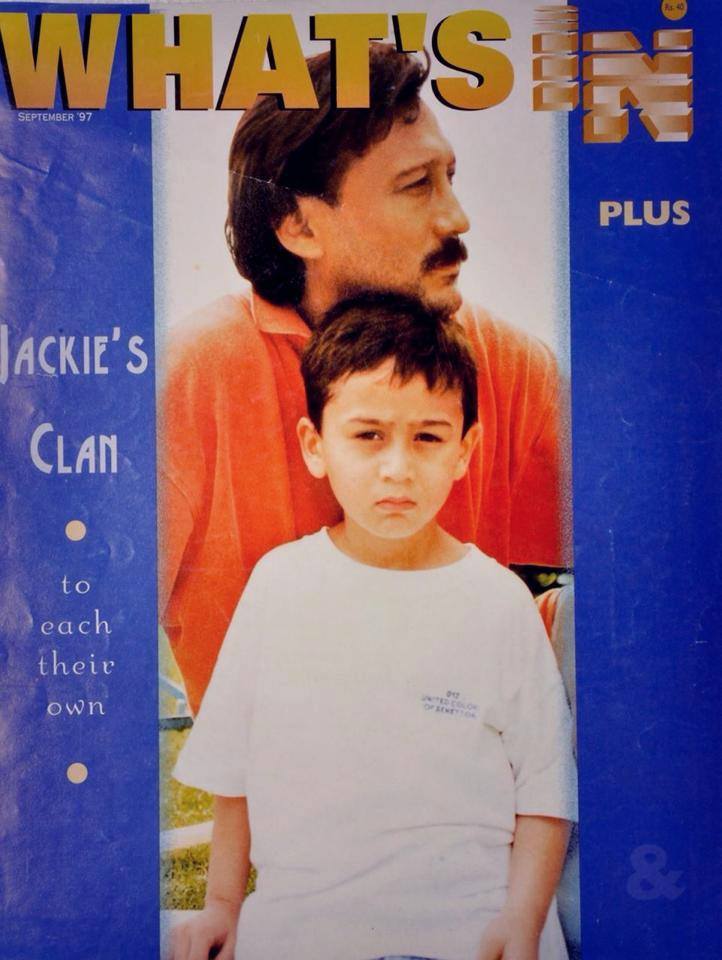 Look at the cute face in white tees, Guess who? He is none other than the Bruce-lee of Bollywood, Tiger Shroff. The Heropanti actor got the name and fame in Bollywood in a very short span. Son of Jackie Shroff aka Tiger Shroff successfully step out in B-town. We wish him luck in all his future endeavours.
4. Sridevi- Amitabh Bachchan in the list of Bollywood actors pictures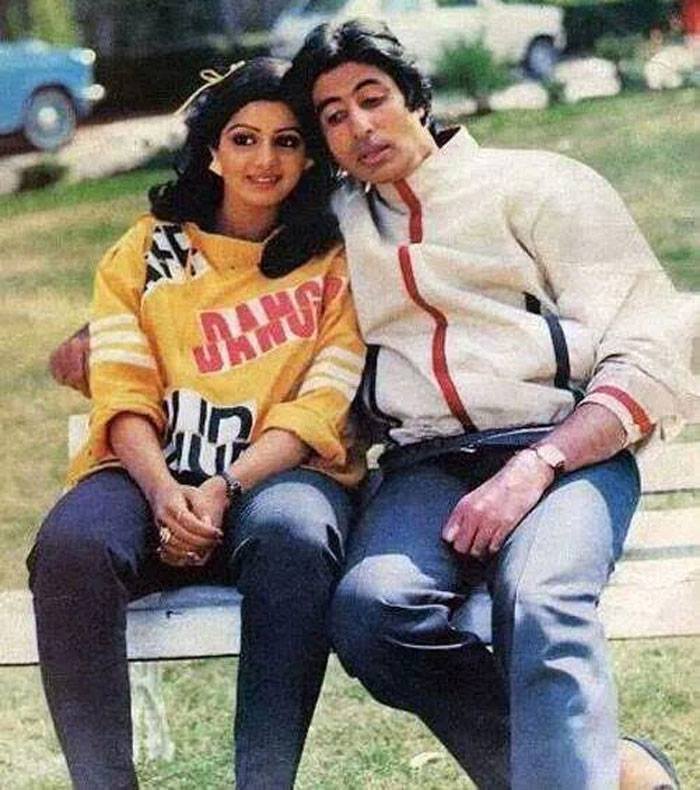 Sridevi, a great South Indian actress ruled Bollywood for many years. she was famous as the female Amitabh Bachchan of the 1980s. Her dance numbers, performances and striking personality made her the undisputed diva of Bollywood. Amitabh and Sridevi have done many films together which includes Inquilaab, Khuda Gawah etc.. in which Khuda Gawah was a blockbuster hit.
5. The 'Akhtar' Family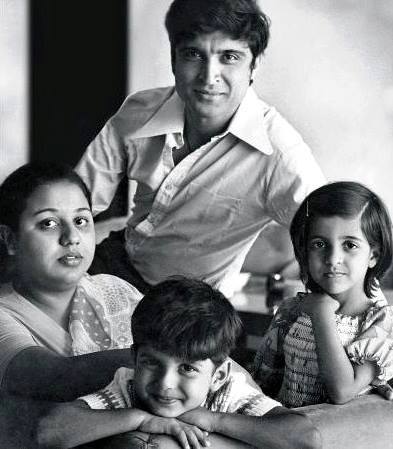 Guess this famous Bollywood family? Any guesses? yes, this is the super famous Akhtar Family. Gulzar Saab in his young days, Zoya Akhtar and the cute one Farhan Akhtar. Zoya's face have not been changed till now, M I right?
6. Yes, we are 'matching!'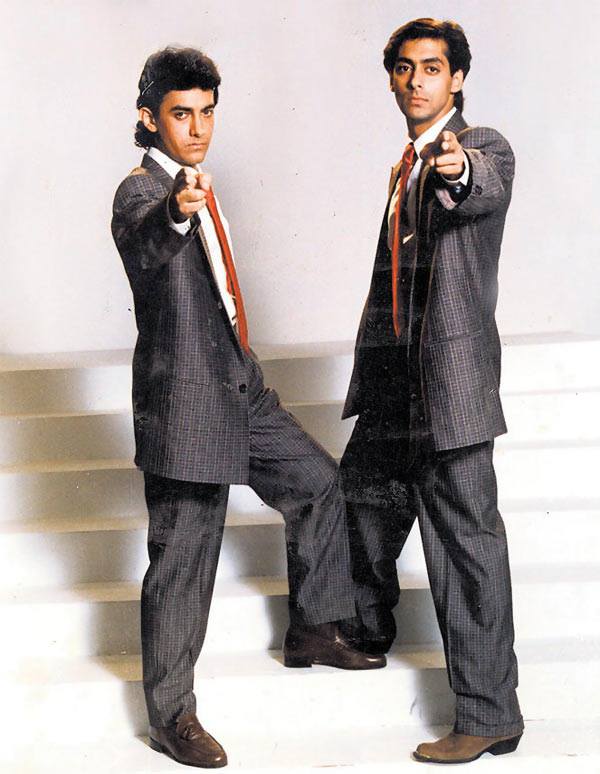 Who will forget this superhit jodi of Bollywood? The superhit stars in Andaz Apna Apna none other than Amir Khan and Salman Khan. Both have their own unique style and their performances are extremely appreciated by their fans. Are not looking cool in same costume?
7. Shilpa Shetty & Remo entry in Bollywood actors amazing pictures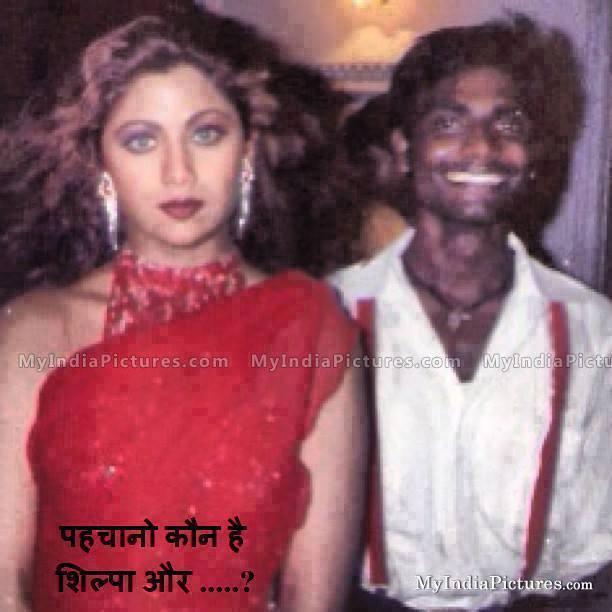 Any guesses who is behind Shilpa Shetty? have a closer look and let us know. Well, he is none other than Remo Fernandes. OMG! Remo is beyond our recognition.
8. Sridevi And Dharmendra
Well, the best part of this picture is, Dharmendra is feeling shy in front of Sridevi as he is wearing the shorts…Hahaha! Picture portrays the same.
9. Einstein SRK made entry in the list of Bollywood actors amazing pictures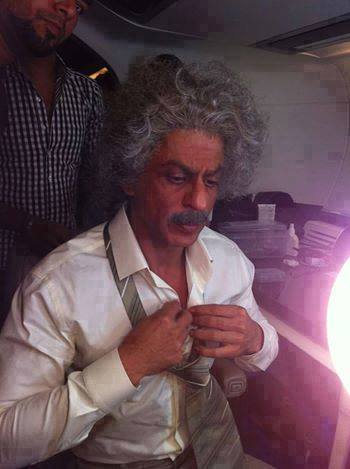 Well At first I too got shocked what Einstein is doing in the list of Bollywood actors. But after having a closer look I found hidden Khan in the face of Einstein, Guess who? He is none other than The Badshaah, The King Khan of Bollywood, Shahrukh Khan.
10. Cover Picture!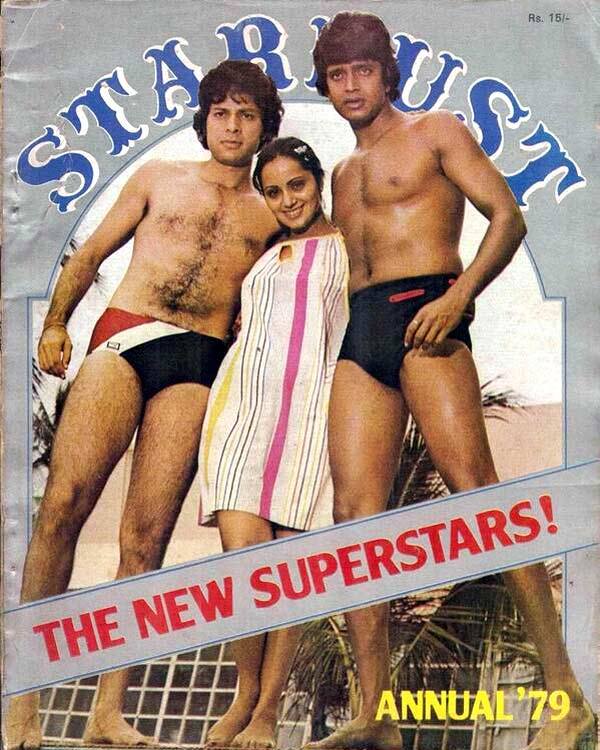 11. Kapil Dev, Arbaaz Khan, Shah Rukh Khan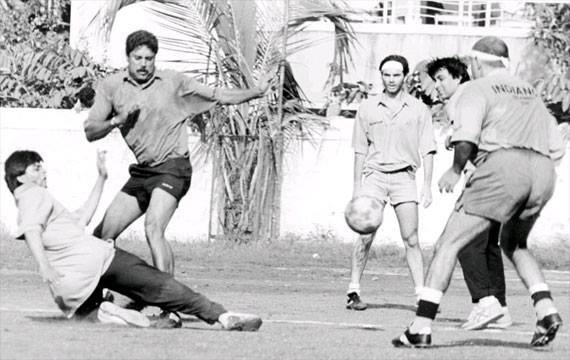 Bollywood and cricket go hand-in-hand. Lets guess some Bollywood stars and sports player in the above pic. I can see Kapil Dev, Shahrukh Khan and Arbaaz Khan spending quality time. Can you see Sunny Deol in the Pic?
12. Dara Singh & Akshay Kumar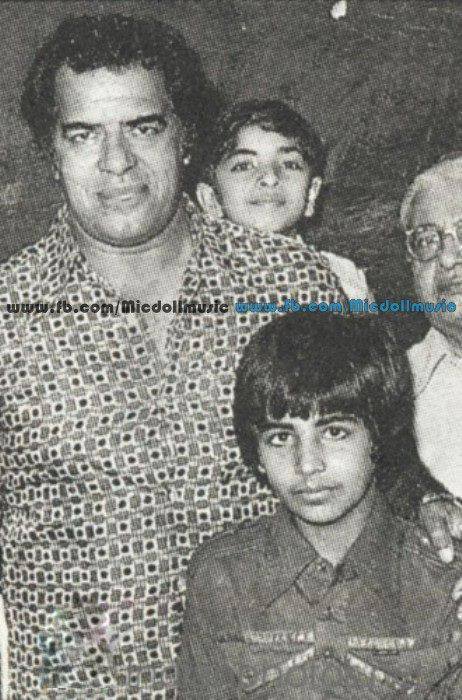 Guess the little boy in this picture. He is none other than our Khiladiyon Ka Khiladi aka Akshay Kumar with Dara Singh. See the facial expressions of Akshay, aren't they cute?
13. Shreya Ghoshal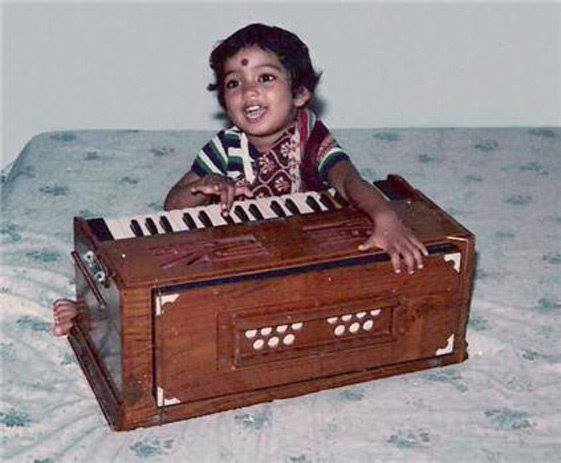 Ahha, Now this is the beautiful pic ever seen before. Guess the famous female singer of Bollywood in the pic? She is the very talented and beautiful Shreya Ghoshal. Shreya have captured the hearts and minds of people by her melodious voice. It seems she was having this superb talent from childhood. We love you Shreya!
14. The Deols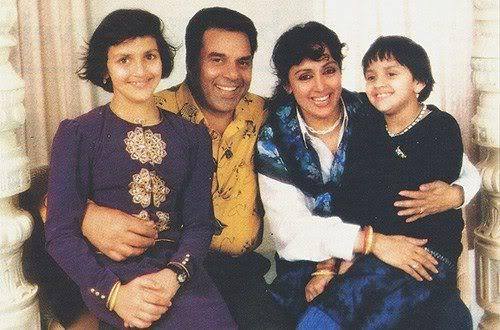 Look at one of the happiest Family of Bollywood, The Deols. Smiling pic ever! Dharmendra, Hema Malini, Ahana Deol and Isha Deol, can you guess them? Cute Family Pic!
15. Arijit Singh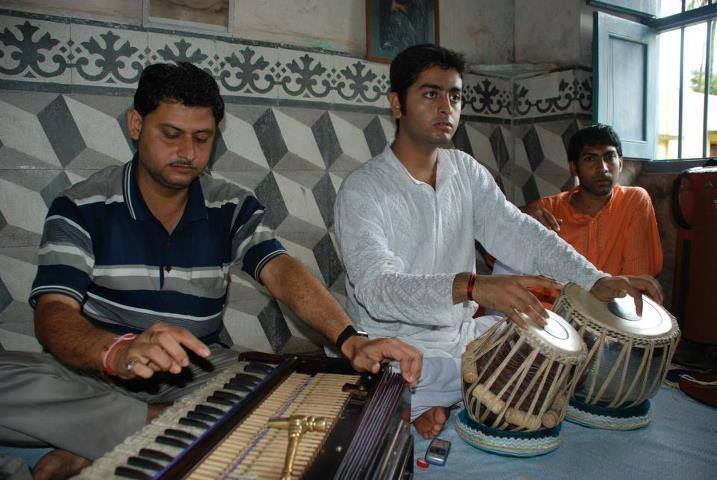 Guess the famous singer in the pic, can you? The one is white Kurta having hands-on Tabla, Yes he is none other than Famous Bollywood singer Arijit Singh. Who will forget the melodious, tuneful voice of Arijit Singh in Gerua, Aashiqui 2.
16. Salman Khan, Hrithik Roshan & Shah Rukh Khan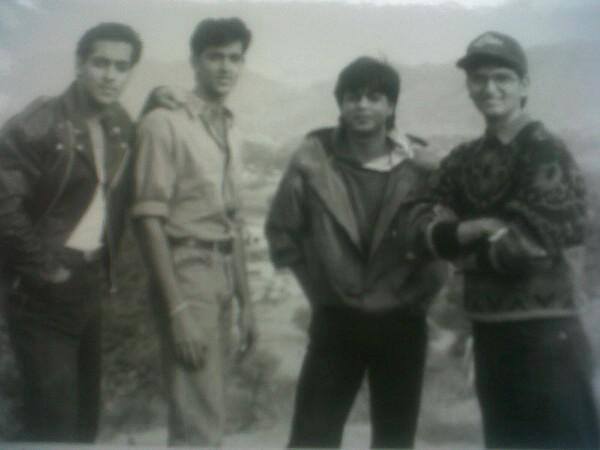 Look at the famous Bollywood super stars in their early days. Standing in style Salman Khan, Hrithik Roshan and Shahrukh Khan is awesome.
17. Madhuri Dixit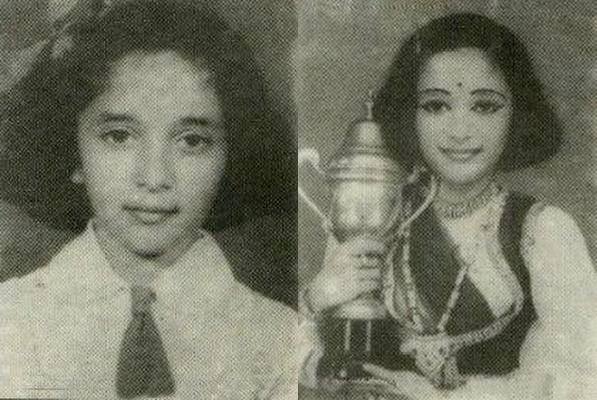 Look at the cute pic of famous Bollywood celebrity, can you recognise her? Oh Yes, she is none other than Dhak Dhak girl of Bollywood, Madhuri Dixit. Isn't she cute?
18. Tanuja, Kajol & Tannisha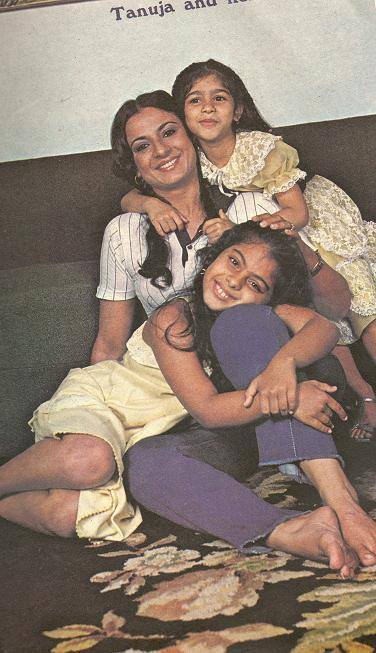 The mother-daughter jodi of Bollywood, Tanuja, Kajol and Tannisha. Nyasa Devgn (Daughter of Ajay Dengn-Kajol) resembles her Mother very much, isn't she?
19. The Bachchans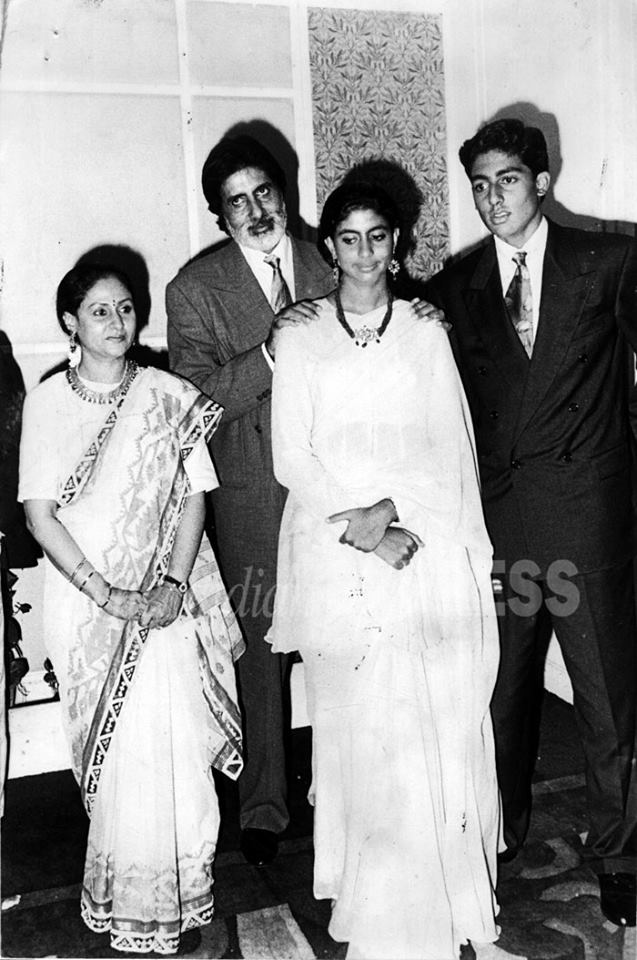 And here comes the most respective family of Bollywood, The Bachchan's. Amitabh Bachchan, Jaya Bachchan, Shweta Bachchan-Nanda and our favourite Housefull 3 actor Abhishek Bachchan. Indeed a very royal family!
20. Amitabh Bachchan & Shah Rukh Khan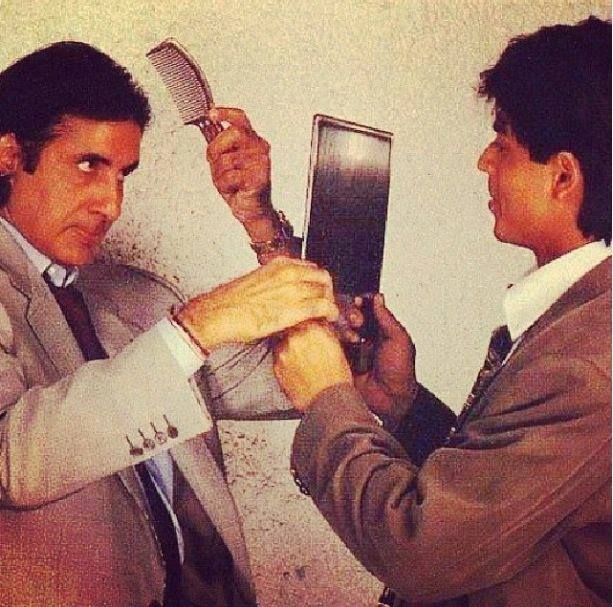 Shahrukh Khan holding a mirror for Big B and Amitabh ji combing his hair looking in the mirror is a very rare pic. It was the greatest moment when a photographer must have clicked this pic. Really, Shahrukh seems to be a lucky guy.
21. Anupam Kher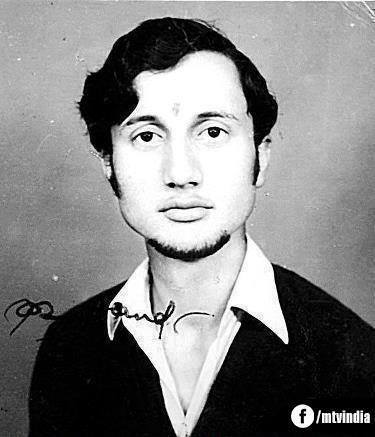 Can you guess this boy? No, he is Anupam Kher. The pic seems to be of his 10th class or of 12th class. isn't it?
22. Amitabh Bachchan & Madhuri Dixit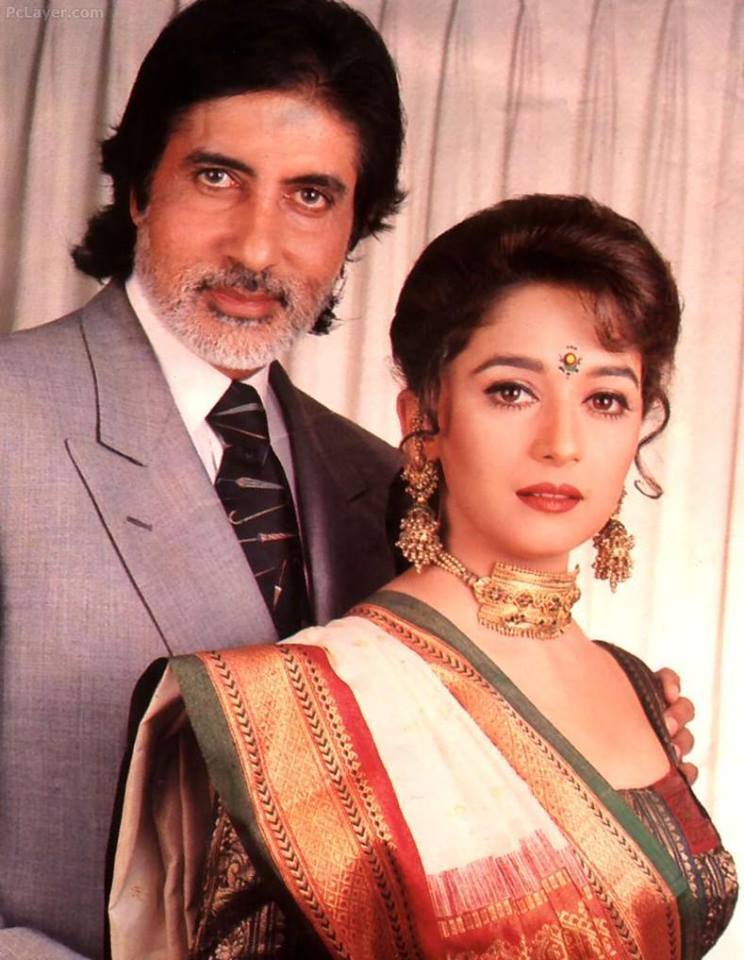 Look at the gracefulness of Madhuri Dixit. The confidence on her face and the glow exhibits her talent. Aren't they looking good?
23. Shilpa Shetty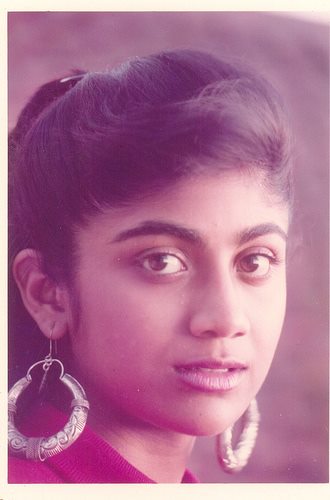 Guess the Bollywood actress? Yes, she is Shilpa Shetty. Look at her, she is looking extremely beautiful even without make-up, isn't she?
24. Madhubala
Haye… this would be the first reaction whenever anyone would see the picture of yesteryear's beautiful actress Madhubala. She was one of the beautiful actress of Bollywood. The pic is really the Killer one!
25. Kajol

Ahha, look at the big teeth and the broad smile, who is she, can you guess? She is Kajol. OMG, she is so cute. I loved her panoptic smile.
26. The Kapoor Ladies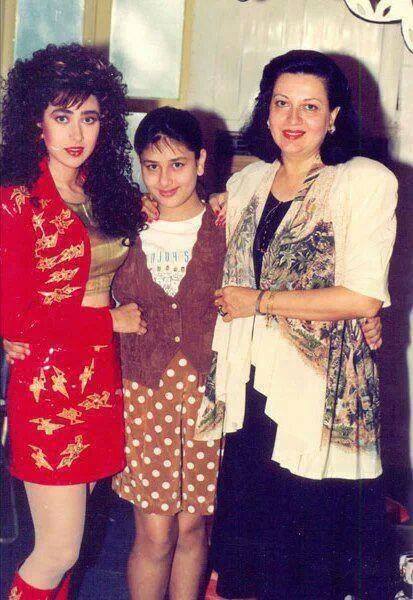 Another mother-daughter jodi of Bollywood from the Kapoor clan. In red Karisma Kapoor, Kareena Kapoor and their Mom. Wow, look at the bubbly and naughtiest smile of kareena Kapoor stealing the show as usual 🙂
27. Alia Bhatt- how cute!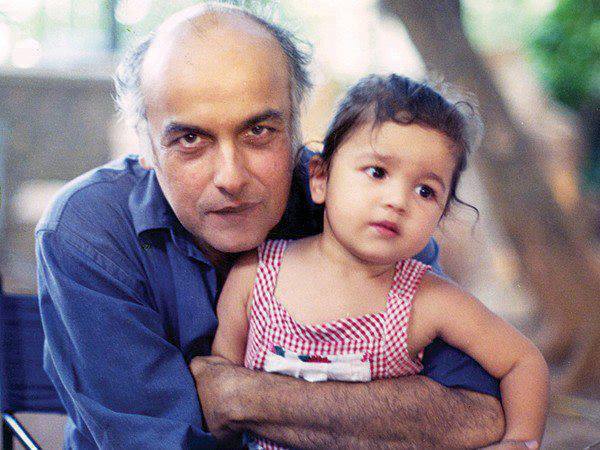 Awww…cute Alia Bhatt with her father Mahesh Bhatt is pretty, the best ever! Alia is looking absolutely adorable with her papa. How cute!
28. Shatrughan Sinha & Sonakshi Sinha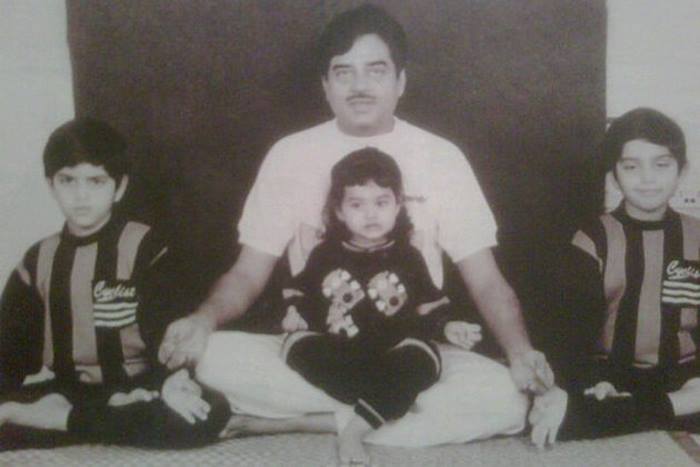 Another Father-daughter jodi of Bollywood, Shatrughan Sinha and Sonakshi Sinha with her brothers Luv and Kush. The pic show daughters are very much loving to their papa. Seems all are practising Yoga together 🙂
29. Meena Kumari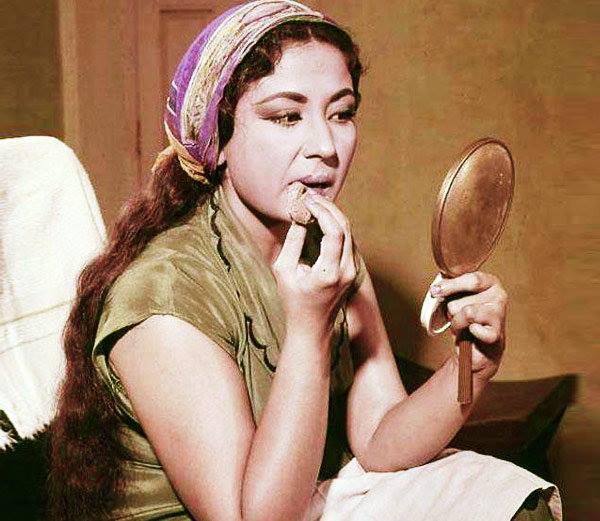 Another brilliant and intelligent actress of yesteryear, Meena Kumari. She was one of the most-loved actress of the golden era.
30. Ali Zafar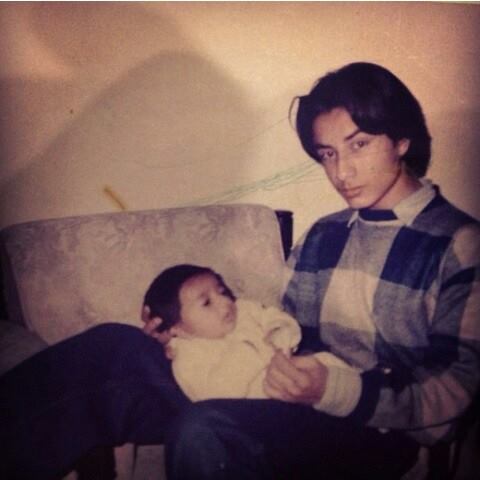 Look who is holding a baby in his lap, Can you guess the chocolate hero? Ok, one more hint, Can you guess the 'Mere Brother Ki Dulhan' actor in the pic? Yes, he is none other than Ali Zafar. It is his childhood pic, cute na!
31. Jaaved Jaffrey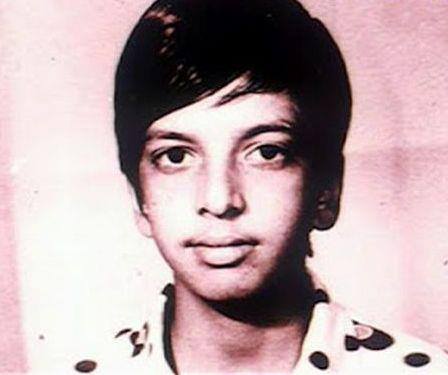 Yes you guessed that right, He is Jaaved Jaffrey. The childhood faces of the Bollywood actors are quite recognisable, We can guess them easily, aren't they?
32. And in the end, this is Junior Yo Yo Honey Singh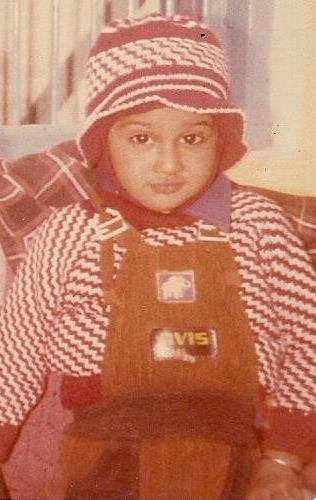 Well well, Guess who this chubby cheeks is? yes, None other than famous Bollywood rapper Yo Yo Honey Singh (Read in stylish Punjabi accent… lol!) The naughty eyes, chubby cheeks and the cute smile made us recognised him easily, yeah!
Which pic you liked the most? comment below.