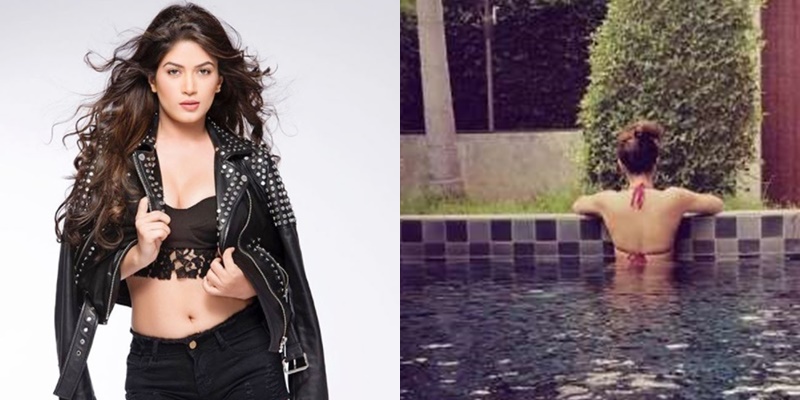 Bandgi Kalra is a model that currently lives in Mumbai. Right from the childhood, she is much passionate to make her name in the entertainment industry. Presenting you the 15 hottest pictures of Bigg Boss 11 commoner- Bandagi Kalra.
https://www.instagram.com/p/BZ37t_YABSG/?taken-by=bandgikalra
If you have watched the Bigg Boss 11 kaunch episode then you might be aware of the fact that Bandagi is a software engineer. She perfectly fits in the saying 'Beuaty with Bains'.
https://www.instagram.com/p/BZej5_qg4pC/?taken-by=bandgikalra
She was born to Kapil Kalra who is a Business Importer and Exporter on 14th Feb 1992, Panipat, Haryana. She have two sibling- Vasu Kalra and Bani Kalra.
[Also see: Twitter Shows Their Frustration After Salman Khan Kicked Priyank Sharma Out Of Bigg Boss]
After completing her Btech from CGC Landran College, Mohali she worked as a software engineer in the reputed company Capgemini, Mumbai.
https://www.instagram.com/p/BYgD72og6R7/?taken-by=bandgikalra
She is dating Dennis Nagpal who happens to be part of creative team of Bigg Boss. Somewhere we do feel he is the reason how Bandagi made it to Bigg Boss house.
https://www.instagram.com/p/BYdMkSxgIvy/?taken-by=bandgikalra
Before entering into the Bigg Boss house, Bandagi created a small fan base on Instagram. She have around 20k followers. on her Instagram account and surely the number gonna increment because she is no more a commoner.
Bandagi is making headlines for her proximity with Bigg Boss conestant Puneesh Sharma.
After Bandagi was captured in Bigg Boss camera being kissed on hands by Puneesh many well wishers of Dennis Nagpal wished Bandagi to get eliminated from the show. Dennis re-tweeted the tweet and wished for the same.
Do you know that Bandagi and Puneesh knew each other before they entered in the house? Well yea, that's true. Puneesh happens to be one of the friend of Dennis and that is how Bandagi knew him.
[Also see: Bigg Boss 11: Salman Khan's Favorite Contestant Revealed, Read More]
https://www.instagram.com/p/BXCv9thADIf/?taken-by=bandgikalra
[Also see: Bigg Boss 11: A Rather Upset Shilpa Says She Will NEVER Return To TV, Here's Why]
[Also see: Bigg Boss 11: Female Contestants Got Caught Smoking In The House, Watch Video]
Did you loved these pictures of Bandagi Kalra? Do tell us your answer in comment section below! Stay tune with for more latest news and Bigg Boss gossips.