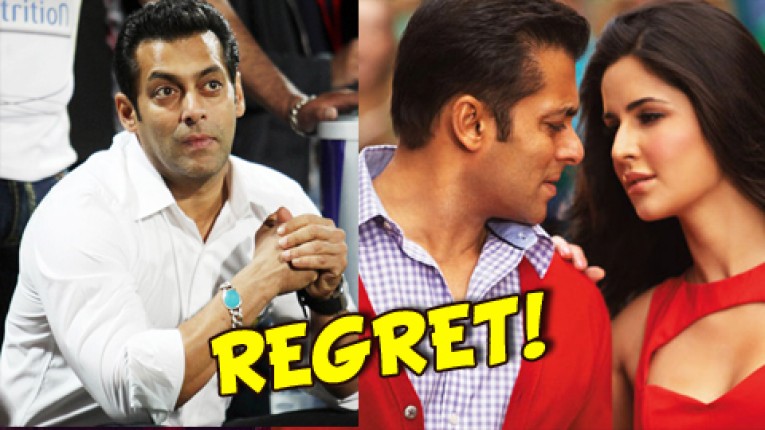 We all know Bollywood's Dabangg Khan and Katrina Kaif relationship could not make it to a happy ending love story list. Though they have moved on without any bitter feelings for each other and have decided to continue supporting each other, at least for the sake of maintaining a social relationship. Katrina seems to be still regretting the decision. What would be the reasons behind? Can you guess?
Well, we had listed out 10 reasons behind why Katrina Kaif regrets breaking up with Salman Khan
1. Misconception must be the biggest reason behind Katrina Kaif regretting
She used to feel earlier that with Salman, she could not lead a normal life that other couples lead, like going to a restaurant or taking a holiday but now she realizes it's the same with any other celebrity partner she dates. After all, she herself is one of the hottest stars and has a huge fan following.
2.  Salman played a great role in her filmy career – building
Katrina admits that Slaman is an incredible human being and has supported her to reach the zenith in the industry where she is today. He has always stood by her as a good friend and guide too. Her journey could have been very difficult without him.
3. He is Unique
Kaif calls him as "unique". Lucky would be the girl who would get to spend life with this exceptionally awesome and multi-talented personality. Why would she not regret for not being in his life anymore? It's a complete loss for her.
4. Learnt a lot about relationships
Ms Kaif used to find Mr Khan as dominating, but hey come on, who doesn't get possessive in relationship. After all, no other guy would love to hear her name getting linked with others. She got to understand this….but its too late!
5.  Age Difference
 She felt that the age difference between them was a big issue. But now she realizes her immaturity that it has anything to do with a perfect relationship which required more of understanding than the ideal age difference.
6. Intimacy issues
Well, sources say there were intimacy issues too! She can now sit and think that any committed relationship would always demand intimacy.
7.  An Amazing Family
The family that Salman belongs too is simply amazing. Their loving and friendly nature makes any and everyone feel at home with them. Kaif admits that they are one of the most respectful family she has ever met. She really missed a chance to be a member of this family!
8. Failed to appreciate him
Katrina also regrets failing to appreciate what she had been blessed with in this relationship.
9. Didn't want to change lifestyle is another reason of Katrina Kaif regret
In one of her interviews, Kaif says he wanted her to look like his ex-girlfriends. She now understands this was a mere negative thought process and that he didn't want to change her but only a few suggestions for his ladylove to look more adorable.
10. Loss of wonderful support system
Kat knows very well that perhaps no one else in the industry can provide her the support system that she used to get from one of the most eligible bachelors! The comfort and ease that he brought in her life has no match.
Being one of the prettiest girls in industry, Katrina has grown from a teenager to a woman who has seen a lot by now. Hope she is able to take a firm decision when it comes to choosing the person she is going to spend the rest of her life with. We truly believe that….. All's well that ends well!