News & Gossip
YouTube Broke Down, Twitterati Made Fun In The Most Hilarious Way Possible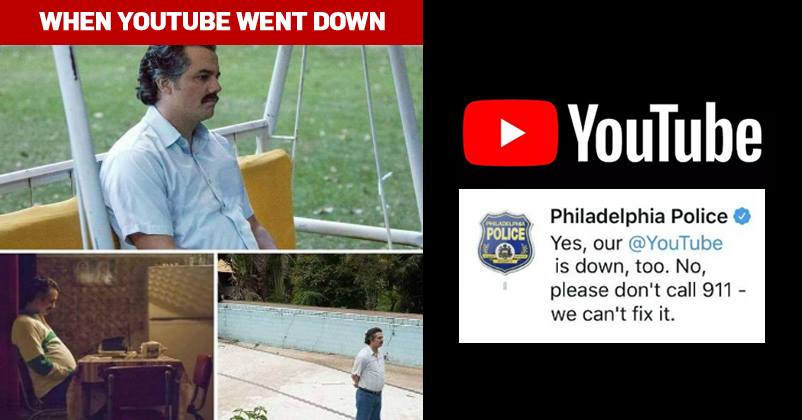 Internet consumption in India has increased exponentially and YouTube played a huge part in this. There are countless videos on YouTube in various categories like films, education, comedy, cooking, health, music and more. It also provides a very rich platform for artists to showcase their talents. There are several YouTube bloggers who are earning lots of money through it.
In the last few years, YouTube has become one of the best platforms for independent artists, who needed a platform to shine. They are doing very good too. As of now, YouTube has become an essential part of life, we can't imagine what would happen if it doesn't work.
According to the report of the leading daily Times of India, YouTube desktop version crashed and stopped working for a few moments. Some of the users have also claimed that mobile version of YouTube was not working either, whereas several others claimed that they got 502 error notification when they tried to open YouTube.
YouTube Team took to Twitter to confirm that there are some technical errors that caused problems on YouTube, YouTube Music and YouTube TV, but they are working on it and it will resolve pretty soon. The Tweet reads,
"Thanks for your reports about YouTube, YouTube TV, and YouTube Music access issues. We're working on resolving this and will let you know once fixed. We apologize for any inconvenience this may cause and will keep you updated."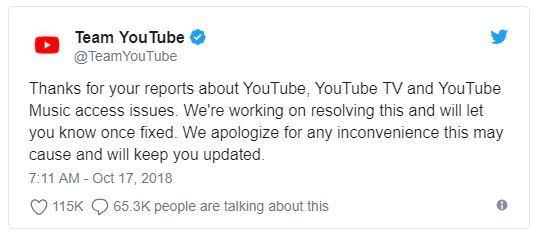 As usual, Twitterati started making fun of the YouTube. Some of the reactions are very funny.
https://twitter.com/shameensherwani/status/1052452554024673280
Every impatient millennial YouTube star tonight. pic.twitter.com/vXg6u4SYWQ

— Jesse Daniel Lifson (@DoYouEvenLif) October 17, 2018
https://twitter.com/iamParthaSG/status/1052460103151091712
Every famous YouTube star wondering if their fame carries over to Twitter………#YouTubeDOWN pic.twitter.com/EvtvfSuiEj

— Jesse Daniel Lifson (@DoYouEvenLif) October 17, 2018
https://twitter.com/emilioomedina/status/1052399155010785280
Imagine all the youtubers thinking "oh no, I have to get a real job" after seeing youtube down

#YouTubeDOWN pic.twitter.com/KoN1obCUZv

— Abraham Cavazos (@cavazus) October 17, 2018
https://twitter.com/VivianMkenya/status/1052454047926636546
https://twitter.com/abo_lregal/status/1052457447040974850
https://twitter.com/HeavenlysMommie/status/1052461752108154880
https://twitter.com/GlueNotGlitter/status/1052392087482585089
My dogs weren't convinced when I told them that I had nothing to do with YouTube being down. pic.twitter.com/EbNk45q2S0

— grumpy_auld_man (@grumpy_auld_man) October 17, 2018
https://twitter.com/dwakeparkfield/status/1052458830779568129
YouTube started working fine pretty soon. The official Twitter handle of YouTube tweeted, "We're back! Thanks for all of your patience. If you continue to experience issues, please let us know."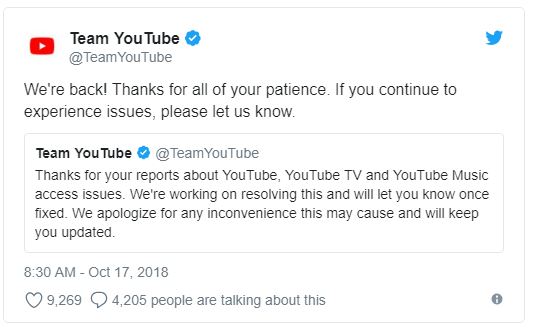 What do you think? Tell us your thoughts in the comment section down below.