News & Gossip
YEAR ENDER FEATURE: Cute Baby Videos Of Bollywood Starkids of 2017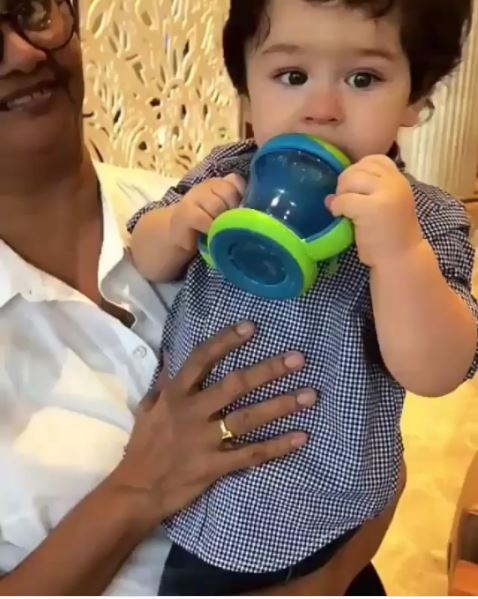 Taimur Snatching Phone, Misha Grooving, Ahil Punching, AbRam Going Crazy & Aaradhya Dancing – 5 Cute Baby Moments From 2017
 
2017 has been filled with cute moments on social media, and most of them feature the little munchkins. Check out the 5 most adorable moments from this year's social media…
There is no doubt that celebrity babies are in news a lot this year. After all, they are so very cute that you just can't stop staring at their pics. To top it all, when they do some antics, they look even more adorable. As the year is all set to get over, we bring you 5 adorable moment from Bollywood's little babies.
Taimur Ali Khan Snatching Phone From Jacqueline Fernandez
 
Taimur Ali Khan tries snatching Jacqueline Fernandez's phone. The video is super cute and Taimur can be seen getting amazed at the questions posed by Jacqueline. Taimur can be seen reaching out to grab the phone from Jacqueline's hands. Now isn't that cute?
Misha Grooving, Dancing & Jumping With Shahid Kapoor
 
That Shahid Kapoor is a skilled dancer is no news. On World Dance Day we expected him to show off his dancing prowess, however, he had decided to celebrate the day with his daughter – Misha. In an adorable video, the father-daughter duo was seen grooving to a Michael Jackson track .
Ahil Punching Salman Khan
After launching the Tubelight's trailer earlier in the day, Salman Khan was spotted waving out to his fans in the evening from his balcony. Minutes later he was joined in by his little nephew Ahil, who was being carried by Sohail Khan. Salman was shadow boxing with Ahil who was enjoying it to the hilt. Ahil even managed to defeat mamujaan.
AbRam Enjoys 'Mad Happy' Dance Steps
Shah Rukh Khan's munchkin AbRam has surely inherited his dad's swag. Just look at how adorable he looks in this video shared by SRK. It was on Children's Day when AbRam was shot doing a 'mad happy' dance in front of his siblings Aryan and Suhana.
Aaradhya Dancing At School Performance
Aishwarya Rai Bachchan and Abhishek Bachchan's adorable daughter Aaradhya's annual day video was doing the rounds of social media and we must say, she is quite a star already. The 6-year-old is seen leading a troop of girls and looks confident on stage.
https://twitter.com/TasnimaKTastic/status/942063384702337025