News & Gossip
Virender Sehwag Lashed Out At A Political Party For Using His Name Without His Permission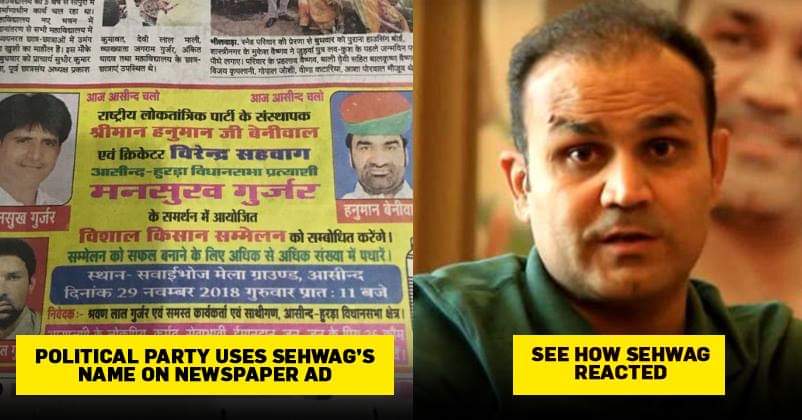 Politics in India is a very messy thing, which sometimes gets out of hands. Everyone wants to win an election, but sometimes the political parties cross all the limits during their campaign. Everyone is entitled to campaign and put forth their agenda to the public, but no one has the right to use someone's else's name especially celebrities just for the sake of attracting people to their campaign. A similar thing happened with former flamboyant Indian cricketer Virender Sehwag.
Just recently, some political outfit in India put an ad in the newspaper using Virender Sehwag's name without even contacting him. The political party in question is Rashtriya Loktantric Party. Usually, celebrities ignore such things but ace cricketer decided to give it back to the political outfit for misusing his name. First of all, check out the picture of the advertisement down below.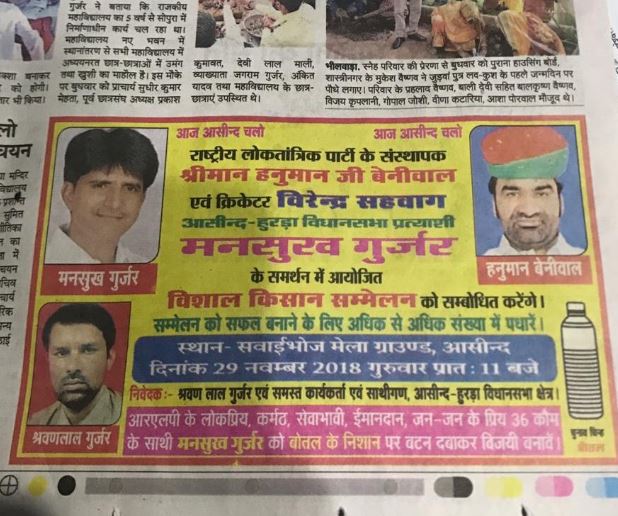 Slamming the Rashtriya Loktantric Party, Virender Sehwag tweeted a snapshot of the newspaper ad with a strong message that reads,
"LIAR ALERT🚨
I am in Dubai & have had no communication with any of these guys.
When these Liars can shamelessly lie in the name of their campaign & try to fool people,wonder how much they will fool people if by any chance they come to power.
Anything is better than deceit & lies"
This Is What Sehwag Tweeted:
https://twitter.com/virendersehwag/status/1068762720063885313
As soon as Sehwag tweeted bashing the political party, he got support from several Twitterati. Some of them even found this quite hilarious. We bring you some of the reactions down below.
1
https://twitter.com/Surtilala24/status/1068764527976751104
2
https://twitter.com/Sanjay_Mahadev_/status/1068769761465487360
3
https://twitter.com/adi71095/status/1068763773928800256
4
sir unfortunately these guys are by my state rajasthan. They are using your name for jaat person for casteism. Also name of fogat sisters and sushil kumar in raj.thanks for reveal truth to the people

— Shankar Shivoy (@SShivoy) December 1, 2018
5
Sue them pls

— Jaideep Sharma (@Imjdsharma) December 1, 2018
6
https://twitter.com/rj_madhav/status/1068763430125850624
7
https://twitter.com/DhaOnez/status/1068765736313806848
8
bjp ka hota to bhaisahab chale bhi jaate. 🤗
or ye 'ashwthama maara gya ' type lag rha hai mereko…

— p a n k a j (@pkgkirori) December 1, 2018
What do you think? Tell us your thoughts in the comment section down below.