Bollywood
Virat Kohli Wishes Mother Saroj Kohli & Anushka Sharma On Women's Day!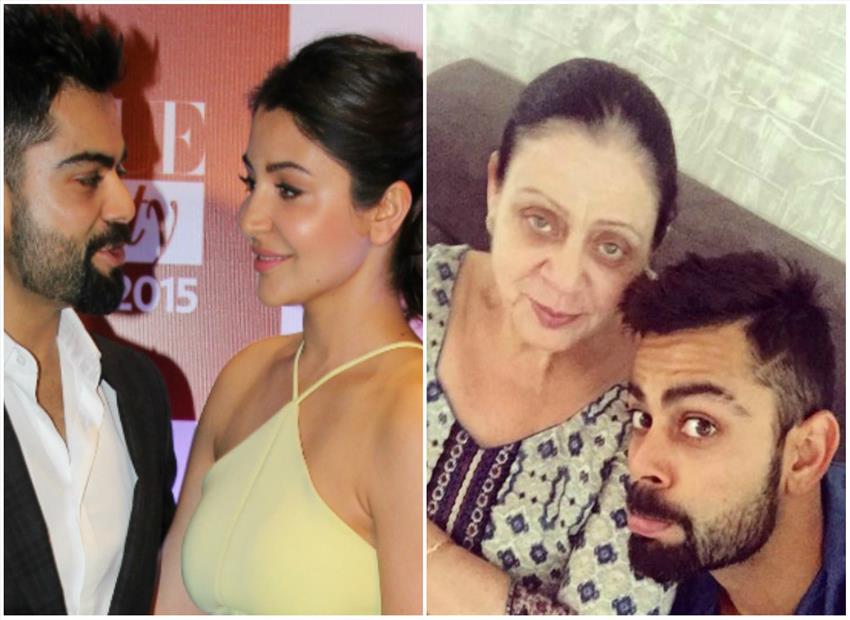 After much denial and speculation, looks like Virat Kohli and Anushka Sharma have decided to not keep their relationship under wraps. The two, in the recent past, have been quite expressive on social media. More than Anushka, it's Virat who's becoming the most-loved PDA-king for the current generation. He doesn't use the usual slang but puts across his point with sheer ease and wins hearts with just the simple words. The cricketer, decided to surprise the two strongest women in his life, and probably the entire womanhood too, with a mushy Instagram post. he shared a The cricketer, decided to surprise the two strongest women in his life, and probably the entire womanhood too, with a mushy Instagram post. he shared a photocollage of two pictures – one with his mother and the other with his girlfriend Anushka Sharma. He thanked his mother for looking after the family in the toughest of times and lauded Anushka for standing up for what she believes to be right.
He wrote,
"Happy women's day to every woman out there, but specially to the two strongest women in my life. My mom for looking after the family in toughest times in life and @anushkasharma for fighting against the odds regularly and standing up for righteousness and changing the norms #happywomenday".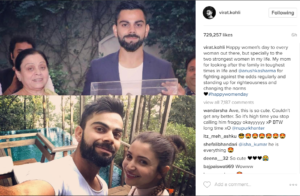 Well, he is right. Anushka is indeed changing norms in the industry. She has become the youngest woman producer who is putting her name on some path-breaking films. And now, she is yet again pulled up the socks for her film, Phillauri, in which the actor plays a ghost. What is to be noted is the fact that Virat is fearlessly embracing his relationship, especially in the recent time. Last time when he wrote a special message for Anushka on Valentine's Day, we all were agog to know if the actor would have something to say in return. Now, we are back to the same situation. We hope she soon posts something in response to Virat's love.
This isn't the first time the skipper has been vocal about his alleged relationship on social media. On Valentine's Day, he shared a heart-warming picture and captioned it as,
"Everyday is a valentine day if you want it to be. You make everyday seem like one for me . @anushkasharma".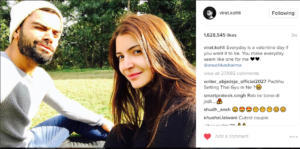 Anushka, meanwhile, who is acting and producing in 'Phillauri', was rightfully angry when some sections of media reported that the film is co-produced by Virat Kohli. Answering these allegations, she said in a tweet,
"So those TV channels/newspapers/websites claiming anything else, please check FACTS, practice responsible journalism & have some shame. By making such bogus claims and validating this rubbish by your so-called 'source', not only are you disrespecting me & the hard work I have put in over the years to be where I am, but also, all the people who have worked on this film. Freedom of press comes with accountability & your fake sources are never accounted for. I have always led my career with dignity & often chose to maintain a dignified silence on many untruthful stories, that doesn't mean you can take my silence as my weakness and say anything without checking with me or my team! For someone who makes a living out of maligning people, it must definitely be hard to believe that a person can stand on their own feet and do something meaningful with their life… And next time these same people come wanting to talk about 'women empowerment' and 'women in films today' do remember this is what you do to 'women in films' who are trying to change the narrative & take charge of their own careers. This must be just another story for you but it's someone's life you are toying with. I am more than capable of producing and promoting my own films. Thank you."
We sure agree with Virat Kohli, Anushka sure believes in "standing up for righteousness and changing the norms". More power to both of you!