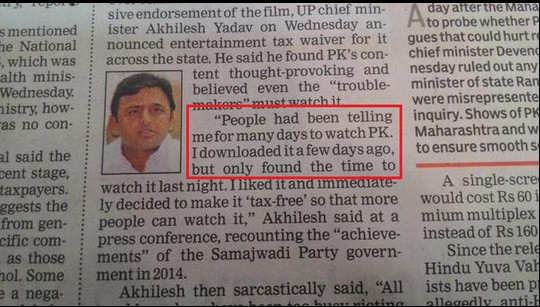 CM Akhilesh Yadav downloads pirated PK movie and makes it tax free in UP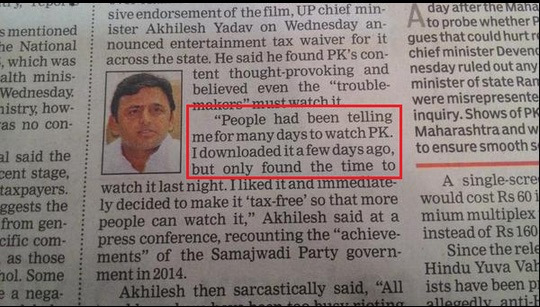 PK is making news everywhere these days, now UP Chief Minister, Akhilesh Yadav comes under a controversy of mentioning in a newspaper article that he downloaded a copy of PK and after watching it, he decided to make the movie 'tax-free' in the whole state of Uttar Pradesh.
Mr Yadav made the comment at a press conference on December 31, when he declared the film tax-free in his state saying he was impressed by it.
"People had been telling me for many days to watch PK. I downloaded it a few days ago, but only found the time to watch it last night. I liked it immediately and decided to make it tax-free so that more people can watch it," he said about the Aamir Khan starrer released on December 19.
The newspaper clipping went viral on social media websites like Twitter and Facebook and the young CM has been facing a lot of heat from the general public since then.
Akhilesh Yadav "downloaded Pk movie?!"… Is this NOT PIRACY?! Thanks @tajinderbagga (Fb) pic.twitter.com/ncRMw1Un67

— ॐ Aspiring Yogi ॐ (@hgsutras) January 2, 2015
Akhilesh Yadav downloaded & watched PK! Then decided to make it tax-free. So much so for anti-piracy laws! — Shubhra (@shubhravati) January 2, 2015
Akhilesh Yadav ne PK download ki. Unke upar piracy aur Daaru Piney ka case darzz hona chhahiye. @atheist_krishna

— SatireDay (@SatireDayy) January 1, 2015
Officials say the Chief Minister has a legitimate paid download facility, but it is not clear whether it is allowed for films that are still running in theatres.
#UPCM #Akhileshyadav has licensed @UFOMoviez digifacility to download & watch movies. Controversy around pirated download is unwarranted-CMO — CM Office, GoUP (@CMOfficeUP) January 2, 2015