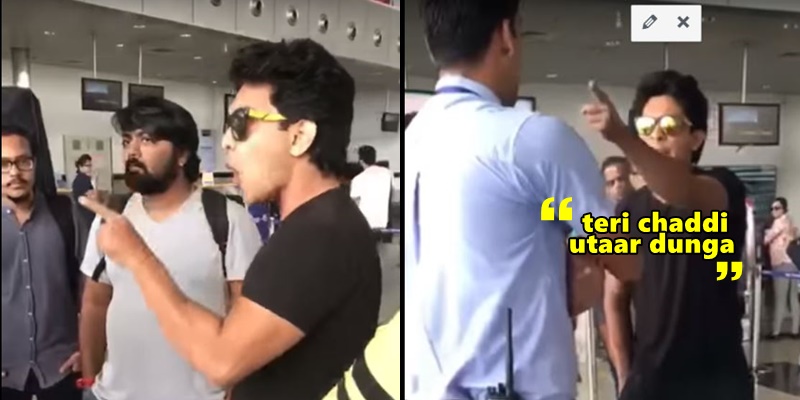 You may have heard about Aditya Narayan, who is so called Bollywood celebrity. He is also the son of legendary singer Udit Narayan. His fame seems to have gone over his head.
Aditya has reportedly misbehaved with the ground staff. He abused and threaten the staff. The video of the actor's brawl has gone viral on the internet. According to the airline, he was allowed to board the airplane when he apologized to the staff.
In the footage gone viral, one can hear him saying inappropriate words to the staff. The incident happened at the Raipur airport. He said, "I know everybody was standing there. You are making this personal buddy. There are ten people who know that I started abusing you when you said do not abuse. I can say whatever I want to say."
He even went on to threaten the staff by saying,
"Teri chaddi nahi utari na, to mera naam Aditya Narayan nahi."
Check out the video down here.
If you don't have any idea about Aditya Narayan, don't worry. Aditya Narayan is an actor, singer, and TV host. He has hosted multiple shows on small screen. He has worked as a child actor in films like Pardes, Rangeela and Jab Pyaar Kisise Hota Hai. He made his acting debut as a lead actor from Shaapit in 2010. The movie bomb at the box office and his filmy career ended there.
"Teri chaddi utaar doonga," Aditya Narayan, son of singer Udit Narayan, misbehaves with Indigo Airlines staff @uditnarayan111 pic.twitter.com/Bsy3YrzFlP

— Akshay Mankani (@abruptlyakshay) October 2, 2017
He has also hosted multiple reality shows like Sa Re Ga Ma Pa, Sa Re Ga Ma Pa L'il Champs, and X Factor India to name a few. It is very sad to see these stars behave like a VVIP brat. They should stick to their work and behave like a normal human being and treat everyone with respect.
Twitter started trending the actor, check out some of the most famous Tweet regarding this issue.
Who is Aditya Narayan?

— Kiran Manral (@KiranManral) October 2, 2017
The real excess baggage here is that of privilege. #AdityaNarayan

— Priya Malik (@PriyaSometimes) October 2, 2017
https://twitter.com/sunil_shenoy/status/914776004408647681
I condemn #AdityaNarayan'S behaviour with staff of @IndiGo6E at Raipur. With success comes humility & not arrogance.He should apologise.

— Ashoke Pandit (@ashokepandit) October 2, 2017
Fresh candidate for no-fly list.Singer Aditya Narayan threatens airport staff. 'Will take your chaddi off, when you come to Mumbai' he booms

— Padmaja joshi (@PadmajaJoshi) October 2, 2017